Gurriel bros thrilled to share same MLB field
After following each other's careers from afar, Yuli, Lourdes Jr. compete in Majors for 1st time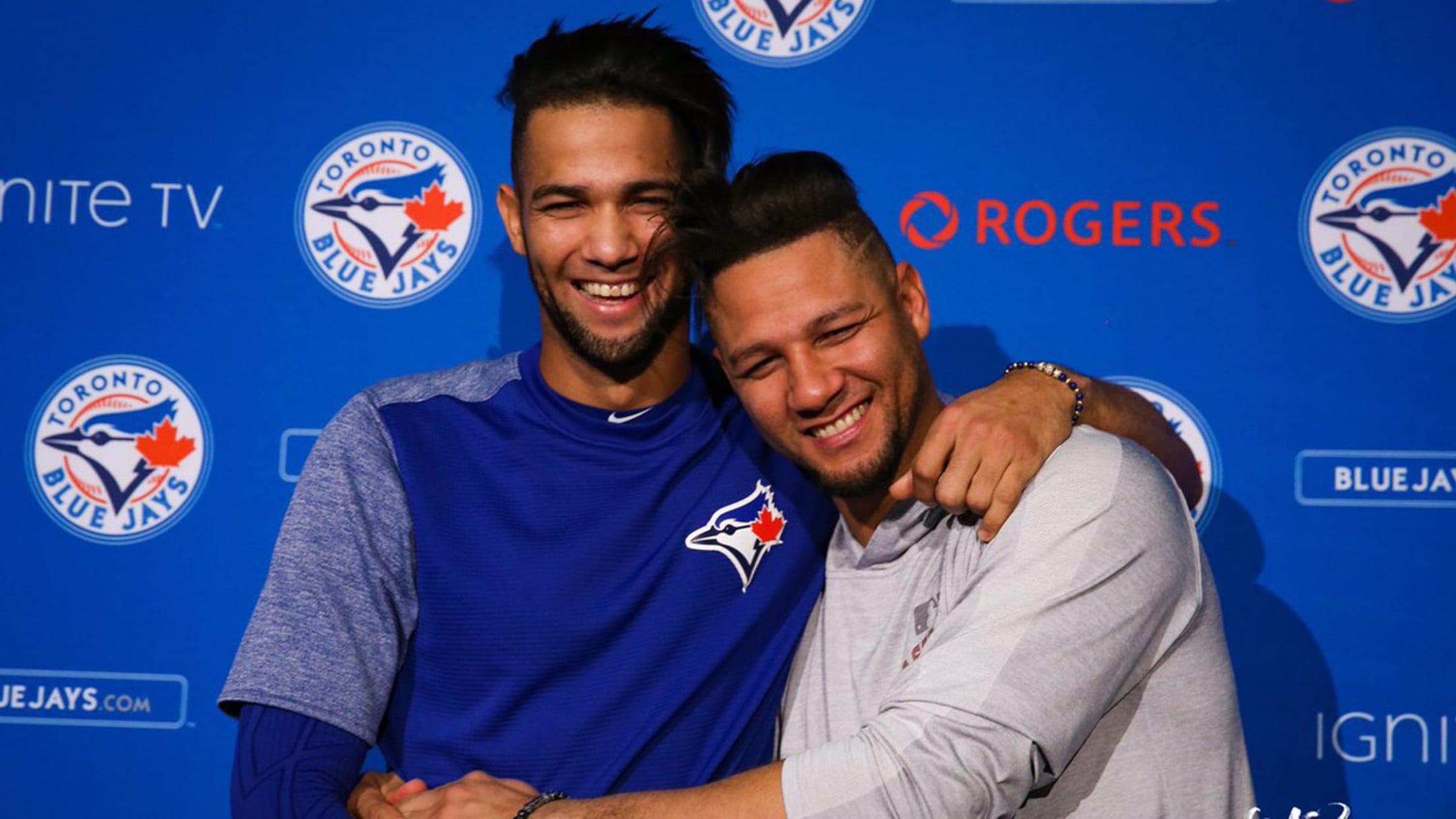 TORONTO -- The Gurriel brothers fulfilled a lifelong dream on Monday night when Yuli and Lourdes Jr. stepped onto the same Major League field for the first time in their careers.Brotherly love was the focus of attention prior to the series opener between the Blue Jays and Astros. A journey
TORONTO -- The Gurriel brothers fulfilled a lifelong dream on Monday night when Yuli and Lourdes Jr. stepped onto the same Major League field for the first time in their careers.
Brotherly love was the focus of attention prior to the series opener between the Blue Jays and Astros. A journey that has been more than two decades in the making from one of the most prestigious baseball families in the world.
Yuli and Lourdes have been keeping tabs on each other throughout their careers. Postgame routines always start with checking the boxscores and watching video of what their brother is up to, not wanting to miss a second of the action. In the series opener at Rogers Centre, they didn't have to turn on the TV; they got to witness it first hand.
Unfortunately the reunion was short-lived because Lourdes was forced to leave the game after the first inning because of a sore left hamstring. It was a disappointing turn of events for the Gurriels, but not enough to take away from what was still a special night.
"I've been following a lot," Yuli said through interpreter Josue Peley before the game Monday. "After every game, I watch every single at-bat and I make sure I follow everything he does. I'll be honest, I'm really proud that he's here, and I still don't believe it that he's here in the big leagues -- and that fast."
Just a couple brothers with legendary hair. #PiñaPower pic.twitter.com/otyV8IXgUs

— Houston Astros (@astros) September 24, 2018
Yuli and Lourdes defected from Ciego de Avila, Cuba, following the Caribbean Series in February 2016. Their father played for the Cuban national team for 15 years and won an Olympic gold medal, two batting titles and an MVP Award in his home country. Their older brother, Yunieski, spent 16 seasons in Serie Nacional and won a couple of MVP Awards.
The pedigree and talent immediately piqued the interest of Major League scouts after they left Cuba. Yuli signed a five-year deal with the Astros in July 2016 and was playing in Houston later that year. Lourdes' timeline took a little bit longer, as he signed a six-year deal with the Blue Jays in November 2016 and made his big league debut earlier this season.
The brothers have already made their mark on their respective organizations. Yuli embraced a starring role for an Astros team that won the 2017 World Series and was named American League Player of the Week on Monday, while Lourdes is a potential future cornerstone for a Blue Jays organization that is in the process of going through a youth movement.
"I'm the fortunate one here," said Lourdes. "I was the youngest one and I had a chance, not to look just at him, but also my other brother and my dad, and see how they went about their business. Not only on the field, but off the field, how disciplined and respectful they were with everybody. I'm very fortunate to have him."
There will be some conflicted feelings in the Gurriel household during this three-game series. Yuli joked that his mother didn't know which team to root for, so instead she got a jersey that is half Toronto and half Houston with the Gurriel name on the back.
No matter what happens tonight, Mama Gurriel is going to be proud. 💙 pic.twitter.com/RBYWsCmVgK

— Toronto Blue Jays (@BlueJays) September 24, 2018
It will be about cheering for the name on the back of the jersey instead of the logo on the front of it, but make no mistake about it -- the two brothers might be close, but they're also extremely competitive and both know that bragging rights will be on the line this week at Rogers Centre.
"We're brothers, but whenever the game starts, between the lines, I'm going to try and be better than him and beat him," Yuli said. "We'll see how it's going to happen."
One of the biggest bragging rights of all was settled before the series opener. Yuli's unique hairstyle has made him somewhat of a cult hero in Houston. It gets plenty of camera time and teammates are frequently seen playing with it before games and after home runs.
Lourdes, like a lot of younger brothers, tried to emulate the guy he looked up to so much as a kid. As far as Yuli sees it, Lourdes succeeded.
<p<>"One morning I got up and my hair was like that," Yuli said. "People just started liking it. When his hair grew up, he started doing it, too. Now his hair is better than mine. There's nothing I can do about that."</p<>