Girl with robotic hand throws inspirational pitch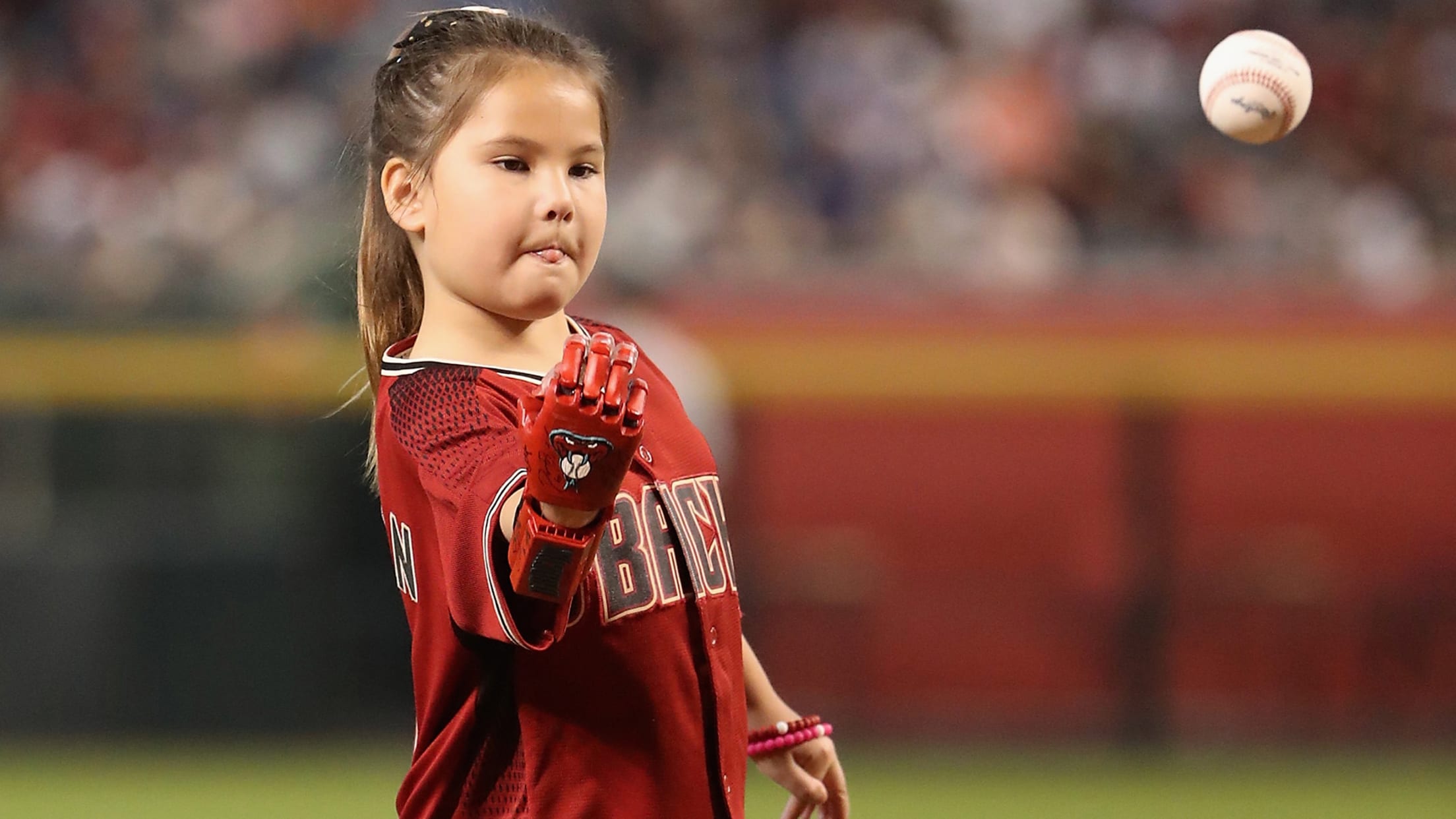 PHOENIX, AZ - JULY 21: Hailey Dawson, 8, throws out the ceremonical first pitch wearing a 3D-printed robotic hand before the MLB game between the Colorado Rockies and the Arizona Diamondbacks at Chase Field on July 21, 2018 in Phoenix, Arizona. (Photo by Christian Petersen/Getty Images) (Christian Petersen/Getty Images)
PHOENIX -- Eight-year-old Hailey Dawson threw out the ceremonial first pitch at the D-backs game Saturday, delivering another inspirational strike along her journey to complete a tour of all 30 Major League stadiums this summer.Dawson celebrated by wagging her specially crafted plastic right hand and doing a few impromptu dance
PHOENIX -- Eight-year-old Hailey Dawson threw out the ceremonial first pitch at the D-backs game Saturday, delivering another inspirational strike along her journey to complete a tour of all 30 Major League stadiums this summer.
Dawson celebrated by wagging her specially crafted plastic right hand and doing a few impromptu dance moves as designated catcher David Peralta raised his hands skyward.
"She's a ball of energy," her mother Yung said.
Hailey was born with Poland Syndrome, a condition that caused her to have a missing right pectoral muscle. Because of that she is missing three fingers on her right hand and has an underdeveloped pinkie and thumb.
She throws underhanded while wearing a 3D-printed robotic hand that was created by the University of Nevada-Las Vegas college of engineering. The hand, connected with 30-weight fishing line, is controlled by the wrist movements.
Check another one off the list, @haileys_hand. ✅ #journeyfor30 pic.twitter.com/kC4VaeDv4X

— Arizona Diamondbacks (@Dbacks) July 22, 2018
Eight D-backs, including manager Torey Lovullo, autographed her D-backs plastic hand, which slips on and off easily.
"I think it's an incredible story. I know there was a lot of creativity and a lot of hard work to equip her with what she has," said Lovullo, who met Hailey before the game and offered congratulations on her accomplishments.
"It's a pretty incredible story."
Hailey threw out the first pitch as part of the D-backs' seventh Inclusion Day, which is designed to share the message of inclusion rather than of focusing on disabilities. The team also provided resources at Chase Field to educate fans about different services provided in Arizona.
She made her first ceremonial pitch at age 5 at an Orioles game in Baltimore, where her father, Greg, grew up an Orioles fan and advised the team of their interest. The tour took off from there.
The family lives in Las Vegas, and Las Vegas high school products Bryce Harper, Kristopher Bryant and Joey Gallo also have been behind the plate during her tour of Major League facilities.
Hailey threw out the first pitch at Game 4 of the World Series in Houston last year and is just back from a 19-day road trip that included a final stop in Boston. Next up: Dodger Stadium, which would be her 23rd venue.
She is hoping her favorite player, Manny Machado, will be behind the plate again. Machado caught her first pitch in Baltimore in 2015.
Archie Bradley, Paul Goldschmidt, Jake Lamb, Chris Owings and Peralta met Hailey before the game Saturday, and Jonathan Jay presented her with a signed bat. Jay wrote:
"Hailey. Keep Inspiring. Dream Big."
Jack Magruder is a contributor to MLB.com based in Phoenix.