Yankees long considered managerial change
Hal Steinbrenner: Younger team could benefit from fresh leadership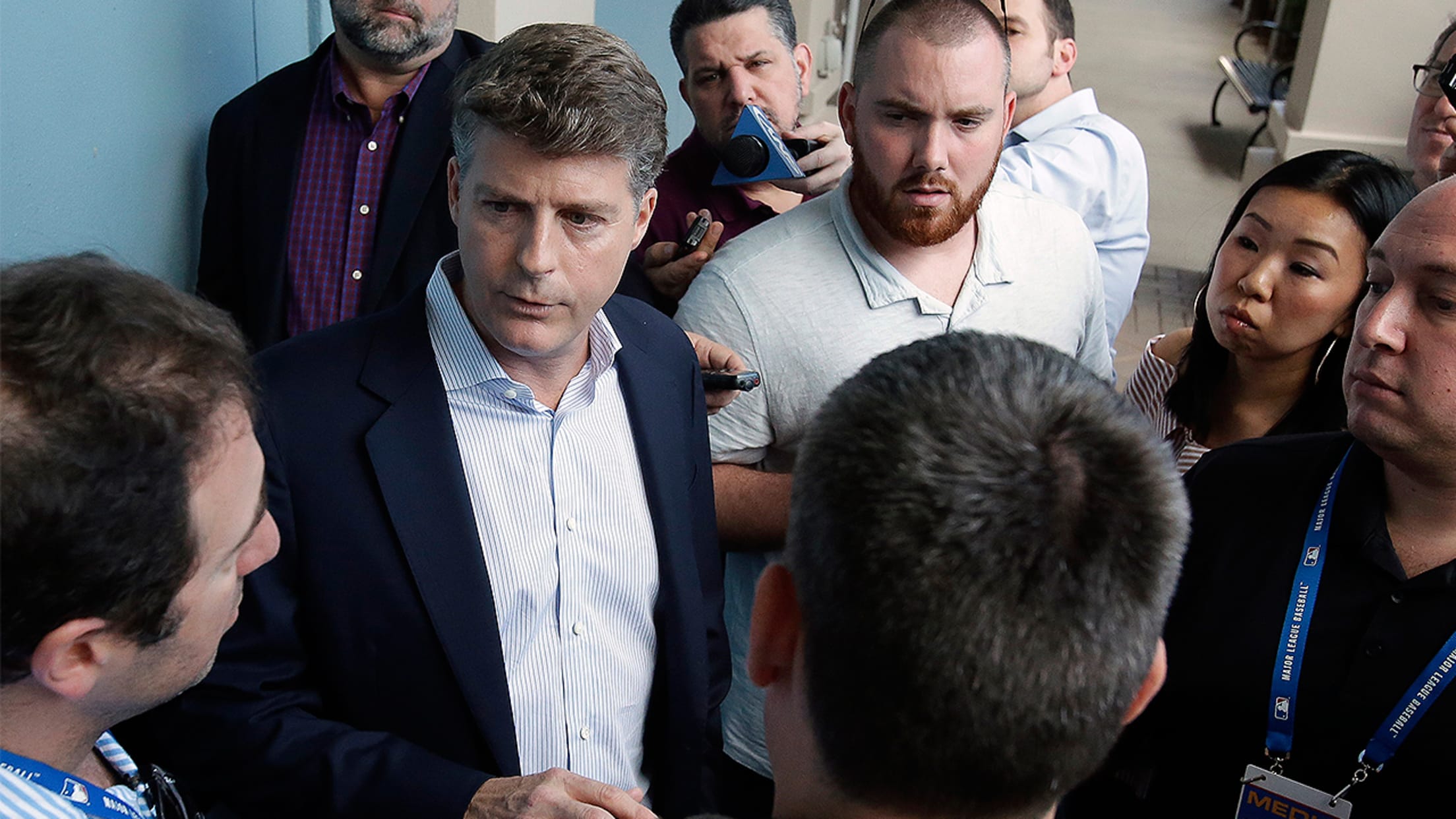 Hal Steinbrenner said he is not involved with managerial interviews but plans on having the final candidates meet with the Steinbrenner family. (AP)
ORLANDO, Fla. -- A parade through the Canyon of Heroes might not have been enough to bring Joe Girardi back into the Yankees' dugout in 2018, according to managing general partner Hal Steinbrenner, who said on Wednesday that he had been considering a managerial change for several years."I'm sure there
ORLANDO, Fla. -- A parade through the Canyon of Heroes might not have been enough to bring Joe Girardi back into the Yankees' dugout in 2018, according to managing general partner Hal Steinbrenner, who said on Wednesday that he had been considering a managerial change for several years.
"I'm sure there would have been more pressure [if the Yankees won the World Series]," Steinbrenner said. "It would've been a more difficult decision to make, but I still believe I would have made it because I felt that was what was best for the organization going forward."
Steinbrenner said he was not surprised by general manager Brian Cashman's recommendation to replace Girardi after a decade at the helm, adding that he had also decided that it was time to move in a different direction.
"Maybe a different type of leadership perhaps is needed for a younger team than it is for a veteran team," Steinbrenner said. "There's no doubt I'm taking that into account, and I'm sure Cash is too. ... This is not something that came from two or three weeks. This is something that came from two, three, four years and everything we observed in that time period."
Steinbrenner said he has not been involved with the managerial interviews, though he plans on having the final two or three candidates fly down to Tampa, where they can meet with the Steinbrenner family. The Yankees are expected to interview fewer than 10 candidates, and Steinbrenner said they did not have a clear first choice in mind when they parted ways with Girardi.
"A lot of people speculated that we did. We absolutely did not," Steinbrenner said. "We knew there were some good candidates out there and some good possibilities. We've been through this process before. We went through it 10 years ago. I'd like to think that managing for the New York Yankees is a very coveted job that we would have opportunities to interview some good people, and we have."
Though his team finished one win shy of reaching the World Series, Steinbrenner characterized the Yankees as having gone through "a tough five years." He said the team is now "on the right track" by virtue of showing the patience to hold onto players like Aaron Judge, Greg Bird, Gary Sanchez and Luis Severino when opponents came calling.
"They got the full year under their belt and got a lot of playoff experience under their belt, which I think is going to bode very well for next year," Steinbrenner said. "Five elimination games, that's high-stress stuff."
• Yankees' top 30 prospects
Steinbrenner said he is "very excited" about the next wave of young players rising through the ranks, naming Chance Adams, Miguel Andujar, Domingo German and Gleyber Torres in particular.
As for the Hot Stove, Steinbrenner said he expected the Yankees to be viewed as active spenders, even as they eye getting payroll under the $197 million threshold to reset their luxury-tax rate.
• Hot Stove Tracker
"I think you can never have enough starting pitching," Steinbrenner said. "In our case, if there's one area that I personally would focus on, that would be probably top of the list. I've said many times that for a number of reasons, it's important for us to get under the cap this year. That's still going to leave us a decent amount of money to spend. As always, we're going to take what we can and put it back into the club."