Murphy's HOF case stronger with Baines in
Braves great also stacks up well against 2018 inductee Trammell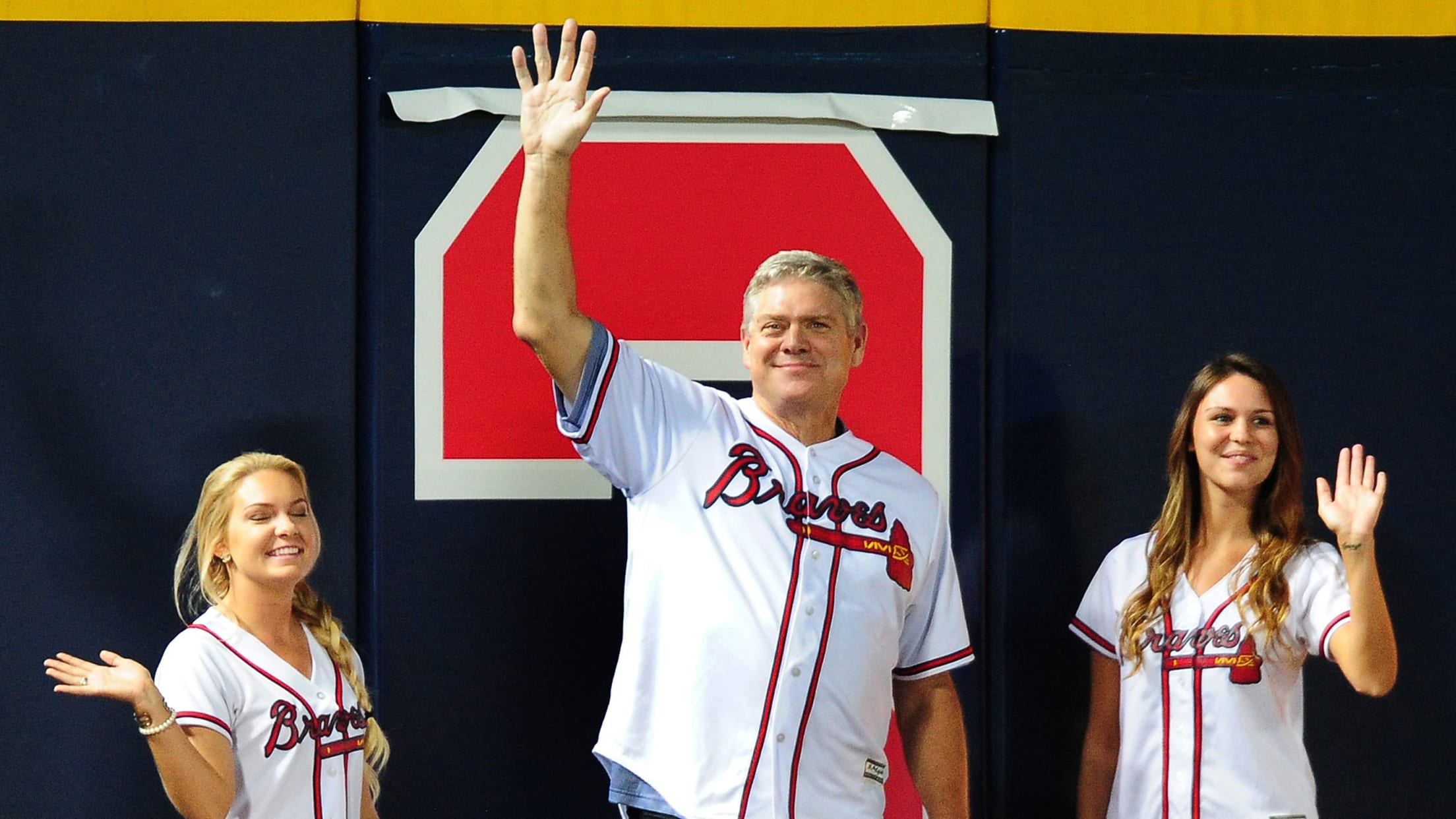 Former Braves player Dale Murphy acknowledges the crowd after being introduced at Turner Field on September 30, 2016. (Scott Cunningham/Getty Images)
ATLANTA -- Now that Alan Trammell and Harold Baines have been elected to the Hall of Fame via the Era Committee process, Dale Murphy certainly has more reason to look forward to next December, when he may finally receive the honor Braves fans have long felt he deserves.Murphy will almost
ATLANTA -- Now that Alan Trammell and Harold Baines have been elected to the Hall of Fame via the Era Committee process, Dale Murphy certainly has more reason to look forward to next December, when he may finally receive the honor Braves fans have long felt he deserves.
Murphy will almost certainly be back on the Modern Era Committee's ballot that will be voted on during next year's Winter Meetings. The 16-member committee will be different than the one that elected Baines and Trammell the past two years. But their elections have seemingly strengthened the argument for Murphy, who proved to be better than these two Hall of Famers and most every other player during the 1980s.
Offensive stats
Trammell: .285/.352/.415, 185 HRs, .767 OPS, 110 OPS+
Baines: .289/.356/.465, 384 HRs, .820 OPS, 121 OPS+
Murphy: .265/.346/.469 , 398 HRs, .815 OPS, 121 OPS+
Comparing the power numbers and recognizing the similar on-base percentages, it's obvious Murphy and Baines were offensively superior to Trammell, a sure-handed shortstop whose Hall of Fame candidacy is strengthened by his 22.7 defensive WAR (Wins Above Replacement) per Baseball-Reference, which ranks 33rd in MLB history.
The park and league adjusted OPS figures verify just how comparable Murphy and Baines were from an offensive-production standpoint.
Awards
Having won the National League Most Valuable Player Award in 1982 and '83, Murphy stands with Roger Maris as the only players to win consecutive MVPs and not gain Hall of Fame enshrinement after becoming eligible. Murphy also finished within the top 10 in balloting for this award in '84 and '85.
Trammell never won an MVP, but he had three top 10 finishes (1984, '87 and '88). Baines had just one (ninth in 1985).
Murphy won five consecutive Gold Glove Awards (1982-86), and Trammell totaled four. Baines served as an outfielder throughout the 1980s and then spent the final decade of his career as a designated hitter (a role in which he tallied 58.9 percent of his career plate appearances).
Peak years
As Murphy hit .234 and produced a slightly below average 96 OPS+ over his final six seasons, he saw his Hall of Fame resume weaken, much like Andruw Jones' did after he turned 30. But some still regard Murphy as MLB's best player of the '80s.
From 1982-86, Murphy ranked 10th with a 25.3 fWAR (FanGraphs' WAR model). Eight of the nine players (Keith Hernandez being the exception) -- Cal Ripken, Rickey Henderson, Wade Boggs, Gary Carter, Mike Schmidt, Tim Raines, Eddie Murray and Robin Yount -- are all in the Hall of Fame. Trammell ranked 11th during this span, and Baines ranked 44th.
Five-season spans do not make for a Hall of Fame career, so it's worth noting how these players ranked from 1981-90: Trammell sixth (48.9), Murphy 12th (43.8) and Baines 59th (28.1).
Longevity and the opportunity to primarily be a DH aided Baines as he tallied 184 homers and produced a 128 OPS+ from his age-31 season (1990) through 1999. Murphy tallied 132 homers and produced a 109 OPS+ from his age-31 season (1987) through his '93 retirement.
Committee influence
Much has been made of the fact the committee that elected Baines included his former team owner (Jerry Reinsdorf), his former manager (Tony La Russa), his former teammate (Roberto Alomar) and his former general manager (Pat Gillick). But it should be noted the committee that chose Trammell and Jack Morris instead of Murphy last year included three Braves figures: Bobby Cox, John Schuerholz and Don Sutton.
Time will tell whether next year's committee will choose to elect Murphy. But these past two elections have proven he has the credentials that some decision-makers deem Hall of Fame worthy.
Mark Bowman has covered the Braves for MLB.com since 2001.