Haniger hosts group from Children's Hospital
Mariners right fielder hits 2 homers in 6-3 win over Angels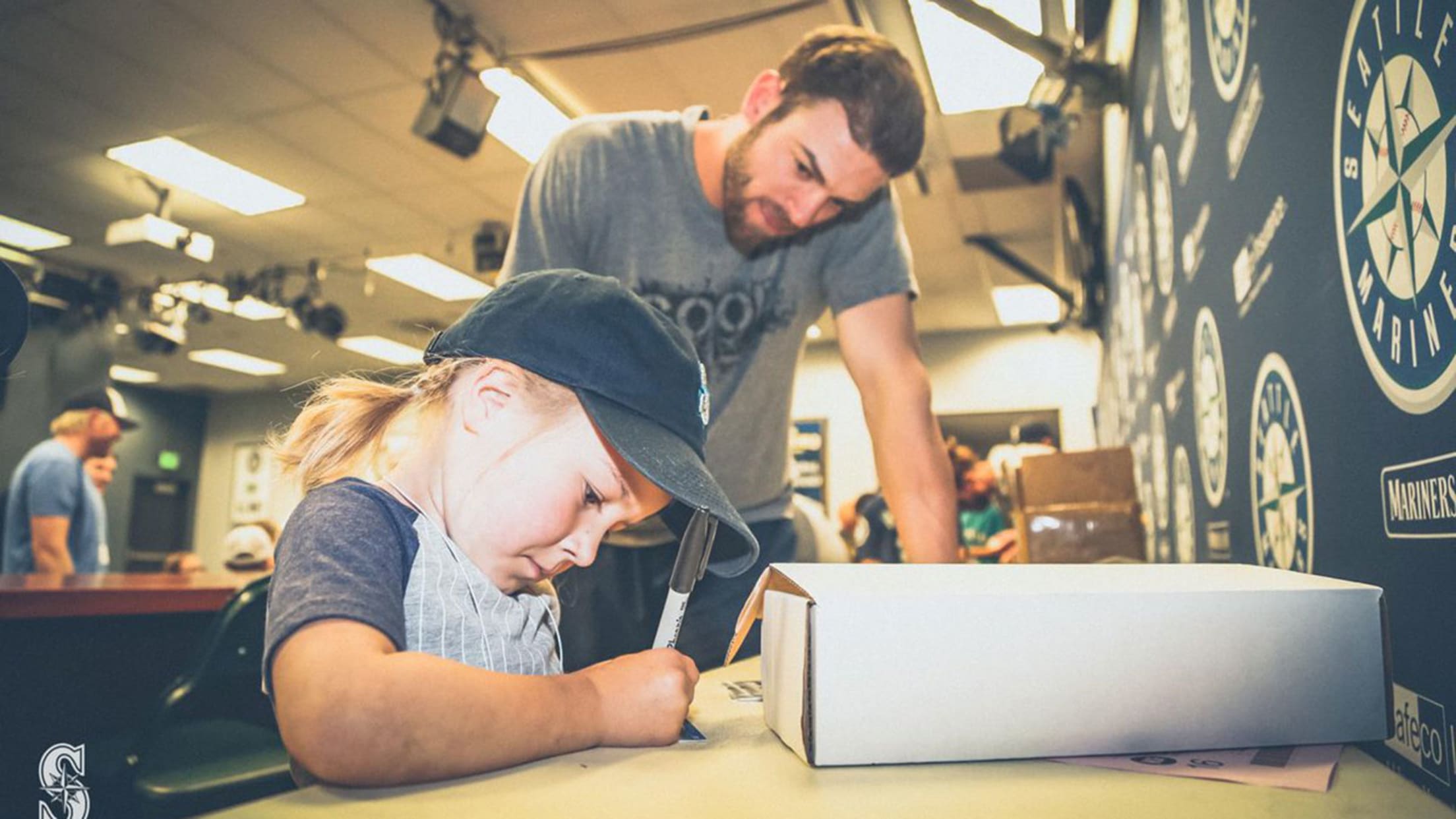 SEATTLE -- For Mitch Haniger, the home runs came both on and off the field on Tuesday.The Mariners right fielder ripped a pair of homers in a 6-3 win over the Angels, but his day was already a hit after hosting eight young kids from Seattle's Children's Hospital who are
SEATTLE -- For Mitch Haniger, the home runs came both on and off the field on Tuesday.
The Mariners right fielder ripped a pair of homers in a 6-3 win over the Angels, but his day was already a hit after hosting eight young kids from Seattle's Children's Hospital who are dealing with cancer at a pregame session at Safeco Field.
"That was awesome," said Haniger, who organized the gathering with his wife and had many of his teammates take part as well. "We did like a reverse signing with Topps making them [baseball] cards of themselves. So they signed cards for us and we signed bats for them and took pictures and hung out with the kids. It was a good day."
.@M_Hanny17 and teammates were proud to play host to a number of kids from @seattlechildren today.

Not only were we able to sign for them—but they signed custom-made @Topps cards for us.

⚾🖊️ pic.twitter.com/6CocTjDu7d

— Seattle Mariners (@Mariners) June 12, 2018
Haniger took part in some offseason charity work in Hawaii, rebuilding baseball fields and lending a hand to kids who needed help, and he said that sparked his latest initiative in Seattle.
"It's just fun to make someone smile," he said. "In the offseason, I did stuff with a group called 'More Than A Game' and it just makes you realize you can affect a lot of people. For me, the more people you can bring up with you as you're having success, it just kind of shows who you are.
"That's something I want to keep doing and try to affect as many people as I can."
Haniger followed up with one of his best days in what has been an impressive season as he slugged his 14th and 15th homers of the season with three RBIs and also made an outstanding throw to nail Luis Valbuena trying to stretch a single.