Hank Aaron Invitational fuels young catcher
Emmanuel Scott, a veteran of the annual camp, makes fans of MLB vets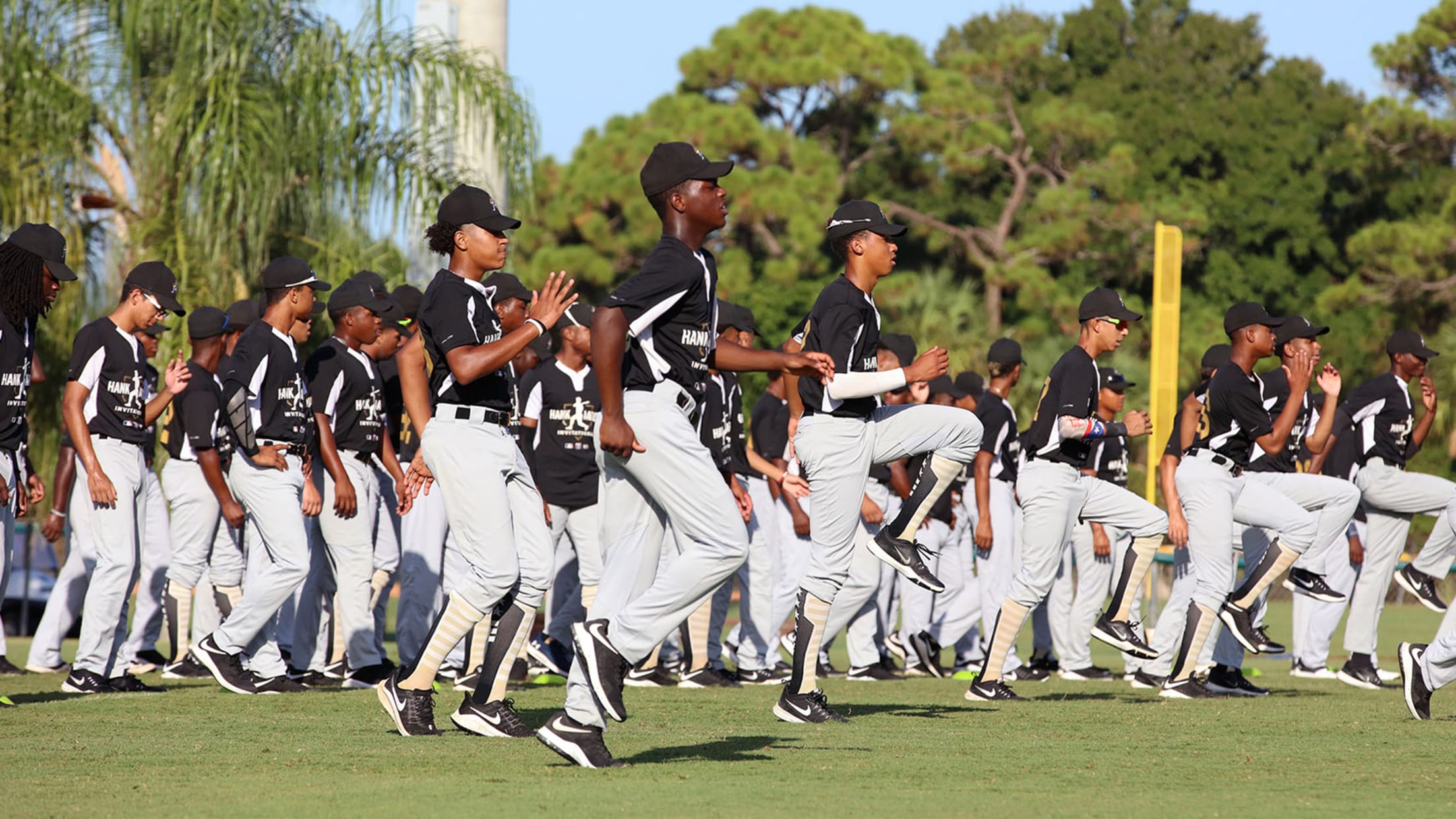 VERO BEACH, Fla. -- If baseball camp participation can be compared to a baseball player's tenure of service, then Emmanuel Scott is a seasoned veteran who certainly knows his way around a diamond. A Class of 2021 prospect from Chicago's South Side, Scott is wrapping up Week Two of the
VERO BEACH, Fla. -- If baseball camp participation can be compared to a baseball player's tenure of service, then Emmanuel Scott is a seasoned veteran who certainly knows his way around a diamond.
A Class of 2021 prospect from Chicago's South Side, Scott is wrapping up Week Two of the fifth annual Hank Aaron Invitational.
Scott is primarily a catcher, but he can also play the corner outfield spots. And he realizes he has a leadership role within the camp.
"I've been to two [Elite Development Invitationals], this is my first Hank Aaron, which back then it was the EDI, and two Dream Series and one Breakthrough Series," Scott said on Thursday morning.
The Hank Aaron Invitational has been conducted at the Jackie Robinson Training Complex, where the legendary Robinson played during Spring Training in his years with the Brooklyn and Los Angeles Dodgers.
The camp instructors are an impressive collection of former Major League Baseball players, including Junior Spivey, Ken Hill and Homer Bush, who are Scott's Team Papa Bell coaches this week.
The coaches, a fun group of veterans who toss around stories from their playing days like Florida tosses around heat and humidity, have also been given the duty of judging the talent they instruct.
Of the roughly 130 players from diverse backgrounds in the weeklong camp, the top-performing 44 will be selected by the coaches to participate in activities in Atlanta beginning this Friday.
Those chosen will visit several landmarks of the civil rights movement on Friday, and will then take to the field at SunTrust Park on Saturday and play in a special showcase game before the Atlanta Braves take on the Cincinnati Reds that night.
The 6-foot, 165-pound Scott said he approached this week at the Robinson Complex in the most professional way possible.
"I've got a lot of guys back at home who said [this week] was just like the Minor Leagues," Scott said. "You've got all these guys competing, especially to make the [Hank Aaron Invitational] team today that they're going to announce.
"This is just a bunch of guys getting together and going out and competing."
But it's nothing new to Scott.
"I come in with the understanding of what's going to happen and how it's going to be run. I kind of take the lead and show the guys, especially the new ones, on how the camp is done," said Scott, who divides his Second City allegiance between the Cubs and the nearby White Sox.
Spivey attributes much of Scott's success to playing many years under longtime Chicago travel ball coach and fellow Robinson Complex coach Lou Collier.
Spivey said Scott's early introduction to baseball was very beneficial and is evident in his approach to the game.
"He and some of these guys played under Lou when they were almost like babies. I'm talking 6 or 7 years old," Spivey said.
"[Scott is] a great kid. Great attitude and [he] is prepared to play every day. He's had a really great camp and has swung the bat well and receives the ball well. He's a really good ballplayer, and every coach would love him."
Former big league catcher Lenny Webster is very familiar with Scott and stressed the young catcher's intelligence -- Scott has already committed to play baseball at Xavier University.
"Emmanuel is a very smart kid. He's just a delightful kid we've had in the program for the past three or four years, and I've gotten the chance to see him at least twice a year," Webster said before his team's game on the backfields behind the dorms at the Robinson Complex.
Webster noted Scott's long journey in playing the game -- "He's a baseball junkie, the kind of player any baseball coach would like to have on his team," Webster said, echoing Spivey -- but he added that the often reticent Scott could improve in one area behind the plate.
"We had to bring it out of him," said Webster when asked about Scott chirping up and being louder during games. "He's a quiet kid, and there's nothing wrong with that, but we've got to be a little more vocal behind the plate. It took him a year or two to get comfortable in being vocal.
"Off the field, he's a shy kid. Very smart kid, but kind of shy. But he's blossomed and does what it takes to be a leader and get his teammates involved.
"That's what it takes to be a good catcher."
Webster compared Scott's relaxed personality but strong competitiveness to a fellow instructor at the Robinson Complex, the 17-year MLB standout outfielder Marquis Grissom.
"Marquis was a different individual on the field," Webster said of Grissom, who was standing near Webster in a group of coaches. "He was a killer on the field, but off the field, [he was] very easygoing and kind-hearted.
"That's Emmanuel."