Rangers clear way for Mendez, option Alberto
Texas signs 14 Draft picks, including three from first 10 rounds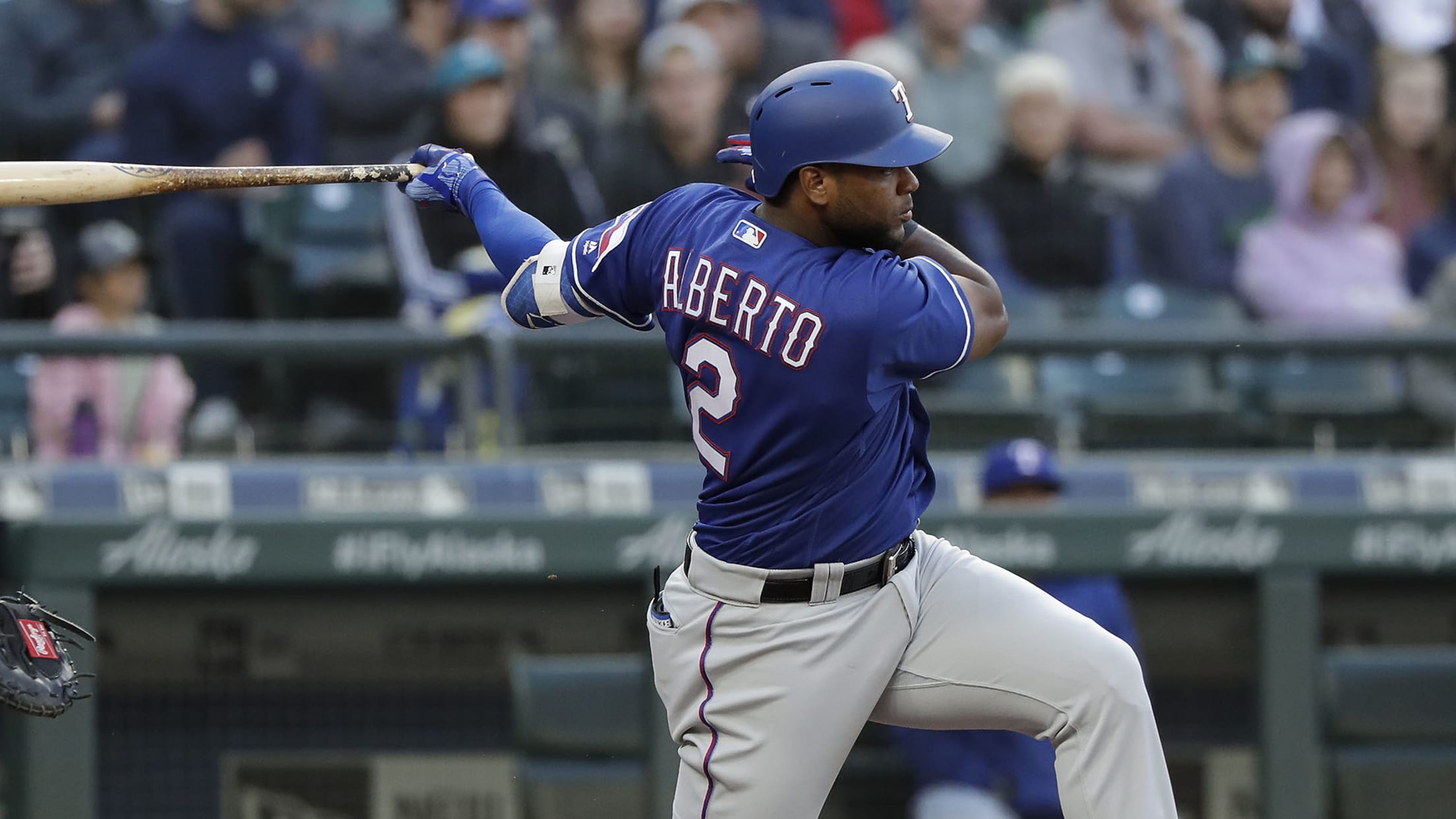 Texas Rangers' Hanser Alberto singles against the Seattle Mariners in the third inning of a baseball game Wednesday, May 30, 2018, in Seattle. (AP Photo/Elaine Thompson) (Elaine Thompson/AP)
ARLINGTON -- The Rangers have optioned infielder Hanser Alberto to Triple-A Round Rock to make room for pitcher Yohander Mendez, the team's No. 7 prospect who is scheduled to start Friday against the Rockies.Alberto has been up twice with the Rangers this season and has played in five games. He
ARLINGTON -- The Rangers have optioned infielder Hanser Alberto to Triple-A Round Rock to make room for pitcher Yohander Mendez, the team's No. 7 prospect who is scheduled to start Friday against the Rockies.
Alberto has been up twice with the Rangers this season and has played in five games. He is 1-for-11 at the plate. His departure leaves the Rangers with a three-man bench again, with utility infielder Isiah Kiner-Falefa, backup catcher Carlos Perez and reserve outfielder Carlos Tocci.
The Rangers are expected to get shortstop Elvis Andrus back off the disabled list either this weekend or possibly Monday at Kansas City. He is 1-for-10 in his first three rehab assignment games at Double-A Frisco and has been sidelined since April 11 with a fractured right elbow.
Rangers sign Draft picks
The Rangers have signed 14 more Draft picks, including three from their top 10: right-handed pitcher Sean Chandler from Iowa Western College (sixth round), right-handed pitcher Tim Brennan from St. Joseph's University (seventh) and Chandler Sanburn from Wichita State (ninth).
Also signed were right-handed pitcher Billy Layne Jr. from Seton Hall (11th round), shortstop Kenen Irizarry out of Aurea E. Quiles High in Puerto Rico (13th), catcher Scott Kapers from Valparaiso (17th), shortstop Frainyer Chavez from Midland College (22nd), outfielder Troy Dixon from Samford University (24th), right-handed pitcher David Lebron from the University of Tampa (26th), right-handed pitcher Glen Richardson from Sinclair (Ohio) College (29th), catcher Reynaldo Pichardo from Dawson (Mont.) College (33rd), right-handed pitcher Noah Burkholder from Waubonsee (Ill.) Community College (34th), shortstop Tyler Depreta-Johnson from Houston Baptist University (35th) and right-handed pitcher Cole Uvila from Geogia Gwinnett College (40th).
The Rangers have now signed 19 of 40 Draft picks and have assigned them to extended spring camp in Arizona.
The Rangers also signed three undrafted free agents: left-handed pitcher Braden Pearson from Texas State University, right-handed pitcher Zach Reeg from Augustana (Ill.) College and left-handed pitcher Erne Valdes from St. Thomas (Fla.) University. All three players have reported to Arizona.