Reynolds knew Griffey was special from start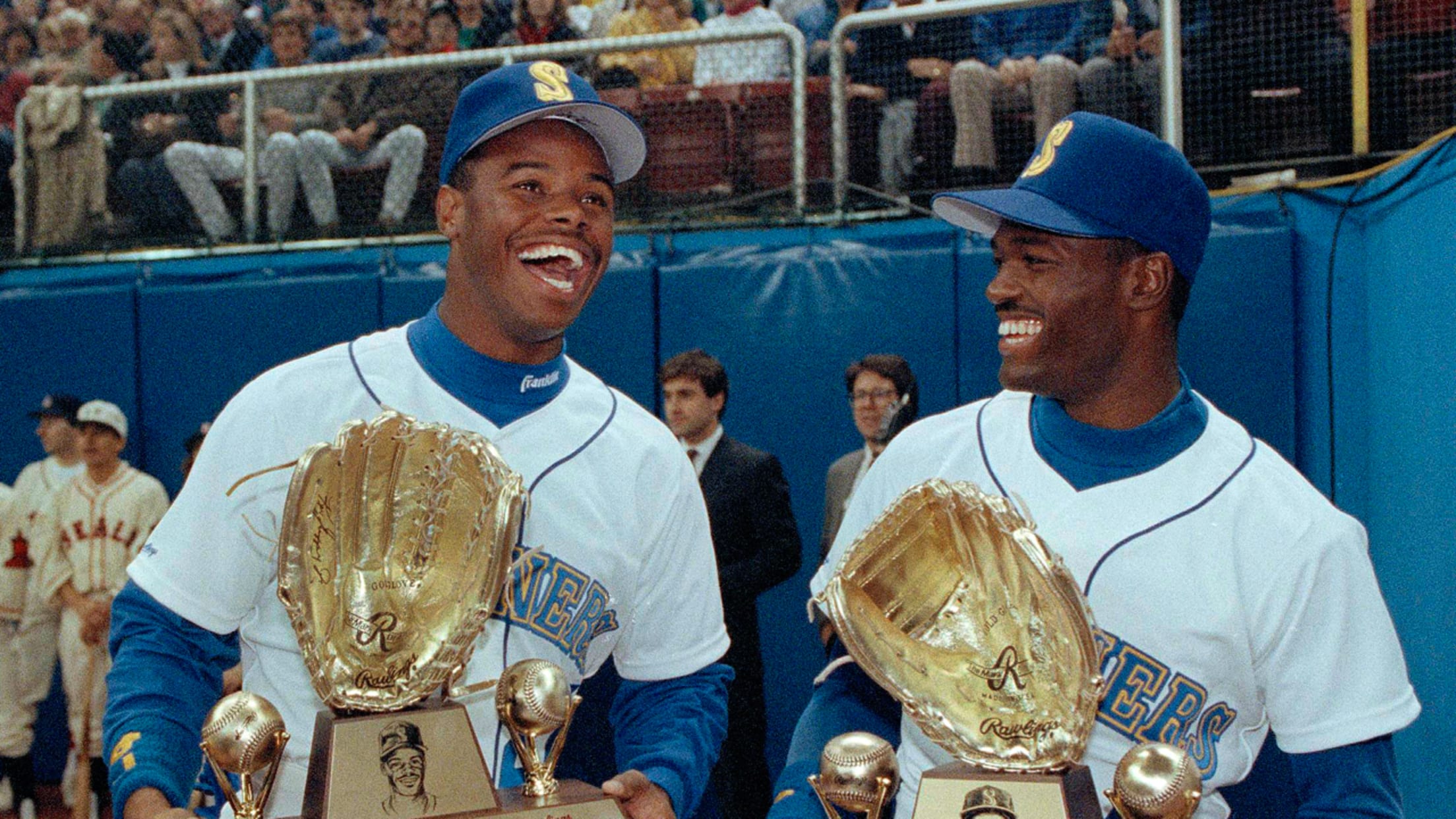 Ken Griffey Jr. and Harold Reynolds each won an American League Gold Glove Award in 1990. (Gary Stewart/AP)
SEATTLE -- Harold Reynolds remembers the first time he saw Ken Griffey Jr. as a 17-year-old kid, taking batting practice with the Mariners in the Kingdome after being selected as the first pick in the 1987 MLB Draft.Reynolds, now a lead analyst for MLB Network, was a 26-year-old second baseman
SEATTLE -- Harold Reynolds remembers the first time he saw Ken Griffey Jr. as a 17-year-old kid, taking batting practice with the Mariners in the Kingdome after being selected as the first pick in the 1987 MLB Draft.
Reynolds, now a lead analyst for MLB Network, was a 26-year-old second baseman at the time for the Mariners, fully established as a big league ballplayer and fresh off his first All-Star Game for Seattle. But he knew this kid, The Kid, was something different.
:: Complete Hall of Fame coverage ::
"He had this big ol' Afro and we all knew about his dad, so we were picturing this guy that was going to swing one-handed, hit the ball the other way and run," Reynolds said. "But he hopped into the cage to work out with the team, like they do with first-round picks after they sign, and he started hitting balls into the third deck. It was ridiculous.
"I told him right then, 'You wasted three years in the big leagues by going to high school.' He was that good already."
Griffey wound up spending a year and a half in the Minors, playing 129 games at Class A and Double-A before forcing his way onto the Mariners at the ripe age of 19. Everyone remembers his double off the A's Dave Stewart in his first Major League at-bat, but Reynolds picks up the story before that.
"What I remember more was Spring Training," Reynolds said. "He hit like .500 that spring. I'm not joking. Every day, he did something special. Then right before the season opened, we were in Las Vegas for an exhibition game on April Fool's Day and [manager Jim] Lefebvre called him as a prank and told him he didn't make the team. We all told him, 'Sorry, you're too young. You're just not ready.' He was devastated."
But as turned out frequently in his career, Griffey got the last laugh. He was too good to keep in the Minors, even if it took him a while to realize it.
• Griffey awaits Hall of Fame induction
"I saw him go from a boy to a man," Reynolds said. "I remember his second season, he got voted to the All-Star team the first time and we were in Toronto, me and him, just sitting in the stands and he was really down. He said, 'Look at my numbers. I don't deserve to go to the All-Star Game. Look at my numbers, I've only got eight homers. Should I go?'
"So I'm trying to give him the big-brother advice. I said, 'Junior, you got voted in. You've got to go. You're never going to be a Darryl Strawberry, hitting 40 homers. But you can be a guy that hits 20. And that's OK, 20 is a huge year.' So much for my advice."
Griffey wound up growing into one of baseball's premier power hitters, finishing his career with 630 and ranking sixth on baseball's all-time list as he heads into Cooperstown. Coverage begins on MLB Network and MLB.com at 8 a.m. PT Sunday, with the Hall of Fame induction ceremonies getting underway live at 10:30.
But as Reynolds notes, Griffey was so much more than just a home run threat.
"Every day, he did something that blew our mind," Reynolds said. "Whether it was BP, a catch, a throw, a home run or stretching a single to a double, whatever it was, he did something every day. And this was for the whole four years I played with him.
"Everybody was always challenging him. Dance-offs, slam-dunk contests, you name it, everybody wanted to take him on. We had a pitcher, Edwin Nunez, who kept telling him he had a better arm, and Junior says, 'Nah, you haven't even seen me let it go yet.' So we're in the old Yankee Stadium, standing at home plate, seeing who can throw it out of the stadium the farthest.
"Edwin throws one up to the top of the bleachers, clang, clang. And Junior reaches back and heaves one, and it almost hits the train tracks they had out there [outside the stadium]. We all just looked at each other and said, 'Whoa, hey, take it easy.' We didn't want him to throw his arm out. But there was nothing he couldn't do."
And eventually, Reynolds said, Griffey set those same sights on showing the entire baseball world just what he could do.
"That's the crazy thing, the one thing that stands out," Reynolds said. "Junior's motivation was never me or Alvin Davis or Jim Presley or whoever else might have been an All-Star on our team at the time. His motivation was, 'Frank Thomas has three more homers than me, I've got to hit more homers.' Or Kirby Puckett has a higher average or somebody else has more RBIs. He'd look at the top 10 stats and say, 'This is what I've got to do.'
"He told us before he did it that he was going to win the MVP of the All-Star Game. He said, 'My dad won the MVP, it's time for me to bring home the hardware, boys.' Or he'd say, 'They've got this Home Run Derby, I should try to win it.' And then he would. That was just Junior."
And now Griffey will do something accomplished by only the greatest of the great, as he'll be inducted into the Hall of Fame on Sunday.
Greg Johns has covered the Mariners since 1997, and for MLB.com since 2011. Follow him on Twitter [
---
@GregJohnsMLB]() and listen to his podcast.