Bader day to day with right hamstring injury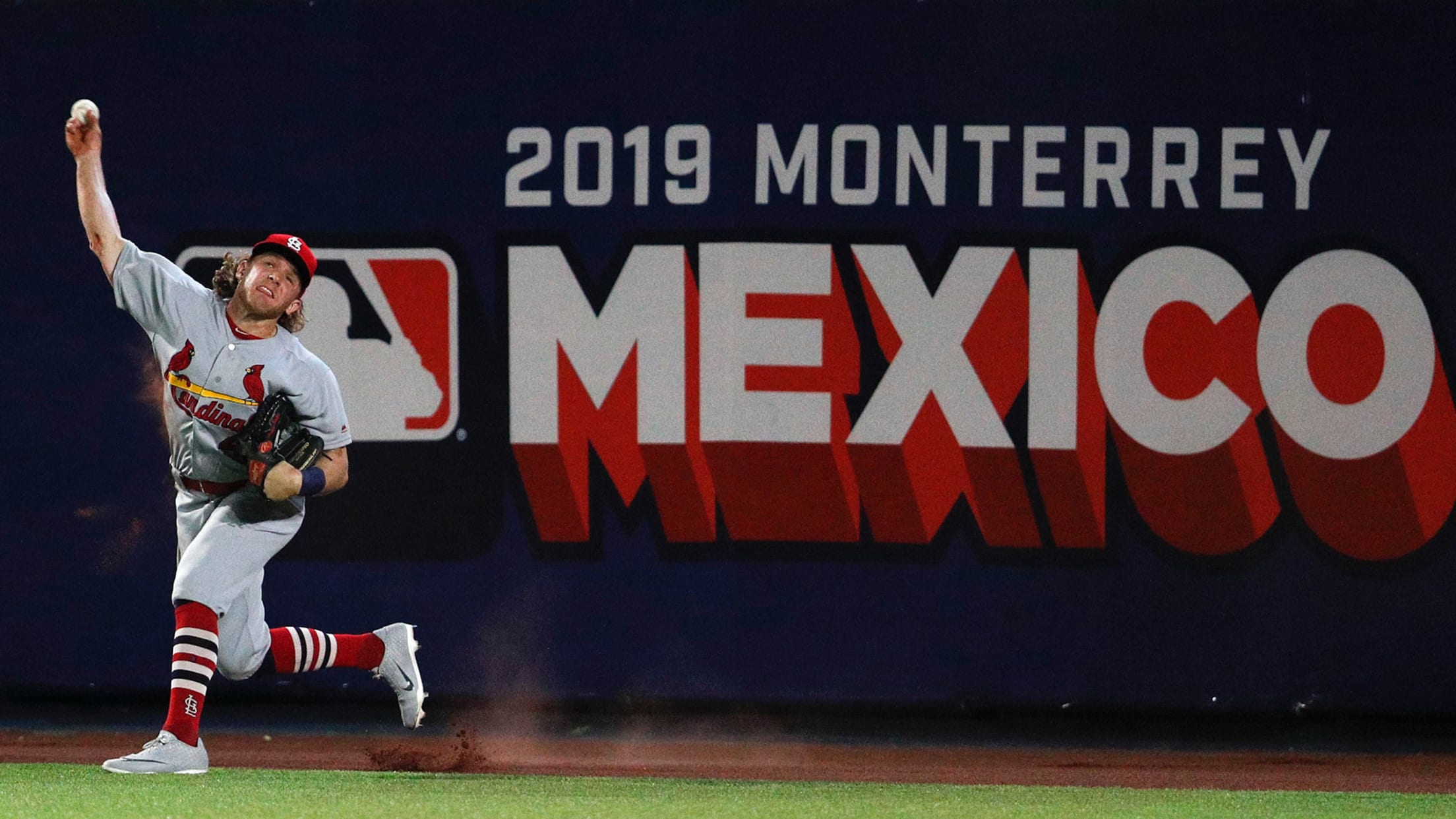 MONTERREY, Mexico -- The Cardinals will never know how differently Saturday's game may have played out had either Harrison Bader or Tyler O'Neill been able to complete what would have been web gem plays in the eighth inning of the club's 5-2 loss to the Reds. Both players had near
MONTERREY, Mexico -- The Cardinals will never know how differently Saturday's game may have played out had either Harrison Bader or Tyler O'Neill been able to complete what would have been web gem plays in the eighth inning of the club's 5-2 loss to the Reds. Both players had near misses on diving catches, and Bader nearly recovered from his to throw out a runner at third with a throw that cued up memories of Rick Ankiel.
But no player was able to stall the Reds' big inning, nor was Bader able to escape the three-run inning unscathed.
Bader told the club he felt his right hamstring pull when he had to halt his momentum and change direction to chase a ball that ricocheted off the glove of O'Neill, who had been inserted to play right field as part of a double switch. The issue led to Bader being held out of the lineup on Sunday.
O'Neill took his place in center field.
"A day-to-day kind of thing," manager Mike Shildt said. "We feel like we're ahead of it. Something he was able to communicate, and we were able to get on top of."
While Shildt added that "there's always concern" that the tightness could linger, the Cardinals did not intend to rush a decision about whether he could need to be transferred to the 10-day injured list. They already had reinforcements on their roster since they were permitted to carry an extra position player (Yairo Muñoz) for this two-game series in Mexico.
The Cardinals do not expect Bader to need additional medical testing on his hamstring once the team arrives in Milwaukee for their next series, which starts Monday. Their medical staff, which traveled in full to Monterrey, was able to evaluate Bader on Sunday morning.
Bader had opened the season by starting 13 of the team's first 14 games. In addition to playing elite defense, he has slashed .170/.347/.359 in his first full season as an everyday player for St. Louis.
Rehab roundup
As Shildt awaited word on the bullpen session that Carlos Martinez was scheduled to throw back at Busch Stadium on Friday, he received a text notification that provided all he needed to know.
"Got the super thumbs-up emoji," Shildt said.
The encouraging emoji came after Martinez threw 20 fastballs to mark his first time back on the mound since the opening week of Spring Training. Martinez, whose spring program was derailed by shoulder weakness, is expected to repeat the same exercise on Monday.
If that goes well, Martinez will then advance to a more robust bullpen session in which he'll start to introduce offspeed pitches and eventually simulate inning breaks by stopping partway through.
Rehabbing reliever Luke Gregerson (right shoulder impingement) had his rehab assignment transferred to Double-A Springfield and struck out two in a scoreless inning on Friday.
Jenifer Langosch is a senior content manager at MLB.com. She previously covered the Pirates (2007-11) and Cardinals (2012-19). Follow her on Twitter.