Fedde hopes in 2019 it all comes together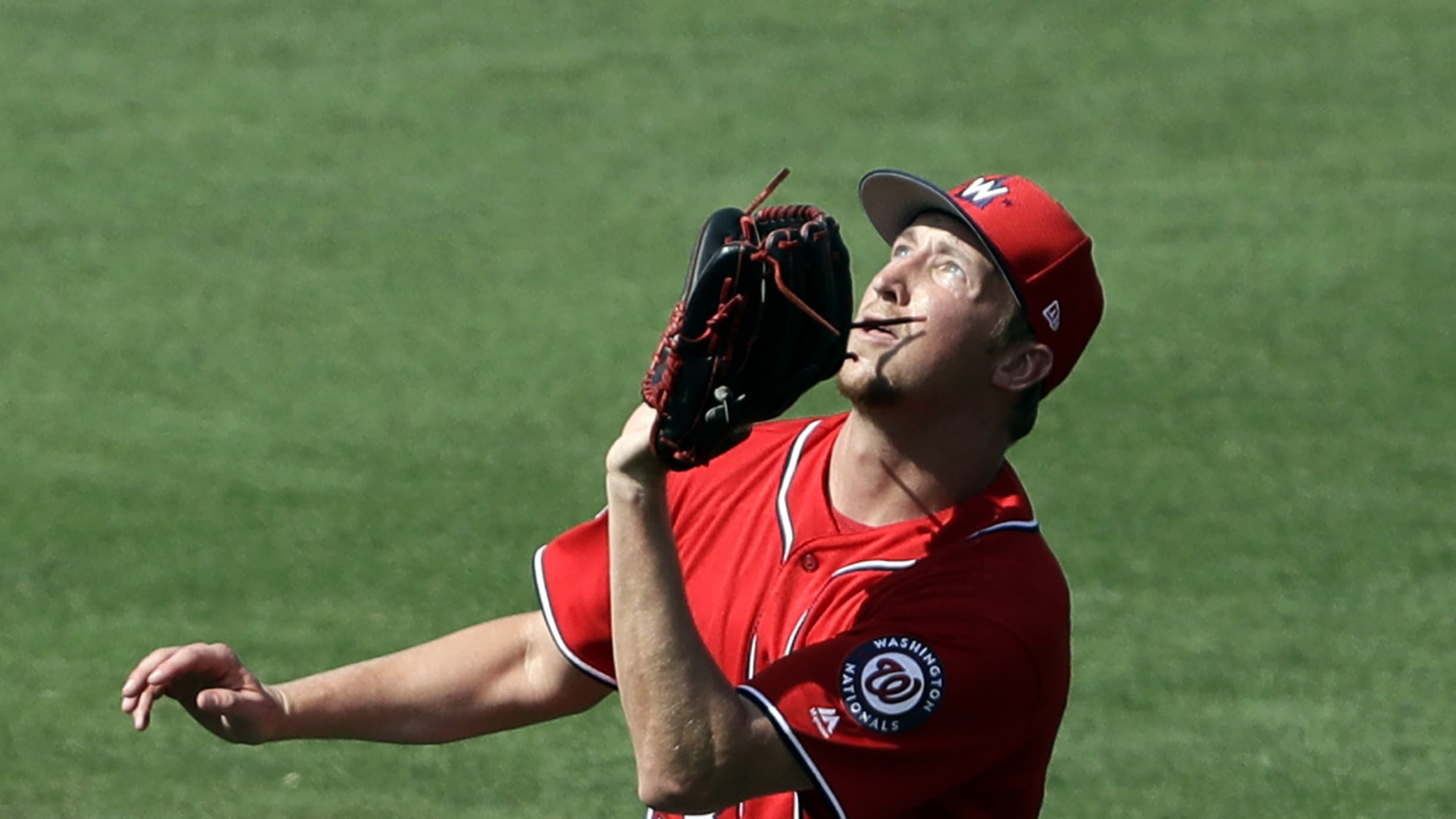 FORT MYERS, Fla. -- The Nationals have been waiting for 2014 first-round Draft pick Erick Fedde to emerge as a dependable starting pitcher in the Majors for a few years now. But injuries have stood in the way for the 18th overall selection that year, though 2019 could be the
FORT MYERS, Fla. -- The Nationals have been waiting for 2014 first-round Draft pick Erick Fedde to emerge as a dependable starting pitcher in the Majors for a few years now. But injuries have stood in the way for the 18th overall selection that year, though 2019 could be the year when it all comes together.
Fedde worked three innings, surrendering one run on two hits, striking out two and walking one in the Nationals' 10-4 victory in Fort Myers Thursday against the Twins.
"Definitely," Fedde said when asked if today's outing was a step in the right direction. "I think today I was trying to implement a lot of things we were working on and it's nice to see pretty good results."
The 26-year-old said he felt more comfortable as the game progressed, and it showed. Fedde finished his day with back-to-back strikeouts of Marwin Gonzalez and Nelson Cruz.
"Sometimes, you know, especially in Spring Training, once you just start to get the feel of things -- it all starts coming back to me and becomes natural," he said.
The focus for Fedde and Nationals manager Dave Martinez was to not fall behind hitters and get ahead in the count, which he did.
"That's my goal [getting ahead in the count] and today was a lot better. I think that also shows in the results," Fedde said.
"For me, as we always talk about with him, is throwing strike one," Martinez said pregame. "We want to see him pound the strike zone and be consistent."
The UNLV product underwent Tommy John surgery in his Draft year and has had numerous bumps in the road when it comes to staying healthy during his professional career.
"I think it's more important for him to stay healthy,"" Martinez said. ""I really do. He hasn't had a full season where he's been healthy. He's been hurt. We've got to keep him healthy, and with that being said, he understands that the biggest thing for him is staying out of those big innings."
After earning his first career win on June 29, 2018, he was put on the 60-day injured list with shoulder inflammation on July 5 following a start against Boston.
He did show promise upon return, having his best start as a big leaguer on Sept. 11 against the Phillies where he went 5 2/3 innings allowing no runs on just two hits, striking out nine in the victory.
He didn't mind making the nearly three-hour commute to Southwest Florida, as long as it meant he had the ball in his hand.
"I know a lot of guys [were] probably dreading the Fort Myers trip. But when I heard I got to start, I was ecstatic," Fedde said. "To me, it's my natural element, and it's great to do that instead of coming out of the 'pen."
Heading into the day, Fedde had only made one previous spring start and four appearances overall, carrying a 9.82 ERA in 7 1/3 innings pitched.
Martinez said he will continue to use Fedde in spring ball and knows that he will be part of the Major League staff at some point in the season.
"He pitched well," Martinez said. "We'll see where we're at, our main guys have got to start getting going, but we will let him pitch multiple innings. But if he continues to [pitch well] whether it's March 28th or somewhere down the road, he's going to pitch in the big leagues and help us."
So, what can Fedde bring to a team with a lack of starting rotation depth in their system, as it is nearly impossible for five staff members to make every scheduled start all year?
"I'm just a guy that's going to give the team a chance to win every time I step on the field. That's my goal here in Spring Training is just to prove that over and over. Be ready when they call me," Fedde said.
Nationals announce the addition of Sipp
The Nationals officially announced the addition of reliever Tony Sipp on Thursday morning.
Sipp had a stellar 1.86 ERA in 54 games for Houston last season, giving up just one homer.
We've signed LHP Tony Sipp to a 1-year deal with a mutual option for 2020!

🔗 // https://t.co/rV4nMzBimM pic.twitter.com/XRsJWXleK1

— Washington Nationals (@Nationals) March 14, 2019
"We'll assess where he's at already," said Martinez on if Sipp will be ready for Opening Day after joining the team so late. "We talked to him this morning. We'll just go from there. The last thing I want to do, though, is trying to push him to get him ready and something happens. We're going to be very careful on how we approach it. He looks good. He looks great. He's happy to be here, and he's glad he's in Spring Training. I told him, I said, 'Hey, we're glad to have you but we want you to get ready -- be healthy -- but we don't want you to think you have to be ready for Opening Day, we just want you to get ready – hopefully you are, but we have to see where you're at.'
"We're going to use him to definitely get lefties out. But he's been good. He had one of his best years last year. And I'm not afraid to use him against right-handed hitters. We have so many good left-handed hitters in our division that I really foresee him getting those lefties out."
Martinez said Sipp has been throwing on his own and will get his chance to be worked in as much as possible over the last two weeks of camp, whether that comes via bullpens, pitching batting practice or throwing side sessions.
"My biggest thing with him is back-to-back days," Martinez said. "For a bullpen guy, getting those guys ready to pitch back-to-back days is key. When he can do that, he'll be good to go."
Taylor exits with injury
Michael A. Taylor made a sensational sliding catch in right-center to rob Byron Buxton of extra bases in the second inning, though he got his cleat jammed in the grass, propelling him upward in an awkward way, leading to some knee soreness.
He stayed in to finish the inning but was removed for precautionary reasons the following frame after saying to Martinez he was experiencing stiffness.
"It was weird. We took him out. He's going to be sore. We'll re-evaluate him tomorrow," said Martinez.
Robles shines from leadoff spot
Victor Robles had a good day from the leadoff spot and joked with Martinez in the dugout before the game about going 5-for-5 in five innings, resulting in Popeyes chicken for the team. He did have a solid showing with a 2-for-4 effort, scoring two runs and driving in two -- the team was still rewarded with Popeyes due to their 10-run output.
"You always try to find a way to lighten the game up a little bit and make it more fun," Robles said through bullpen catcher and translator Octavio Martinez. "We threw that joke out there -- good that things worked out for us."
Up next
The Nats take on the Mets on Friday in Port St. Lucie, Fla. at 1:10 p.m. ET as Jeremy Hellickson will get the start.