Ramos shines in Under Armour All-America Game
Puerto Rican outfielder falls double short of cycle in rain-shortened contest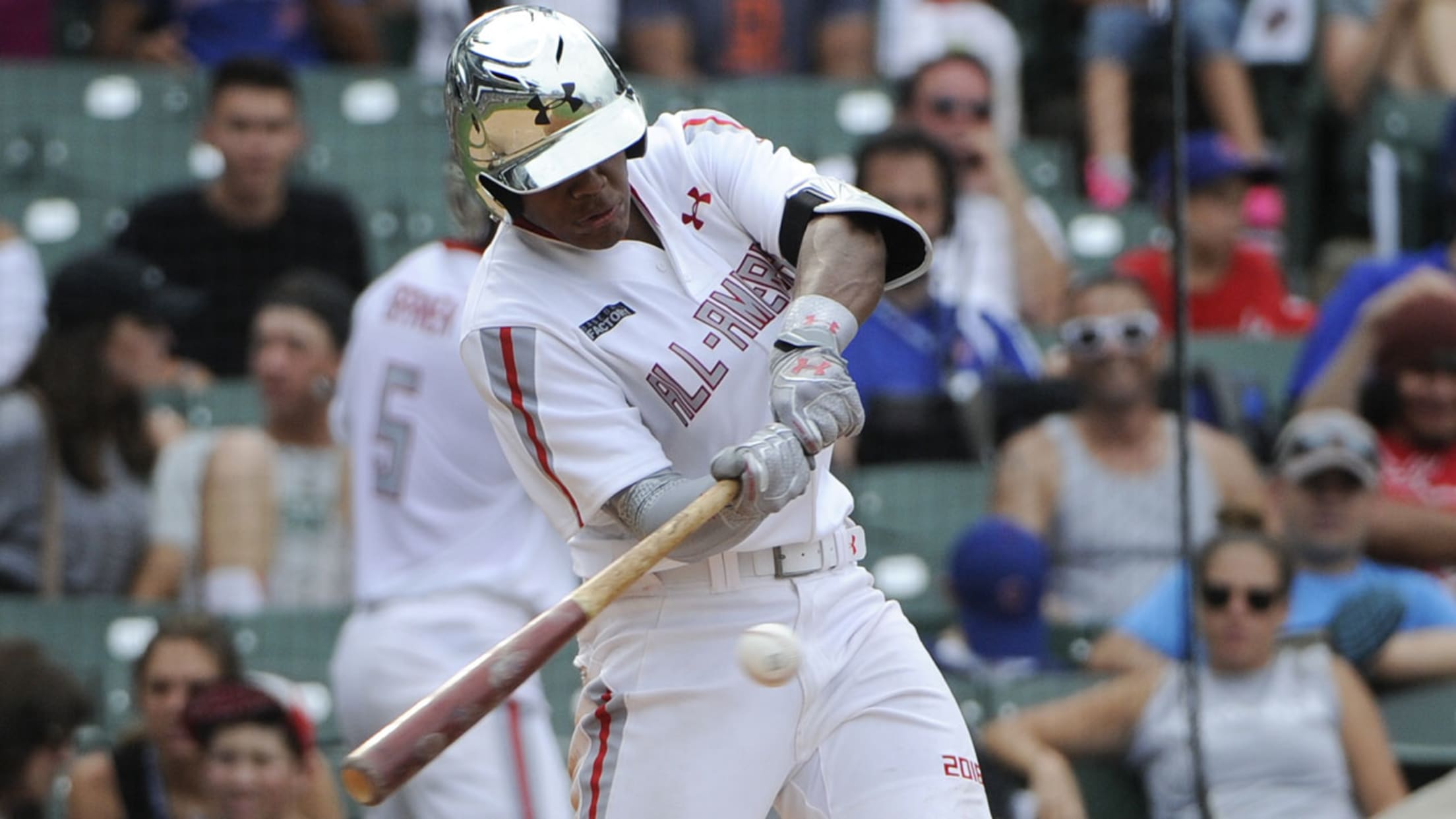 CHICAGO - Only Mother Nature could stop Heliot Ramos on Saturday afternoon at Wrigley Field.Ramos, a 6-foot-2, 185-pound Puerto Rican outfielder, stole the show in the ninth annual Under Armour All-America Game, going 3-for-3 with four RBIs to lead the National team to a 5-4 victory over the American team
CHICAGO - Only Mother Nature could stop Heliot Ramos on Saturday afternoon at Wrigley Field.
Ramos, a 6-foot-2, 185-pound Puerto Rican outfielder, stole the show in the ninth annual Under Armour All-America Game, going 3-for-3 with four RBIs to lead the National team to a 5-4 victory over the American team in seven innings.
"I felt really good, and especially being in a big league field like Wrigley, I thought I did good," Ramos said through interpreter Rollie Pino.
Ramos came a double away from hitting for the cycle, knocking a two-run triple in the second, an RBI single in the fourth and a solo home run in the sixth. He also scored the National team's other run, coming home on an RBI triple off the bat of The Westfield (Ga.) Schools outfielder Cole Brannen in the fourth.
The game was briefly delayed in the beginning of the seventh inning because of lightning in the area before being called prior to the eighth inning.
The American team had its share of big hits, but the combined effort wasn't enough to match Ramos.
Travis (Texas) High School outfielder Cole Turney started the scoring in the first inning with an RBI double to left-center field and Archbishop McCarthy (Fla.) first baseman Alex Toral's sacrifice fly in the third tied it after Ramos' first big knock.
Drew Waters, an outfielder out of Etowah (Ga.) High School, used his speed to pressure the National defense in the fifth, drawing a walk and stealing second and third before forcing an error to score. The next inning, JSerra (Calif.) High School infielder/outfielder Royce Lewis tied the game with a solo blast to deep left.
Ramos' sixth-inning homer to left-center once again put the National team on top -- although Wrigley Field's famous wind made Ramos question whether he got it all.
"When I hit it, I thought I had it," said Ramos, who preps at Leadership Christian Academy in Guaynabo, Puerto Rico. "But then I looked at the ball and it looked like the wind was pushing it back, so I didn't know if it was going to go or not."
The American team thwarted the National team's attempt to pad its lead in the bottom of the seventh when McClancy Memorial (N.Y.) High School left fielder Quentin Holmes gunned down Puerto Rico Baseball Academy infielder Ricardo de la Torre at home.
But the damage was already too much to overcome thanks to Ramos.
"He's unbelievable," Frisco (Texas) High School infielder Ryan Vilade said. "He was crushing the ball. Great player, funny guy. Me and him got along real well this weekend. Just a great player."