H. Alvarez getting closer to helping A's rotation
Right-hander's rehab progresses with throwing curveballs off mound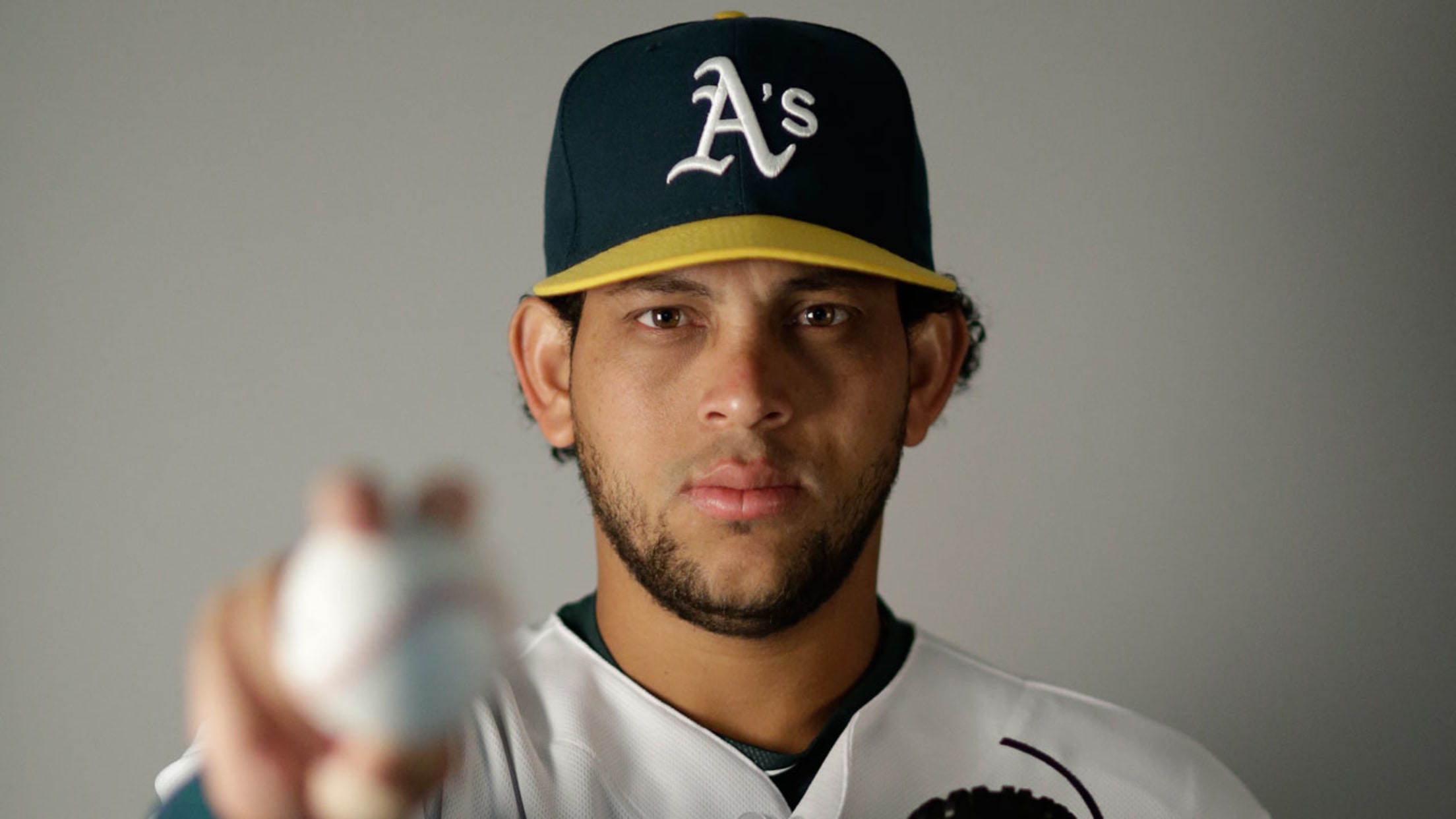 Henderson Alvarez was outstanding in 2014 with the Marlins, totaling 187 innings with a 2.65 ERA. (AP)
SURPRISE, Ariz. -- A's right-hander Henderson Alvarez crossed another item off his injury rehab to-do list on Saturday morning, spinning breaking balls off the mound for the first time post-surgery.Henderson, who had previously been limited to fastballs and changeups, threw two sets of 20 pitches for a total of 40
SURPRISE, Ariz. -- A's right-hander Henderson Alvarez crossed another item off his injury rehab to-do list on Saturday morning, spinning breaking balls off the mound for the first time post-surgery.
Henderson, who had previously been limited to fastballs and changeups, threw two sets of 20 pitches for a total of 40 in his latest bullpen session, as he prepares to progress to facing hitters next weekend when the team returns home.
"Time to take the training wheels off," manager Bob Melvin said.
• A's Spring Training info
Henderson underwent shoulder surgery in July 2015, signed a one-year deal with the A's in December and is expected to join their rotation in May. Simply the thought of this enlivens Melvin, who could soon have a solid 1-2 rotation punch in Sonny Gray and Alvarez.
"Like an in-season free-agent signing, a key one," Melvin said. "He's going to be really good for us barring any setbacks. He's got quite the track record.
"He's got a nice clean delivery, but he's got a quick arm. It's the kind of guy that beats the guy to the catcher's glove, a guy that, if he's throwing 92, it seems to play a little faster with some late giddy-up at the end."
Alvarez, who turns 26 next month, struggled with the Marlins ahead of his surgery last year, but he was outstanding in a 2014 All-Star season, totaling 187 innings with a 2.65 ERA.
Alvarez's looming arrival could make for some interesting rotation decisions and foster in-season competition among several of the current projected starters behind ace Gray: Rich Hill, Jesse Hahn, Kendall Graveman and Chris Bassitt.
"I think they're very much aware of that," Melvin said.
Worth noting
Outfielder Sam Fuld, sidelined by a shoulder sprain, was able to be at home in Florida with his wife, Sarah, for the birth of his fourth child on Thursday. John Spencer Fuld weighed in at 9 pounds, 1 ounce.
Jane Lee is a reporter for MLB.com.