Here are the HS ASG and HR Derby rosters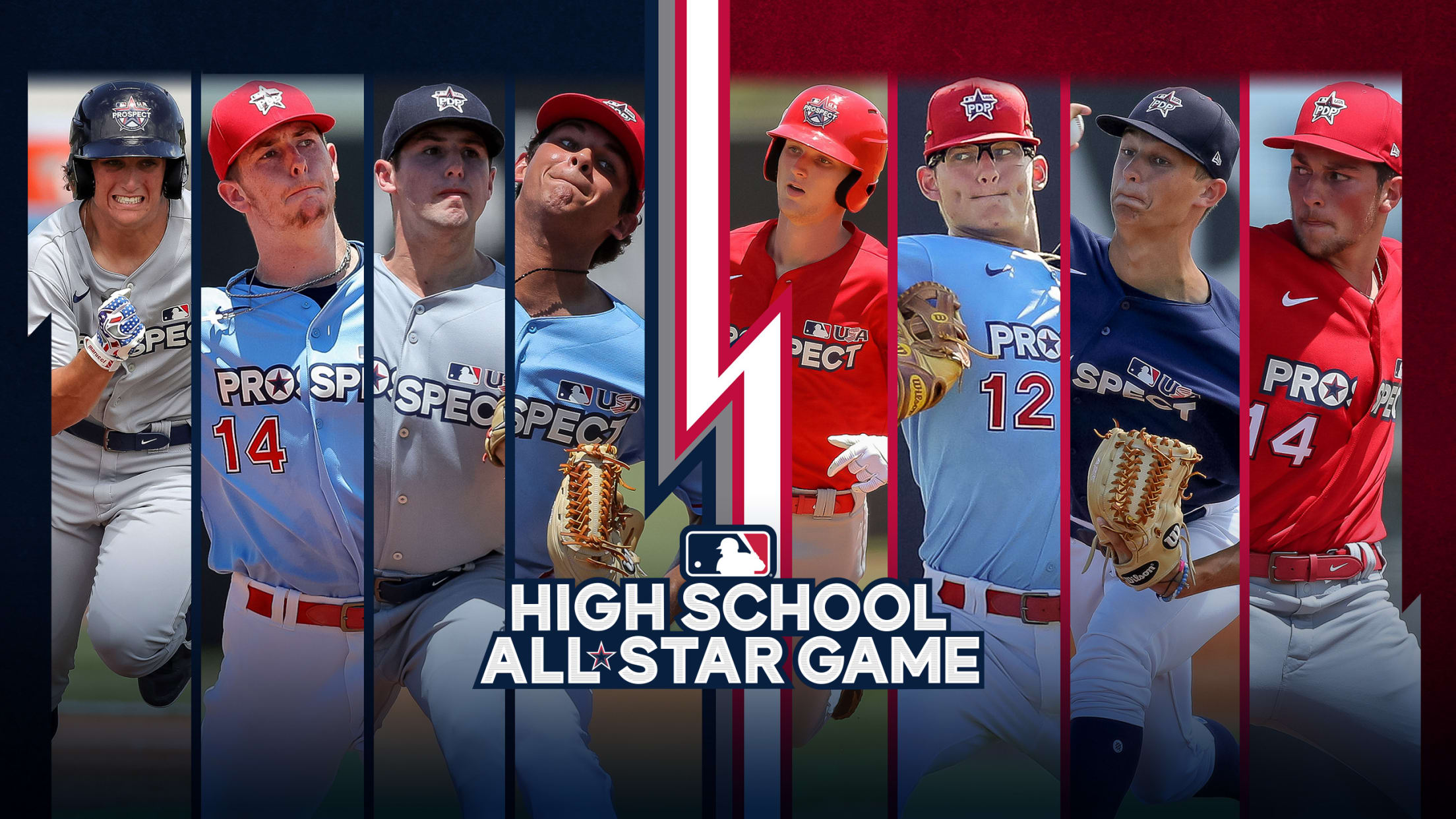 BRADENTON, Fla. -- And then there were 40. After three weeks evaluating 80 of the top high school players in the country during the inaugural Prospect Development Pipeline League, USA Baseball officially whittled the list down to 40 on Thursday for the 18-and-Under National Team Trials. This group will eventually
BRADENTON, Fla. -- And then there were 40.
After three weeks evaluating 80 of the top high school players in the country during the inaugural Prospect Development Pipeline League, USA Baseball officially whittled the list down to 40 on Thursday for the 18-and-Under National Team Trials. This group will eventually be cut down to the final 20-man roster that will head to Korea to compete in the WBSC U-18 Baseball World Cup.
Before that happens, those who made the 40-man roster, along with some alternates, will play in the High School All-Star Game at Progressive Field on Saturday at 1:30 p.m. ET. The game will be streamed live on MLB.com.
"That's the goal from when I came down here, to make the 40-man, eventually the 20-man," infielder Ed Howard (Mount Carmel, Ill.) said. "So, going to All-Star weekend and playing in a big league stadium, of course, that'll be a fun time. I'm looking forward to it.
"I've played in a few big league stadiums. Cleveland's a new stadium for me and any time you play in a big league stadium, it's fun. The atmosphere, everything about it is better."
The rosters are full of incredible talent that's been on display during PDP League play, including top hitters like Howard along with outfielders Robert Hassell (Independence, Tenn.) and Austin Hendrick (West Allegheny, Pa.), catcher Kevin Parada (Loyola, Calif.) and first baseman/outfielder AJ Vukovich (East Troy, Wis.). On the mound, fans can look forward to seeing lefties like Nate Savino (Potomac Falls, Va.) and Lucas Gordon (Notre Dame, Calif.), as well as right-handers such as Max Rajcic (Orange Lutheran, Calif.) and Mick Abel (Jesuit, Ore.).
"I gave it my all," Hassell said. "I'm definitely looking forward to having that opportunity, getting the chance to make the USA team, go to Cleveland, stuff like that. They set you up big time for that."
"It's amazing to play with all these top players in the country, spending three weeks with them down here," Howard said. "We'll take 40 down there, compete and have a fun game. These three weeks were good weeks for us to bond. I pretty much know everybody out here, so I'm pretty comfortable, and it'll be a fun time in Cleveland."
In addition to the All-Star Game, there will be a High School Home Run Derby on Sunday. Seven participants in the PDP League will take their hacks in the derby: Hassell, Hendrick, Vukovich, Nolan McLean (Garner, N.C.), Jordan Walker (Decatur, Ga.) and Yohandy Morales (Monsignor Pace, Fla.) are on the 40-man roster, while Michael Brown (Vacaville, Calif.) is an alternate. It's expected that Blaze Jordan (Desoto Central, Miss.), who recently reclassified to be a part of the Draft class of 2020, will join in on the derby fun on Sunday.
In August, the 40-man roster will head to Los Angeles for 18U National Team Trials, at which point the USA Baseball staff will have the unenviable task of halving the group to prepare for international competition. They're already used to making tough decisions after watching all this talent during the PDP League.
"This has been great," said Frank Jagoda, 18U national team director. "It was Day 23 of this thing and the staff and I were still having some pretty in-depth conversations. It's coming down to the wire for some of these guys, and I think that's what it's about. Getting the chance to spend a lot of time around these kids, see these kids and how they operate around each other for an extended period of time, it's a deeper look of what it could like if they make the final 20-man roster at the end of the summer."
All-Star Game Rosters
American Team
Enrique Bradfield, OF, American Heritage HS (Fla.)
Cam Brown, RHP, Flower Mound HS (Texas)
Max Carlson, RHP, Burnsville HS (Minn.)
Dylan Crews, OF, Lake Mary HS (Fla.)
Lucas Gordon, LHP, Notre Dame HS (Calif.)
Petey Halpin, OF, St. Francis HS (Calif.)
Hunter Haas, MIF, Corona Del Sol HS (Ariz.)
Jared Jones, RHP/OF, La Mirada HS (Calif.)
Nolan McLean, UTIL, Garner HS (N.C.)
Yohandy Morales, MIF, Monsignor Pace HS (Fla.)
Aaron Nixon, MIF, McAllen HS (Texas)
Kevin Parada, C, Loyola HS (Calif.)
Max Rajcic, RHP, Orange Lutheran HS (Calif.)
Drew Romo, C, The Woodlands HS (Texas)
Alex Santos, RHP, Mount St. Michael Academy (N.Y.)
Milan Tolentino, MIF, Santa Margarita Catholic HS (Calif.)
Luke Wagner, LHP, Red Land HS (Pa.)
Jordan Walker, 1B/OF/RHP, Decatur HS (Ga.)
Cayden Wallace, 3B, Greenbrier HS (Ark.)
Alternates: Carson Montgomery, RHP, Windermere HS (Fla.); Tanner Witt, 3B/RHP, Episcopal HS (Texas)
National Team
Mick Abel, RHP, Jesuit HS (Ore.)
Drew Bowser, 3B, Harvard-Westlake HS (Calif.)
Jack Bulger, C, Dematha HS (Md.)
Dax Fulton, LHP, Mustang HS (Okla.)
Colby Halter, UTIL, Bishop Kennedy HS (Fla.)
Kyle Harrison, LHP, De La Salle HS (Calif.)
Robert Hassell, OF/LHP, Independence HS (Tenn.)
Austin Hendrick, OF, West Allegheny HS (Pa.)
Ben Hernandez, RHP, De La Salle Institute (Ill.)
Cade Horton, RHP, Norman HS (Okla.)
Ed Howard, MIF, Mount Carmel HS (Ill.)
Colten Keith, 3B, Biloxi HS (Miss.)
Timmy Manning, LHP, Cardinal Gibbons HS (Fla.)
Jackson Miller, C/RHP, JW Mitchell HS (Fla.)
Robert Moore, MIF, Shawnee Mission East HS (Kan.)
Jason Savacool, RHP, Baldwinsville HS (N.Y.)
Nate Savino, LHP, Potomac Falls HS (Va.)
Tyler Soderstorm, C, Turlock HS (Calif.)
Carson Swilling, RHP, Smith Station HS (Al.)
Carson Tucker, MIF, Mountain Pointe HS (Ariz.)
AJ Vukovich, 1B/OF, East Troy HS (Wis.)
Alternates: Michael Brown, 1B, Vacaville HS (Calif.); Tre Morgan, 1B/OF, Brother Martin HS (La.)
Home Run Derby Rosters
American Team
Nolan McLean, UTIL, Garner HS (N.C.)
Yohandy Morales, MIF, Monsignor Pace HS (Fla.)
Jordan Walker, 1B/OF/RHP, Decatur HS (Ga.)
National Team
Michael Brown, 1B, Vacaville HS (Calif.)
Robert Hassell, OF/LHP, Independence HS (Tenn.)
Austin Hendrick, OF, West Allegheny HS (Pa.)
AJ Vukovich, 1B/OF, East Troy HS (Wis.)