Iwakuma plans to attempt comeback in Japan
37-year-old right-hander has spent 2018 rehabbing shoulder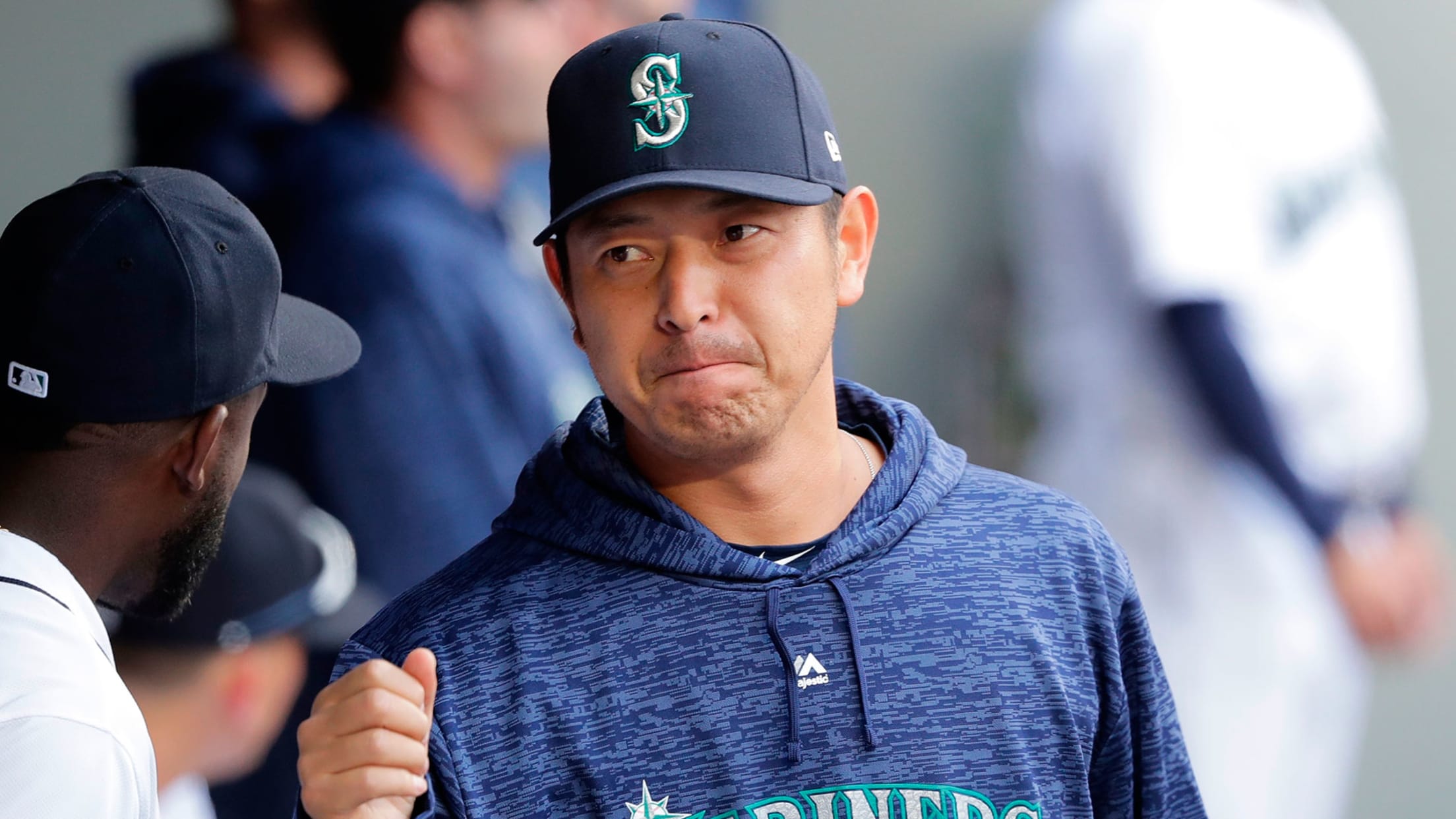 SEATTLE -- Hisashi Iwakuma didn't sound quite ready to leave the Mariners, but the 37-year-old right-hander still wants to pitch. And that means returning to Japan and pursuing opportunities in his native land next season after two injury-plagued final seasons in Seattle.The veteran starter said Tuesday he believes he can
SEATTLE -- Hisashi Iwakuma didn't sound quite ready to leave the Mariners, but the 37-year-old right-hander still wants to pitch. And that means returning to Japan and pursuing opportunities in his native land next season after two injury-plagued final seasons in Seattle.
The veteran starter said Tuesday he believes he can still pitch and will be ready by Spring Training to compete for a Japanese team. Iwakuma spent this year on a Minor League contract with the Mariners while attempting to rehab from shoulder surgery and made two starts for Class A Everett last week in the Northwest League playoffs, though he was limited to three innings of work.
He'll return now to Japan, where he pitched the first 11 years of his professional career from 2001-11. But Seattle, where he and his wife Madoka have raised their three children, won't soon be forgotten.
"This is a city that I played for for seven years and this is a city that I not only lived in, it's by far the best city that I can think of," Iwakuma said through interpreter Antony Suzuki. "The city has treated me well. The fans were great. This organization, we have a lot of loyal people here and without their help I would not have come this far.
"I only have good memories here. It's unfortunate that I have to leave, but it is what it is and we're leaving with good terms, so I'm very happy about that. ... I came here to challenge how much I could do and it worked out very well for me. Being able to wear a Mariners uniform for seven years, that's something special for me."
Iwakuma went 63-39 with a 3.42 ERA in six seasons with the Mariners before being derailed by the shoulder issue that ended his 2017 campaign after six starts.
He threw the fifth no-hitter in Mariners history in 2015 and was an American League All-Star in '13 when he finished third in the AL Cy Young Award voting after going 14-6 with a 2.66 ERA in 219 2/3 innings. He also led the Mariners in wins in '16 when he was 16-12 with a 4.12 ERA in 199 innings.
"Kuma is a warrior, is my best way to put it," Mariners manager Scott Servais said. "He would come into a ballgame and you'd look up in the first or second inning and think, 'My gosh, he doesn't have much today. How's he going to get through it?' And he'd find a way.
"His feel to pitch, to maneuver through a lineup, to get out of trouble and make pitches when he has to, when his back is to the wall, Kuma can really pitch. That's what I'll remember. I wasn't here when he first got here, I saw the tail end of his time as a Mariner. But I loved giving him the ball, loved his competitiveness. He has a lot of respect from the guys he played with as to how he went about it."
Iwakuma worked tirelessly this season attempting to come back, but the arm strength never quite got back to the level he needed. Yet he says the late-season progress was encouraging and believes he's not done yet.
"It's been a long process of rehab," he said. "But finally, in the long tunnel, I'm starting to see light. At this point, it's unfortunate that I cannot come back as a Mariner, but Japan is my origin. That's where I started my career and I think it's a good place to end my career, too."
Mariners await word on Felix
Servais was still waiting Tuesday afternoon to hear from the team's training staff on the availability of Felix Hernandez for his next scheduled start Saturday in Anaheim after the 32-year-old strained his right hamstring in his last outing. But Hernandez said his leg was feeling "OK" and doctors told him it was only a low-grade strain.
Mike Leake and James Paxton are tentatively slated to start Thursday and Friday in Anaheim. If Hernandez isn't ready to go, Erasmo Ramirez would move up a day and still pitch Saturday on an extra day of rest with the Mariners going with six starters as well as having had an off-day on Monday.
Worth noting
• Jean Segura was scratched from Tuesday's lineup due to a lingering virus/illness, with Dee Gordon starting at shortstop instead. Several Mariners have been dealing with some sort of bug, according to Servais, including Paxton.
• With Nelson Cruz set to become a free agent at season's end, Servais reiterated that he'd welcome the 38-year-old designated hitter back with open arms and believes "there is plenty left in his tank. The production and power are still there."
But any negotiations won't begin out until the regular season ends.
"I'd love to have him back, there's no question about that," Servais said. "But we'll have to wait and see how things play out as we go through the offseason and making plans moving forward. We have 19 games left to play and I expect Nelly to be in there for almost all of them."