These 15 prospects boosted their stock this year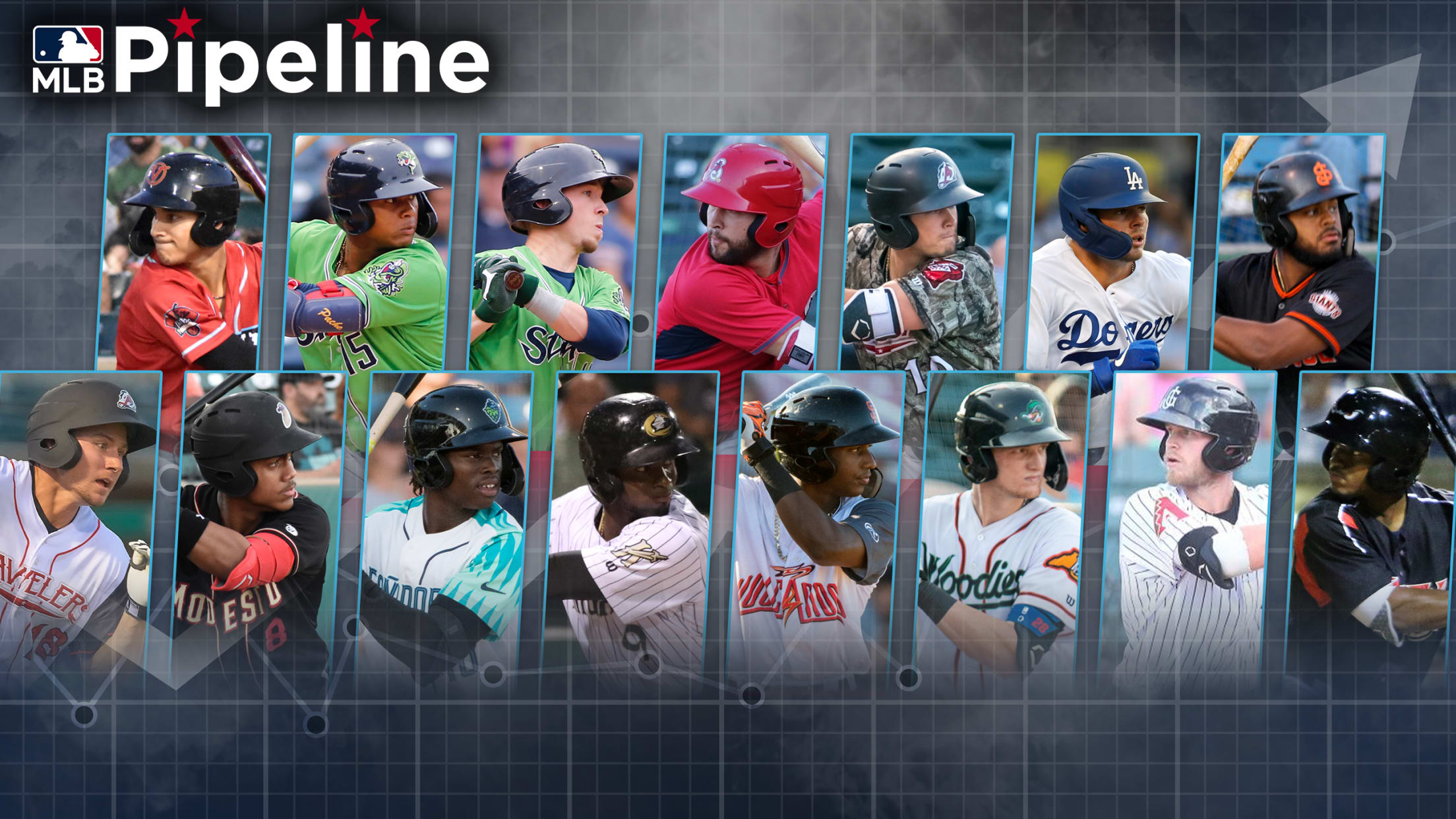 On Thursday, we took a look at pitchers who boosted their stock with a strong 2019 season. Let's flip the script and look at hitters. The following group of 15 position players are all currently in the Top 100, though they didn't all start the year there. All have raised
On Thursday, we took a look at pitchers who boosted their stock with a strong 2019 season. Let's flip the script and look at hitters.
The following group of 15 position players are all currently in the Top 100, though they didn't all start the year there. All have raised the expectation bar for what they can accomplish in 2020 and beyond.
Luis Robert, OF, White Sox No. 1/MLB No. 5 (Preseason: 40)
We all knew Robert was talented, but injuries kept him from really showing what he could do in 2018 outside of a strong stint in the Arizona Fall League. He used that to play across three levels and finish with a 30-30 season and an OPS over 1.000.
After putting up a 30-30 season, #WhiteSox prospect Luis Robert was a no-brainer for our Prospect Team of the Year.@jimcallisMLB went on @MLBNetwork earlier today to discuss the 22-year-old outfielder: https://t.co/WobbjE5gMB pic.twitter.com/Vby0tpxQ78

— MLB Pipeline (@MLBPipeline) September 9, 2019
Gavin Lux, SS/2B, Dodgers No. 1/MLB No. 9 (Preseason: 70)
Added strength and using his legs more in his mechanical setup at the plate helped Lux break out in 2018, then he took it one step further this past year. A combined .347/.421/.607 line between Double-A and Triple-A catapulted Lux up to the top of prospects lists and to Los Angeles, where he's currently contributing to a playoff-bound team.
Cristian Pache, OF, Braves No. 1/MLB No. 10 (Preseason: 64)
Perhaps the best defensive outfielder in the Minor Leagues, Pache's offensive profile has continued to get better as he's moved up the ladder. He set career highs in on-base percentage, slugging, obviously OPS, home runs and RBIs while making it to Triple-A at age 20.
Jarred Kelenic, OF, Mariners No. 1/MLB No. 22 (Preseason: 56)
We all knew the kid from the Wisconsin high school ranks taken in the first round of the 2018 Draft was good, but this good? In his first full season of pro ball (and first with the Mariners after coming in the Robinson Cano deal), all Kelenic did was play across three levels, finishing in Double-A, going 20-20 and posting a .904 OPS.
Drew Waters, OF, Braves No. 2/MLB No. 24 (Preseason: 86)
That sound you're hearing is Braves fans chomping at the bit, because who doesn't want to see a Pache-Waters-Acuna outfield in Atlanta? Waters' power hasn't really shown up yet, but it's coming (those 40 doubles are going to turn into more home runs). And he hit .309/.360/.459 while reaching Triple-A at age 20.
Dylan Carlson, OF, Cardinals No. 2/MLB No. 49 (Preseason: NR)
Carlson showed glimpses of what he could do in 2018 while dealing with the extreme pitching park that is Palm Beach. It all came together in 2019 in Double-A and Triple-A, finishing with a 20-20 season (26 homers, 20 SBs) and a combined .292/.372/.542 line.
Dylan Carlson won Texas League MVP honors and represents the #STLCards on our Prospect Team of the Year: https://t.co/WobbjE5gMB

Here's @jimcallisMLB discussing the @Cardinals' No. 2 prospect. pic.twitter.com/B13wvjdGV6

— MLB Pipeline (@MLBPipeline) September 9, 2019
Julio Rodriguez, OF, Mariners No. 3/MLB No. 51 (Preseason: NR)
Even though a broken left hand forced him out for almost two months, the 18-year-old outfielder still managed to hit his way from the South Atlantic League to the California League. Combined, he finished with a .326/.390/.540 line and had a 1.252 OPS in 19 Cal League games.
Heliot Ramos, OF, Giants No. 2/MLB No. 52 (Preseason: 92)
It's been a little bit of a roller coaster for the 2017 first-round pick. After a stirring pro debut that summer, he struggled in full-season ball in 2018. But he had no trouble with a move up to the California League this past season, as a .306/.385/.500 line in 77 games earned him a bump up to Double-A before his 20th birthday.
Alek Thomas, OF, D-backs No. 1/MLB No. 59 (Preseason: NR)
The D-backs were ecstatic Thomas was still around for them in the second round of the 2018 Draft and he went out and performed like a first-round talent. The Chicago area high schooler earned a promotion from the Midwest to the California League and finished with a combined .300/.379/.450 line to go along with double digits in homers and steals.
Marco Luciano, SS, Giants No. 3/MLB No. 61 (Preseason: NR)
The top middle infielder in the 2018-19 international class, Luciano signed for $2.6 million in July 2018 then went out and lived up to that billing by making a strong professional debut in the United States this summer. After hitting .322/.438/.616 in the Rookie-level Arizona League, he got moved up to the Short-Season Northwest League before his 18th birthday.
Evan White, 1B, Mariners No. 4/MLB. No. 70 (Preseason: NR)
Though a couple of stints on the injured list limited White to 93 games, the smooth-fielding first baseman started adding more power to his game in his second full season. His 18 homers and .488 SLG, in Double-A, easily topped his first full season numbers that were compiled in the hitting-friendly California League.
Xavier Edwards, 2B/SS, Padres No. 5/MLB No. 74 (Preseason: NR)
Another 2018 high school draftee who earned a promotion from Class A to Class A Advanced, Edwards hit a combined .322 with a .375 OBP across the two levels. He also swiped 34 bags and walked (44) nearly as often as he struck out (54) for the year.
Sam Huff, C, Rangers No. 2/MLB No. 75 (Preseason: NR)
The power has always been there, but in 2019, Huff really started tapping into it consistently. He hit 15 homers in 30 games in the South Atlantic League, then added 13 more in the Carolina League to double his career total.
Kristian Robinson, OF, D-backs No. 2/MLB No. 89 (Preseason: NR)
While it's true that Robinson didn't hit that well upon reaching full-season ball (though he did have nine extra-base hits in 25 games there), the fact he got there at age 18 is impressive enough. And that was after hitting .319/.407/.558 in the short-season Northwest League. Combined, he finished with 14 homers and 17 steals.
Seth Beer, 1B/OF, D-backs No. 4/MLB No. 96 (Preseason: NR)
Beer hadn't hit well with wood while in college and was a very polarizing prospect coming out of the 2018 Draft. He answered some critics with a strong pro debut, then continued to hit his way to Double-A in his first full season before he was dealt from the Astros to the D-backs in the Zack Greinke deal. Even after scuffling a bit post-trade, Beer still hit 26 homers, slugged .516 and drove in 103 runs for the year.