Nicknames, bright gear part of Players Weekend
New event to take place during all games from Aug. 25-27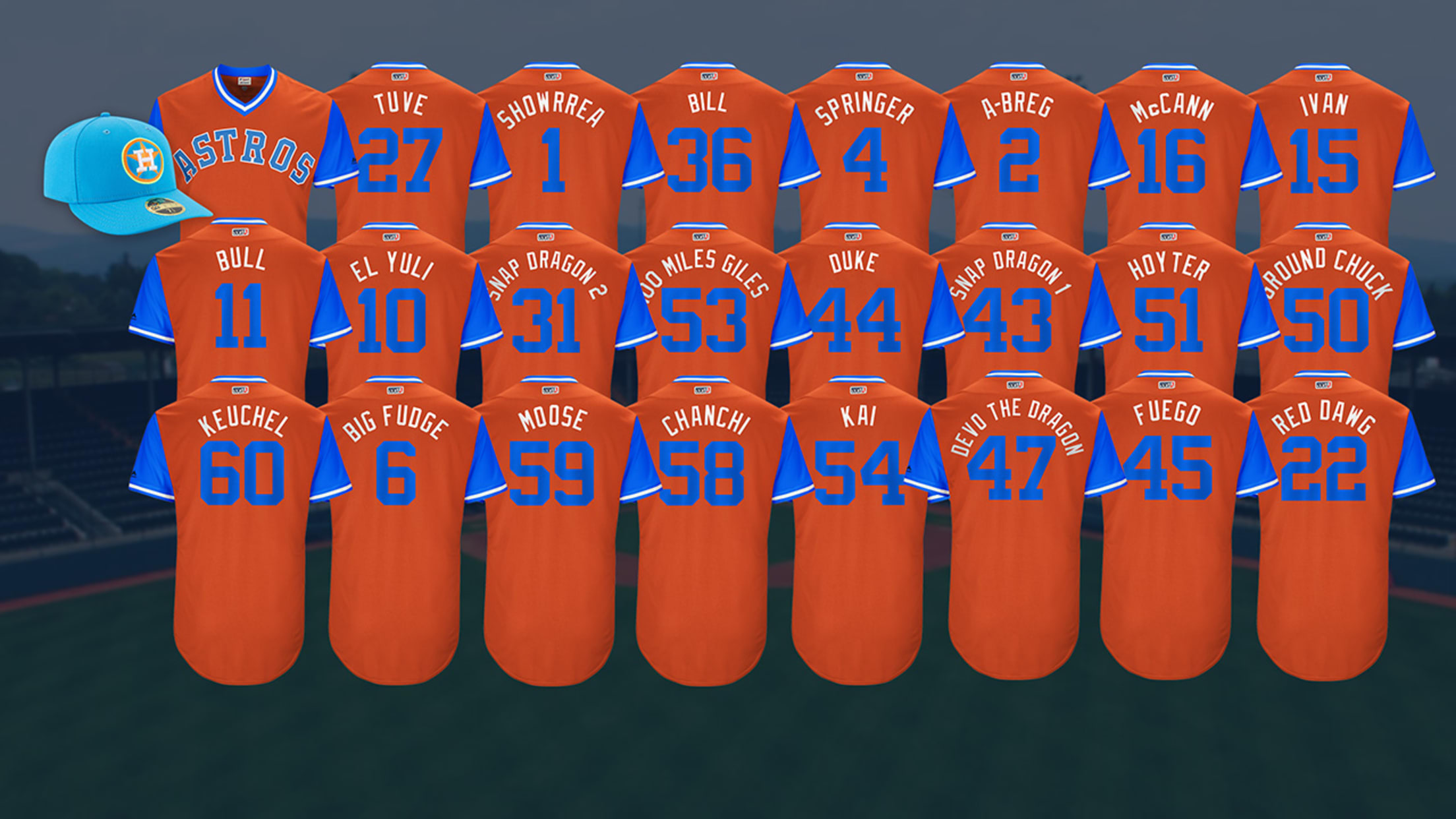 For the first time, there will be a "Dragon" pitching in a Major League Baseball game.At least, that is what will be on the back of Astros reliever Chris Devenski's jersey. Devenski and other big leaguers will be taking part in the inaugural Players Weekend this Friday through Sunday around
For the first time, there will be a "Dragon" pitching in a Major League Baseball game.
At least, that is what will be on the back of Astros reliever Chris Devenski's jersey. Devenski and other big leaguers will be taking part in the inaugural Players Weekend this Friday through Sunday around the Major Leagues. That weekend, the Astros will be in Anaheim to face the Angels for a three-game set.
Players will get to wear colorful, non-traditional uniforms and alternate designs and also have the opportunity to wear the nicknames of their choice on the backs of their jerseys.
• Players Weekend gear available at MLBShop.com
Devenski, commonly known as "DeVo" by his peers since high school, will wear another nickname bestowed upon him by one of his Minor League managers -- "DeVo The Dragon."
"It was my manager in Double-A [Corpus-Christi], Rodney Linares," Devenski said. "He gave me that nickname, and he holds a special place in my heart and my career. He was like a mentor for me in that time in my life. It's very special to me."
As part of Players Weekend, big leaguers will get to use unique spikes, batting gloves, sleeves, wristbands, catcher's masks and bats. Players will also wear uniquely designed caps and socks from Stance. During pregame workouts and postgame interviews, players will wear shirts honoring the charity of their choice.
Each jersey will have a special patch on the sleeve to mark the name of a person or people who were critical in the player's progression to the Majors. Devenski said he will be writing the names of his mom and dad on his sleeve.
"Probably going to put my mom and my dad's name on my shirt to represent them and all the times that they were there for me to get me to this point in my life," Devenski said. "It's pretty cool to share that and to share something a little different with everybody. They can see a different part of the game."
Astros All-Star second baseman and American League MVP candidate Jose Altuve said he appreciates MLB's initiative to allow the players to show their creativity and interact with the fans.
"I think it's fun," Altuve said. "People are going to like that, going to get to know players' nicknames and have fun. Everything we can do to make the fans more interested in us and in baseball, we have to do."

Game-worn Players Weekend jerseys will be available at MLB.com/auctions, with 100 percent of the proceeds going toward the MLB-MLBPA Youth Development Foundation, a joint effort established in July 2015 to improve the level, effect and ability for kids to play amateur baseball and softball in the U.S. and Canada.
The first teams to wear the special uniforms will be the Pirates and Cardinals during the MLB Little League Classic in Williamsport, Pa., on Aug. 20 during the Little League World Series.
• Altuve: "TUVE"
• Devenski: "DEVO THE DRAGON"
• Carlos Beltran: "IVAN"
• Ken Giles: "100 MILES GILES"
• Alex Bregman: "A-BREG"
• Jake Marisnick: "BIG FUDGE"
• Marwin Gonzalez: "MARGO"
• Collin McHugh: "SNAP DRAGON 2"
• Josh Reddick: "RED DAWG"
• Yuli Gurriel: "EL YULI"
Fabian Ardaya is a reporter for MLB.com.