'Homework assignments' for '20's sophomore class
Big numbers could be one tweak away for 5 of last year's top prospects
Baseball saw its youngest players take over like never before last year, with rookie phenoms like Pete Alonso, Yordan Alvarez and Fernando Tatis Jr. making the game look unfathomably easy. But it wasn't a breeze for everyone, including for some of the most anticipated rookies. Below, we're looking at five
Baseball saw its youngest players take over like never before last year, with rookie phenoms like Pete Alonso, Yordan Alvarez and Fernando Tatis Jr. making the game look unfathomably easy.
But it wasn't a breeze for everyone, including for some of the most anticipated rookies. Below, we're looking at five of 2019's most highly-touted prospects that somewhat underwhelmed next to their expectations, and we're handing them a "homework assignment" -- aka an approach that could unlock improvement in the year ahead. We won't pretend to know everything about what this quintet went through, but the suggestions below are what stand out on paper.
Vladimir Guerrero Jr., Blue Jays
Assignment: Elevate, then celebrate
We're a year removed from wondering whether Vladdy was the best prospect of all-time. And so, with that kind of bar to hurdle, Guerrero's first season (.272/.339/.433, 15 HR) was disappointing. But there were good signs baked in:
• Guerrero struck out in a below-average 17.7% of his plate appearances, while walking at a near-average rate of 8.9%.
• On May 11, Guerrero laced a 118.9 mph line-drive single, and Giancarlo Stanton is the only hitter who topped that exit velocity all season. That wasn't an aberration: No one, not even Aaron Judge or Stanton, struck more 115-plus mph batted balls than Guerrero, who did so eight times. The prodigious power we heard about was there, at least in flashes.
• On the whole, Guerrero's 89.4 mph average exit velocity placed him in the 58th percentile among full-time hitters.
But Guerrero's contact point is where he stood out -- and not in the way he wanted. Among the 31 hitters who struck at least 100 batted balls and reached 115-plus mph on at least one of them, Guerrero's barrel rate was second-to-last. His slugging percentage on hard-hit (95+ mph) contact was more in line with light-hitting infielders like Amed Rosario, José Iglesias and Brandon Crawford than big boppers like Pete Alonso and Mike Trout. The batter's eye and top-end power is there, but Guerrero will have to start lifting the ball (in moderation) -- to translate those skills into eye-popping numbers. Secondary pitches made Vladdy more of a worm-burner than a slugger as the season progressed.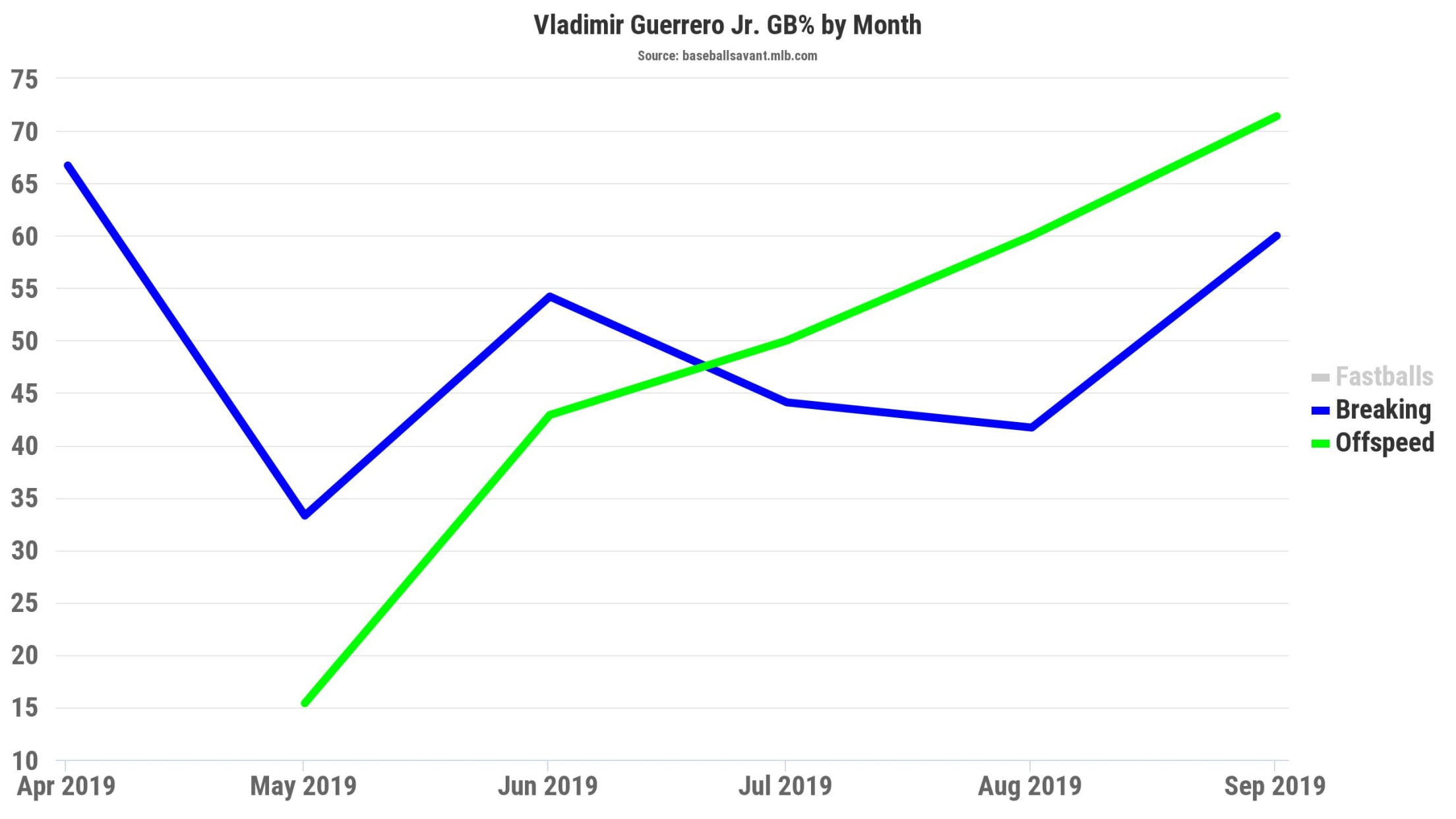 Guerrero ranked as baseball's worst infield defender last season, so there's pressure to make his plate appearances count. But even after a so-so 2019, Guerrero's age and Minor League history combine to give him the biggest year-to-year improvement from last year's actual WAR to his '20 Steamer projection (0.4 to 3.6) of any position player this season.
Eloy Jiménez, White Sox
Assignment: Become more discerning
We could have pointed to Jiménez's glove after he ranked among MLB's worst defensive outfielders, but no one expected Jiménez to be a Gold Glove Award winner in left field. Instead, let's pull out a line from MLB Pipeline's scouting report for Jiménez entering last season:
"His pop has elicited comparisons to Giancarlo Stanton, but he's a better hitter than Stanton. He excels at recognizing pitches and making adjustments, allowing him to repeatedly barrel the ball with high exit velocities to all fields."
Jiménez's pop definitely showed up; along with his 31 homers, he finished in the 92nd percentile in hard-hit rate and just outside the top 20 in barrel rate (min. 250 batted balls). But his plate discipline -- 134 strikeouts to just 30 walks -- undercut that power. Only 10 full-time hitters saw fewer pitches in the strike zone than Jiménez, who encouraged pitchers to nibble with his bottom-50 chase and chase contact rates.
Jiménez is in the same dilemma as Guerrero: His defensive limitations mean he must hit like a superstar to provide star-level value. More patience could help Jiménez become a hitter instead of a swinger.
Nick Senzel, Reds
Assignment: Re-discover that power stroke
Senzel's rookie year wasn't a cakewalk. He was moved to an almost completely new position in center field. His debut was delated by an ankle injury, his summer hampered by vertigo-induced headaches and another ankle sprain, and then cut short by a labrum tear in his right shoulder. All those things considered, Senzel's rookie line was completely fine: A .256/.315/.427 slash line -- diminished somewhat by a late-season slump -- and 12 home runs.
But, aside from better health and a clear idea of where he's playing (no certainty, given the Reds' acquisitions of Mike Moustakas and Shogo Akiyama), we'd love to see Senzel, who slugged .508 across his Minors career, start squaring up the ball again. The strength and bat speed that helped Senzel make "consistent hard contact," per his scouting report from MLB Pipeline, didn't accompany him in Year 1: Senzel's 37.3% hard-hit rate put him in MLB's 39th percentile, and his 87.5 mph average exit velocity was just 25th percentile.
Hard contact isn't the only key to success, and Senzel's hard-hit rate was only decimal points away from Alex Bregman, Michael Brantley and Nolan Arenado. But he also put nearly half of his contact on the ground, and he pulled the ball less than the average Major Leaguer. Reds fans would love to see Senzel drive the ball with a little more authority, and draw a few more walks, too.
Mitch Keller, Pirates
Assignment: Don't get discouraged
Here are three facts about Keller's rookie season:
• His 7.13 ERA ranked sixth-worst among 183 starters who threw at least 40 innings last season.
• Opponents hit .343 against Keller, second-worst behind Edwin Jackson (.348) in that group.
• Keller coughed up five or more runs in nearly half (five) of his first 11 big league starts.
And here are three other facts about Keller's debut.
• The 21.6% differential between Keller's strikeout (28.6%) and walk (7.1%) rates ranked 20th-best out of those 183 starters. Some pitchers he finished ahead of: Chris Paddack, Lance Lynn, Clayton Kershaw, Hyun-Jin Ryu and Zack Greinke.
• Keller's 3.19 FIP -- based on the events a pitcher can control -- was 14th-best in that group, sandwiched between Lynn and Greinke. Not only was the difference between Keller's ERA and FIP the largest of any starter last year; it was the second-largest of this century behind Roy Halladay's third big league season in 2000.
• His BABIP allowed was .475 -- not a misprint -- aka the highest on record against any Live Ball Era pitcher (min. 40 IP) by a full 50 points.
All Keller can do is focus on the positives, and there were many. He missed bats and kept his walks under control. Statcast identified Keller's closest comp as Lynn -- the fifth-place finisher in American League Cy Young Award voting -- based on the speed and movement of their pitches (in fact, it was almost a direct 1-to-1 correlation). His fastball and curveball spin were both borderline elite, and his average exit velocity allowed was just outside baseball's top 30%, making that unholy BABIP even more mystifying.
The Pirates saw enough good things to keep trotting Keller out there, despite nearly everything dropping for a hit. After a hellish Year 1, things almost literally have nowhere to go but up in Year 2.
Austin Riley, Braves
Assignment: Re-establish your strike zone
Riley's first 18 big league games were right up there with the gate-busting starts of Aristedes Aquino and Alvarez: Nine homers, 25 RBIs and a .732 slugging percentage. But his last 62 contests were different altogether: Just nine more homers, .379 slugging and a strikeout for every two and a half at-bats.
Riley's power is undeniable, but similar to veteran all-or-nothing sluggers like Hunter Renfroe and Mike Zunino, it won't do him much good if he can't access it frequently. Riley was swung more than the average big leaguer in every section of the zone, and that aggression didn't work for a hitter who whiffed more than anyone besides Joey Gallo. Riley could actually look to Gallo's 2019 breakout as an inspiration, and try limiting his swings to the pitches he can drive.
"I think it's a matter of setting my sights a little bit different," Riley said in September, "of really understanding that that ball that starts out as a strike and goes to being a ball, where it comes out of his hand."
Josh Donaldson is now a Twin, so if Riley is indeed the Braves' heir apparent at third base, they have to hope his pitch recognition turns around.