How these 7 phenoms fared to start their careers
Vlad Jr., MLB's No. 1 prospect, prepares for big league debut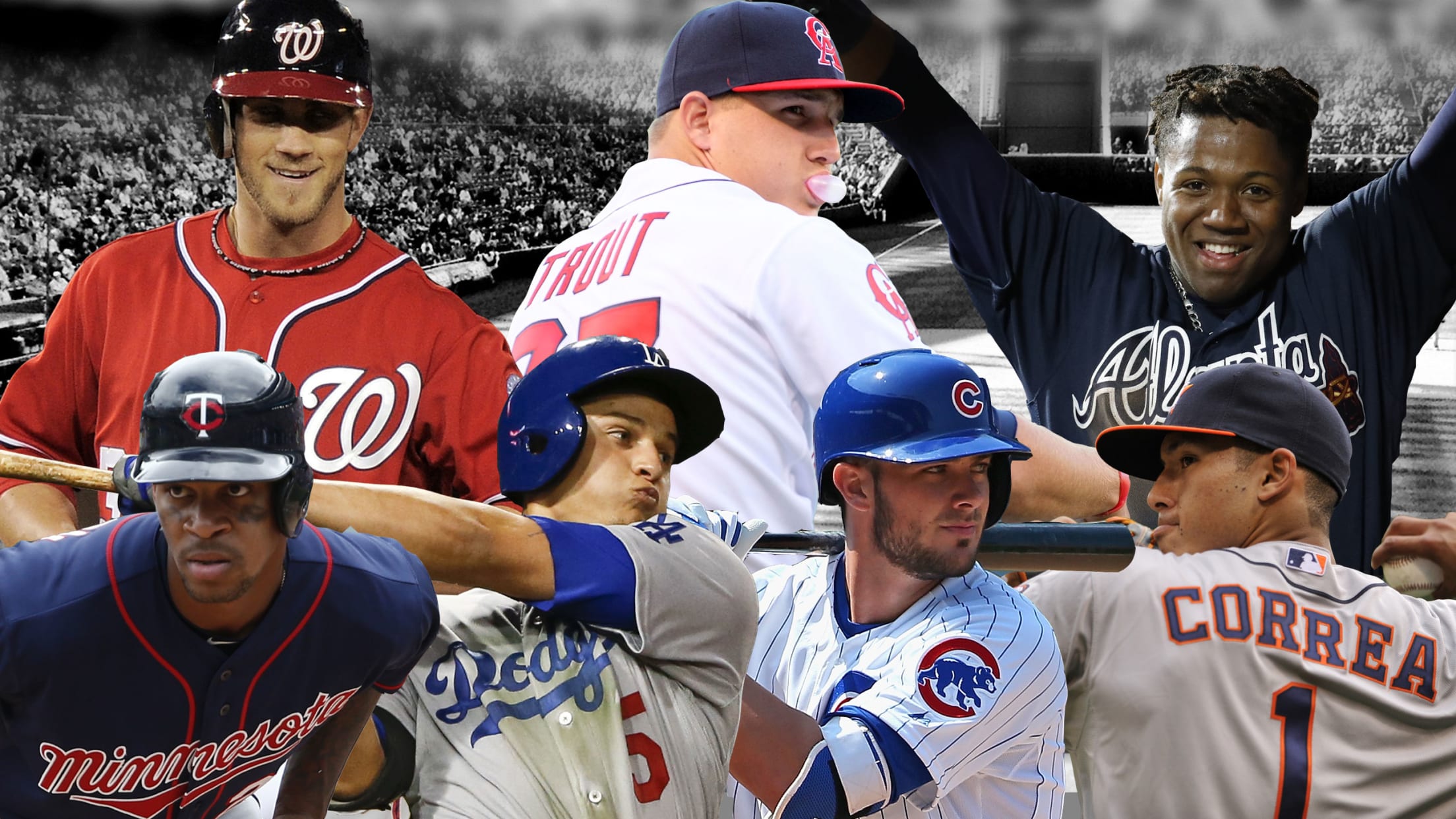 Mike Trout was 19 years old and baseball's No. 1 prospect when he made his Major League debut in 2011. His experience -- and that of other top prospects -- could be helpful in considering what we should expect from Vladimir Guerrero Jr. as he begins his Major League career
Mike Trout was 19 years old and baseball's No. 1 prospect when he made his Major League debut in 2011. His experience -- and that of other top prospects -- could be helpful in considering what we should expect from Vladimir Guerrero Jr. as he begins his Major League career as a No. 1 prospect.
At the time of Trout's debut -- July 8, 2011 -- the Angels couldn't have been more excited. But his first taste of the Majors lasted only 14 games. With Trout hitting .163 and veterans coming back from injuries, he was sent back to the Minor Leagues.
He began the 2012 season in the Minors as well and got off to another slow start. And then, well, you know the rest of the story. Trout will be one of the reference points -- but not the only one -- as Guerrero begins his journey. Let's consider how seven highly-touted prospects started:
Mike Trout, OF, Angels (July 8, 2011)
First glance: He started in center field at home against the Mariners, batted ninth and flied out twice and grounded out in three at-bats. And while we forget now, he actually got sent back to Double-A after hitting just .163 in 47 plate appearances.
First full season: He batted .220 in 40 games in 2011 and began the next season, 2012, in the Minors. And then everything clicked. Trout was hitting .341 at the All-Star break and on his way to becoming one of the 10 best players in baseball history.
What we learned: Sometimes, even the best prospects fail out of the gate. Almost eight years later, he's still capable of doing things once or twice a week that take your breath away.
Bryce Harper, OF, Nationals (April 28, 2012)
First glance: He batted seventh, played left field at Dodger Stadium and banged a double off the wall in the top of the seventh inning. He hit another ball hard in the ninth inning to drive in a run with a sacrifice fly to left. He never once looked overmatched. He had an .886 OPS and four home runs on the one-month anniversary of his debut.
First full season: He filled up his stat line: 22 home runs, 26 doubles, 18 stolen bases and an .817 OPS in 139 games. To say he looked comfortable would be an understatement: He was the National League Rookie of the Year and a member of the NL All-Star Team. He finished 30th in NL MVP Award voting.
What we learned: That talent prevails. He forced teams to change their thinking about players needing to succeed at every level of the Minors before putting on a Major League uniform. In that way, he may have changed baseball forever. His 10-year, $330-million deal with the Phillies is a reminder that sometimes hot shot prospects are as good as advertised.
Carlos Correa, SS, Astros (June 8, 2015)
First glance: He batted sixth on the road against the White Sox and beat out an infield single and drove in a run in his second at-bat. In his first month, he got at least one hit in his first four games and batted .359 in his first nine. He finished his first month with five home runs and an .852 OPS.
First full season: He made it look easy. He was the 2015 American League Rookie of the Year and helped the Astros to their first postseason appearance in a decade. He had 22 doubles, 22 home runs and an .857 OPS.
What we learned: That some guys simply are wired differently. Even before the Astros made him the No. 1 pick of the 2012 Draft -- Jeff Luhnow's first as Houston general manager -- Correa had shown that he was driven to be great. When he set out to learn English, he said he did it, in part, because it would help him communicate with teammates.
Ronald Acuna Jr., OF, Braves (April 25, 2018)
First glance: He started in left field in Cincinnati and batted sixth. He grounded a single to left in the eighth inning and hit the ball hard two other times. He had four homers, seven doubles and a .730 OPS in his first month since debuting. He went hitless in back-to-back games only twice in that span and was moved to the No. 2 spot in the batting order after four games.
First full season: He was an instant success in helping the Braves return to the postseason for the first time since 2013, winning the NL Rookie of the Year Award and finishing 12th in NL MVP voting with a season that included 26 doubles, 26 homers and a .917 OPS.
What we learned: His skills translated so smoothly to the Major Leagues that he probably didn't need all of those 259 games spent in the Minors. His .366 OBP in 2018 is a tribute to a young player with more strike-zone discipline than many players ever develop.
Byron Buxton, OF, Twins (June 14, 2015)
First glance: He batted ninth and played center field in Arlington, going hitless in four at-bats. He scored the game-winning run in the ninth inning after beating out a fielder's choice grounder. He was sidelined by a thumb injury after just 11 games, returning on Aug. 20 and hitting .217 the rest of the season.
First full season: He played 138 games in 2015-2016 and established himself as one of the game's best defensive center fielders. His best offensive season came in 2017 when he had a .728 OPS, stole 29 bases and won a Gold Glove.
What we learned: That opponents eventually discover every weakness, and that while we're accustomed to watching players like Harper and Trout make adjustments look easy, they are not. Buxton began this season with 306 Major League games played and now appears on his way to fulfilling all his promise.
Corey Seager, SS, Dodgers (Sept. 3, 2015)
First glance: He batted eighth, played short in San Diego and made an immediate impact with a double in his second at-bat and a single in his third. In his first 27 games, he batted .337 with eight doubles, four homers and a .986 OPS.
First full season: He was voted NL Rookie of the Year the following season, with 40 doubles and 26 home runs. He also made the NL All-Star team in 2016 and was third in NL MVP voting behind Kris Bryant and Daniel Murphy.
What we learned: That Dodgers president of baseball operations Andrew Friedman's obsession about not trading his top prospects is a huge part of why the team is potentially on its way to winning a seventh straight NL West championship.
Kris Bryant, 3B, Cubs (April 17, 2015)
First glance: He batted cleanup against the Padres at Wrigley Field and was hitless in four at-bats with three strikeouts. He had a .902 OPS with four home runs and five doubles after a month in the big leagues and was well on his way to establishing himself as a star.
First full season: He was the NL Rookie of the Year and a member of the 2015 NL All-Star team after a season that included 26 home runs and 31 doubles.
What we learned: That the Cubs -- and a century of Cubs faithful -- got lucky that Bryant fell into their laps after the Astros passed on him with the No. 1 pick in the 2013 Draft. Bryant was the NL MVP in his second full season (2016) and scooped up a grounder that was the final out of the 2016 World Series. Cubs fans will forever remember that smile on his face as he threw across the diamond.