How will NL East rivals react to Braves' moves?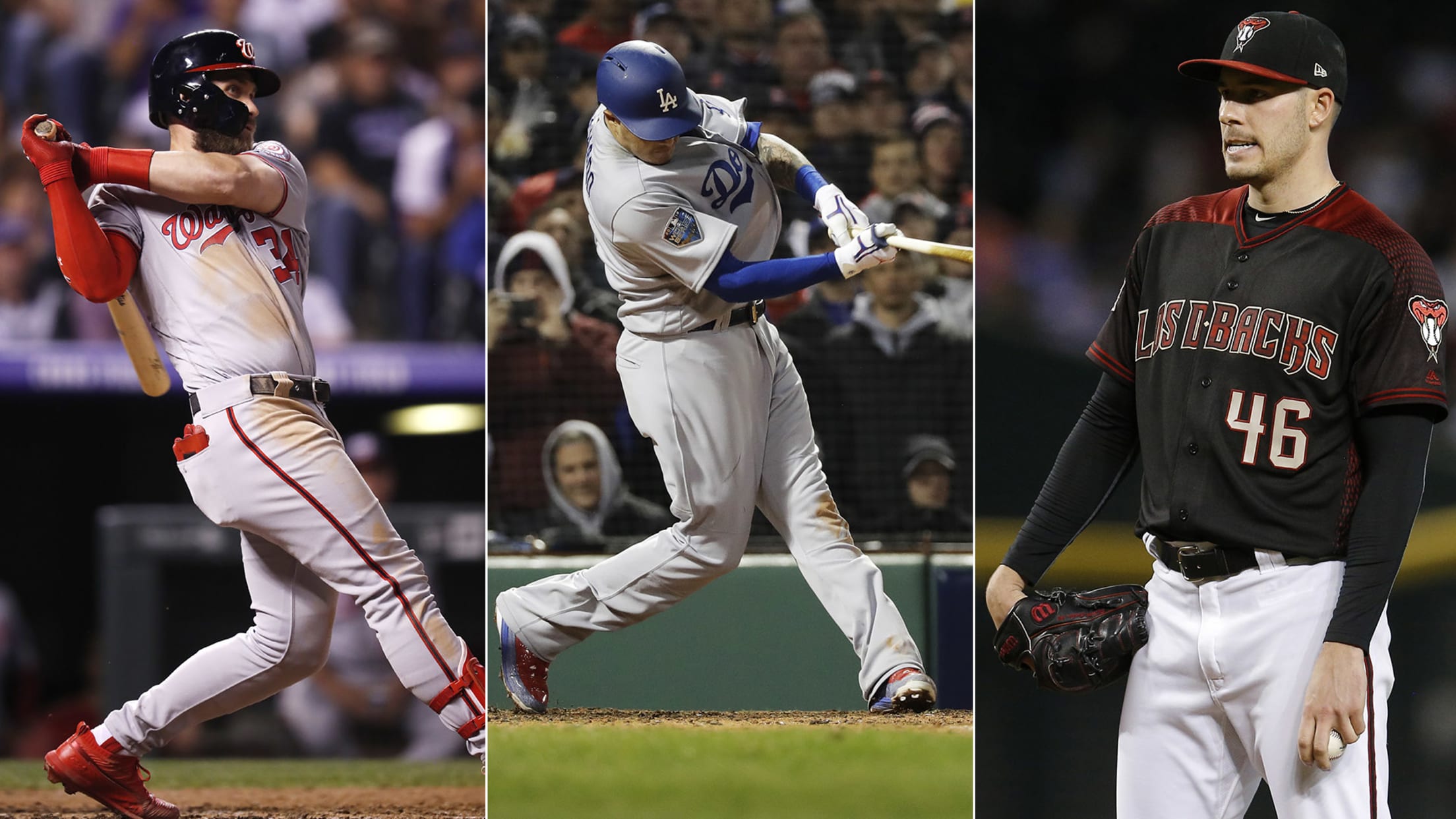 The concept that "every action has an equal and opposite reaction" might apply in physics, but it doesn't typically apply to the Hot Stove season. Or at least, not as much as we'd like.The thought that an aggressive move by one club will immediately sway that team's rivals to alter
The concept that "every action has an equal and opposite reaction" might apply in physics, but it doesn't typically apply to the Hot Stove season. Or at least, not as much as we'd like.
The thought that an aggressive move by one club will immediately sway that team's rivals to alter their approach and make a similar (or even more stylized) splash is mostly a fantasy. Last December and January, we were eagerly anticipating the Red Sox's Hot Stove reaction to the Giancarlo Stanton trade while they were (wisely) waiting for J.D. Martinez's price to come down. That seemed to work out well for Boston.
But there's no denying a gauntlet, of sorts, has been thrown down in the National League East with Monday's moves by the defending division champion Braves, who have brought Brian McCannback "home" and signed Josh Donaldson to a one-year, $23 million pillow contract. In adding upgrades at two spots of need and injecting some more veteran leadership into a youthful clubhouse, the Braves are following the formula of so many successfully rebuilt ballclubs before them and trying to put together the final pieces of the World Series-caliber puzzle.
And so the question arises as to what the NL East's three other contenders will do in "response" to the Braves' big splashes. Again, the response doesn't have to come immediately, but here's where things stand with the Phillies, Nationals and Mets (no, the Marlins don't apply here, but we do love those new unis) as they try to put themselves in position to better the Braves in 2019.
Phillies
What I think they should do: Obviously, the Phillies are going to try to sign Bryce Harper or Manny Machado. We've known that for years. And because they have the lineup room and payroll space to accommodate one (or even both), there's a pretty darn good chance it actually happens, regardless of my personal predictions at the start of the offseason.
But the Phillies can't let the Harper/Machado derbies drive their offseason. They have the payroll room to be proactive, rather than playing a waiting game that is, in all likelihood, going to last through these two weeks leading up to the Winter Meetings, at a minimum. What that means, in real terms, is finding a fit in a bullpen market that is likely to start moving before the Machado and Harper markets. Given the current complexion of the 'pen, Andrew Miller and Zach Britton both make sense.
And I'd love to see the Phillies do what their division rivals couldn't (or wouldn't) and pony up the price for J.T. Realmuto, who is a game-changer in a Major League environment light on impact offensive catchers. That price could evolve (that's fancy for "come down") now that two teams that were seen as obvious fits for Realmuto (the Braves and Nats) have gone with other options in free agency. Naturally, the Marlins would rather not move him within the division, but that's nothing the right prospect package shouldn't fix.
What I think they will do: Ultimately, I doubt the Phils really commit to doing what it would take to land Realmuto. They can roll with Jorge Alfaro behind the dish, or perhaps they'll find a deal that works for the Indians' Yan Gomes or sign a free agent. But the bullpen suggestion definitely has legs. The Phillies were pretty proactive a year ago in signing Pat Neshek and Tommy Hunter, and I expect them to be similarly proactive now, perhaps with one of the aforementioned fits.
Meanwhile, the market for moving Carlos Santana and all or some of the $40 million left on his deal is inherently limited, but it's imperative that the Phillies figure it out soon. Moving Santana would get Rhys Hoskins back to first base and give the club a better grasp on its position-player composition before the Harper and Machado bidding gets serious. And in Philadelphia, it will be plenty serious.
Nationals
What I think they should do: After a truly disastrous 2018, and with the defending division champs obviously acting aggressively and the Phils a decent bet to steal away Harper and/or sign Machado, it's high time the Nats begin to explore the high trade value of Max Scherzer and …
OK, I just wanted to make sure you are still paying attention. I'll leave the "It's time for the Nats to punt!" talk for the hot-take artists of the world, because I prefer to dwell in reality. That the Braves and Phillies are going to make waves this winter was assumed coming in, and it doesn't impact the Nats' plan to rebound in the coming year.
They'll let Harper walk, safe in the knowledge that an outfield of Juan Soto, Victor Robles, Adam Eaton and Michael A. Taylor can still be pretty dang good (and will definitely be pretty dang cheap). I say if you're in for a penny, you're in for a dollar. (I'm not going to use the British monetary unit, especially in relation to the team from our nation's capital.) If the Nats had the financial room to reportedly offer Harper $300 million (though how much of that would have been deferred is anybody's guess), they can and should sign Patrick Corbin or Dallas Keuchel to shore up the rotation beyond Scherzer and Stephen Strasburg.
What I think they will do: With the catching spot addressed by the Kurt Suzuki signing in lieu of a Realmuto swap, the Nats can use their trade chips (they're not moving Robles or Soto, but they could build a package around Carter Kieboom or Luis Garcia, both of whom are on MLB Pipeline's Top 100 Prospects list) in a deal for an arm. Robbie Ray would be a really interesting fit, and not just because the Nats once traded him away to get Doug Fister.
When Nats GM Mike Rizzo is involved, the trade talk is not just empty banter. I'm operating with the expectation that some sort of deal goes down in the District.
Mets
What I think they should do: The Mets should sign Machado. Easy enough, right?
Short of that, if there is a Noah Syndergaard deal in the marketplace that vaguely resembles what I pitched here (Reds closer Raisel Iglesias and top prospect Nick Senzel for Thor), it's worth the PR hit the Mets would take for dealing a young stud starter because it potentially addresses multiple areas of need on the big league ballclub.
What I think they will do: Like the Phillies, I expect the Mets to be active in the early stages of the bullpen market, and that could include a reunion with Jeurys Familia and/or a deal that keeps Player Page for David Robertson in the Big Apple. Or maybe the Mets will bid boldly enough to land Craig Kimbrel.
If dropping an insane amount of money on Machado (a move that would be the biggest made by the Mets since the Carlos Beltran signing 14 years ago) proves impossible, a much-needed impact bat for the infield and/or catching spot is going to be a challenge. Yasmani Grandal or Wilson Ramos would make sense for the Mets, as would utilityman Marwin Gonzalez (who, of course, makes sense just about everywhere). When all is said and done, I'm going to guess the Mets devote the bulk of their resources to the bullpen.