Inbox: What would C-Mart's bullpen role be?
Beat reporter Jenifer Langosch answers questions from St. Louis fans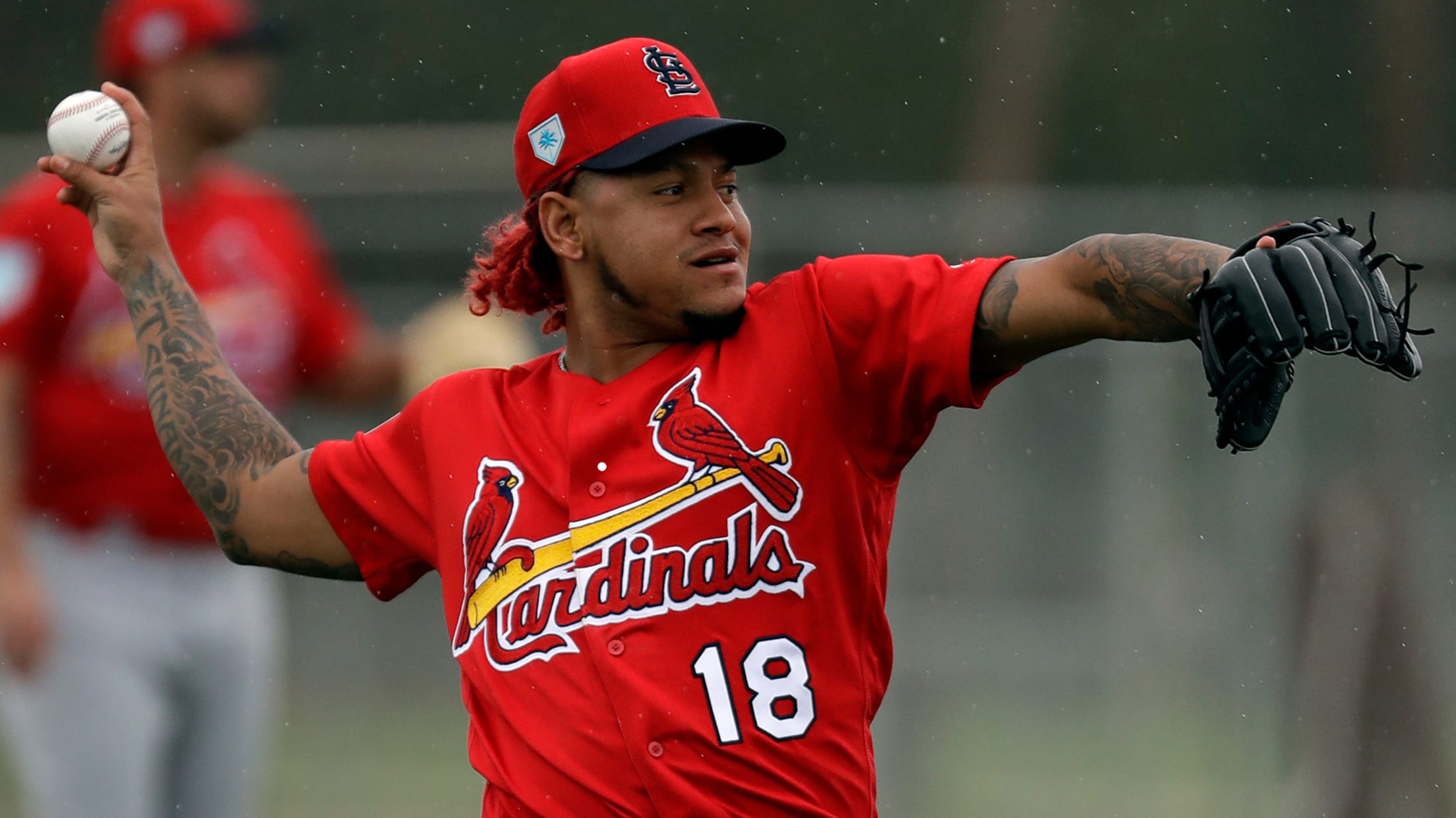 ST. LOUIS -- After playing 17 games in 17 days, the Cardinals stumbled into Monday needing a day to regroup. The club has lost nine of its past 11 to drop into fourth place in a bunched National League Central. But before the Cardinals attempt to get back on track
ST. LOUIS -- After playing 17 games in 17 days, the Cardinals stumbled into Monday needing a day to regroup. The club has lost nine of its past 11 to drop into fourth place in a bunched National League Central.
But before the Cardinals attempt to get back on track during a road trip through Atlanta and Texas, let's address some of the topics on your mind:
If and when St. Louis moves Carlos Martinez to the bullpen, what will his role be? Similar to Josh Hader -- i.e., one or two innings late in the game? Can't see him close with Jordan Hicks doing so well. Long relief? Can't imagine that, either. John Gant has been spectacular.
-- Terry G., Lookout Mountain, Ga.
Think of Carlos Martínez in the same way the Cardinals have with John Gant and Alex Reyes. In other words, he'll return ready to pitch multiple innings in the sort of hybrid role that we've seen guys like Josh Hader (in Milwaukee) and Andrew Miller (in Cleveland) fill in recent years. The Cards will stick with Jordan Hicks in the ninth, but nothing ahead of him is firmly scripted. The flexibility Martinez provides is one of the reasons why St. Louis like this fit for him. It's an added asset, too, that he has the ability to get both right-handed and left-handed hitters out.
Any chance Martinez and Dakota Hudson switch roles at some point in the season? Seems like Hudson is better suited for the bullpen, and after some relief appearances, I'd feel better about Martinez back in a starter role.
-- Stefan, New York
Martinez has said that he'd like to be back in the rotation after the All-Star break. The Cardinals, however, don't have similar expectations. The reason they put him on a reliever track was because of a lack of confidence that he'd be durable enough to stick as a starter. And even if those worries lessen in the coming weeks, building Martinez up to handle the demands of a starter is likely unfeasible in-season.
That's not to say, however, that Dakota Hudson's stay in the rotation is certain. There are a number of concerning numbers, including a hard-hit percentage of 45.8 and an average exit velocity against of 90.3 percent. So even though Hudson's ground-ball rate is close to where it was last season, opponents are making much harder contact this year. If the Cardinals move Hudson out of the rotation, they'd replace him with Austin Gomber, Daniel Ponce de Leon or Reyes.
Why no moves to solidify the rotation despite clear evidence that is in massive trouble?
-- Aaron W.
This relates to the above note on Hudson, certainly, but also to a collective deficiency. A quarter of the way through the season, the Cardinals have had one of less potent rotations in the NL. It ranks ninth in ERA (4.35), 15th in FIP (4.79), 12th in WHIP (1.36), 10th in walk rate (3.29), 15th in strikeout rate (7.81), 13th in home run rate (1.63) and ninth in quality starts (16).
So why no changes? Well, the Cardinals are a little bit locked in with their options. Miles Mikolas, Adam Wainwright and Jack Flaherty have pitched well enough to stay as they are. Michael Wacha hasn't been great, but the Cards aren't going to bail on him now. Perhaps the further removed he gets from that left knee injury, the more in sync he'll look. Where a change could be made is with Hudson. As referenced in the previous question, St. Louis does have internal candidates ready to step in, and that's why, to this point, it hasn't explored adding from the outside.
Give this another two months, however, and if the results aren't improved, don't be surprised if this becomes a focus of the Cardinals at the Trade Deadline.
Any inkling of moving Matt Carpenter out of the No. 1 spot in the lineup? Seems like a perfect fit for Jose Martinez.
-- @doreedo1420
All indications are that manager Mike Shildt remains committed to keeping Matt Carpenter in the leadoff spot. If there's one thing to lean on right now, it's that Carpenter's slash line (.201/.318/.336) as we approach mid-May is actually better than it was at this time last year. It's unreasonable to anticipate that Carpenter will rebound as well as he did in 2018, but if he can inch his on-base and slugging percentages closer to career norms, Carpenter should be a more than capable table setter.
What else does Dexter Fowler have to do to move up in the lineup?
-- Nick G.
You could argue that with a .405 OBP, Dexter Fowler would fit well toward the top of the lineup. But there's been no indication from Shildt that he's ready to make such a significant tinker. Carpenter's track record as a leadoff hitter buys him time. And the Cardinals have no need to move around the players hitting right behind him -- Paul Goldschmidt, Paul DeJong, Marcell Ozuna and Jose Martinez.
It was so important for Fowler to get off to a strong start this year, and he has. Instead of tweaking with what's working, there's an argument that can be made for letting it ride.
How long does Luke Gregerson get before he is gone? Seems like it's a sunk cost for the Cardinals, and it's time to move on.
-- Ronald R.
Well, the Cardinals will have an upcoming roster decision when they're ready to activate Carlos Martinez, which could happen as soon as this weekend. Tyler Webb would seem to be in jeopardy, but Luke Gregerson's spot could be in play as well. Talking with folks in the organization about Gregerson elicits very tepid responses. The flattery is noticeably muted.
There's a reason the club stretched the veteran's rehab assignment to its max and why he isn't being used in close games. At some point, if there's little confidence in his ability to contribute, it would seem prudent to cut ties with a player who is due to be a free agent at the end of the season anyway.
Jenifer Langosch is a senior content manager at MLB.com. She previously covered the Pirates (2007-11) and Cardinals (2012-19). Follow her on Twitter.