How Yanks, A's should pitch AL Wild Card Game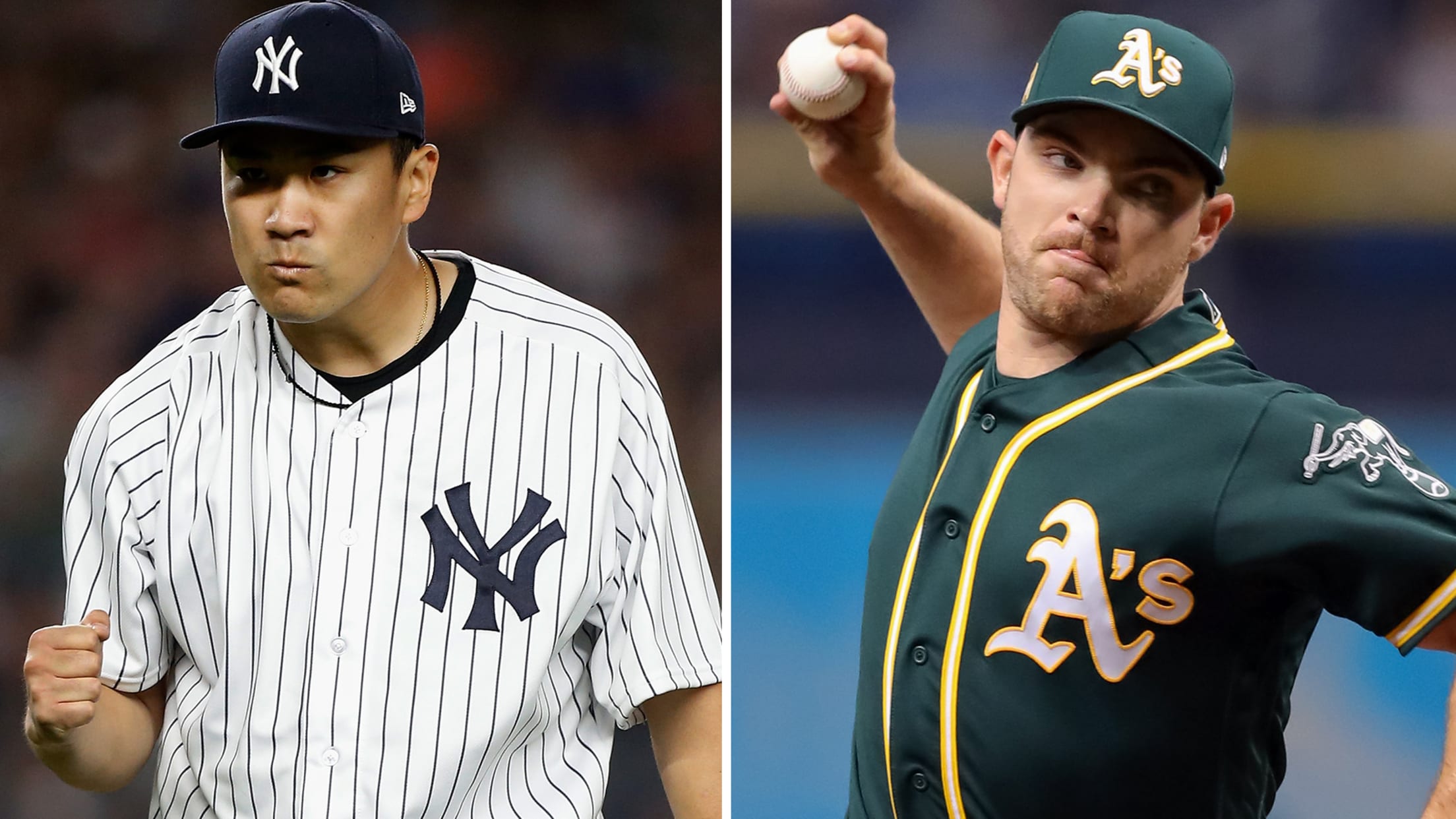 The A's and Yankees may each put a traditional starter on the mound to begin Wednesday's American League Wild Card Game (8 p.m. ET, TBS). They might not, too, but it doesn't really matter so much. No pitcher is going to go deep into the game. Both sides are going
The A's and Yankees may each put a traditional starter on the mound to begin Wednesday's American League Wild Card Game (8 p.m. ET, TBS). They might not, too, but it doesn't really matter so much. No pitcher is going to go deep into the game. Both sides are going to trot out an endless stream of relievers. No matter what they call it, this is going to be a game decided by the bullpen. The goal is to get 27 outs. It doesn't matter how many pitchers it requires.
Knowing that's a near certainty ... how should they do it? They'll each go into this with a script they'd like to stick to, of course. Let's help them figure out what an optimal pitching strategy might look like. (For this exercise, we'll assume the Yanks will host the game. Their magic number is one, and each team has three games remaining.)
• Postseason schedule
For the A's, this is almost a necessity. They've built a strong, deep bullpen, and they've relied upon it heavily to get to this point. Meanwhile, Oakland's rotation consists mainly of journeymen Mike Fiers, Edwin Jackson, Trevor Cahill, Brett Anderson -- none of whom were on the Opening Day roster -- and a regular bullpen day, often started by Liam Hendriks, who the A's actually designated for assignment two months ago. While they've each had their moments, none of those starters are the type you let lose a postseason game for you. Maybe one starts, but they don't finish. They don't come near it.
For the Yankees, they'll likely start Masahiro Tanaka or J.A. Happ, since Luis Severino will start on Sunday. They won't "bullpen," exactly, but they won't expect more than four or five innings at most from their starter, either. There's no reason to, not with Zach Britton, Dellin Betances, Player Page for David Robertson, Chad Green, Albertin Chapman and friends ready to go.
This isn't a new idea. At advanced metrics site FanGraphs, they've been calling for this kind of behavior in a one-game playoff for at least six years, and they're not the first. But with the success of the A's, Rays and Brewers in using aggressive bullpen management to overcome weak rotations, it feels like the time is now.
First, here's what the two teams need to factor in -- and it won't, correctly, be about batter vs pitcher stats.
1. The Yankees are very right-handed
New York has five regular lefty hitters. But Greg Bird, Brett Gardner and Neil Walker have all struggled this year, and none would ideally be in a playoff lineup. Didi Gregorius and Aaron Hicks have both been fantastic, but they may each be limited or unavailable due to injuries. (Gregorius injured his wrist; Hicks, his hamstring.) In recent games, they have been starting the lineup with righties Andrew McCutchen, Aaron Judge, Luke Voit and Giancarlo Stanton, with Miguel Andujar, Gleyber Torres and Gary Sanchez later on.
The A's only have two lefties, anyway, so this plays to a strength. Anderson and Ryan Buchter will not be starting this game.
2. This is not the right game to give someone their first start
There's a great argument here for Oakland going all-out with the idea of "bullpenning," for starting off with Lou Trivino or Jeurys Familia or one of the other strong relievers. Or imagine the Yankees kicking off with Chapman? Fun, right? Well, it's not going to happen. You have to think whoever starts this game will have started at least once before.
For the A's, then, we're left with Fiers, Jackson, Hendriks, Daniel Mengden or wild card Yusmeiro Petit, who has made 59 career starts, including one in each season he appeared in between 2006-17, though none this year. For the Yanks, we know it's either Happ or Tanaka.
3. Yankee Stadium is likely going to be a big factor
After Thursday's 12-1 rout of Tampa Bay, it's likely this game takes place in the Bronx. Judge, in particular, has some massive home/road splits. At home, he's hit .352/.471/.699, the best home mark in baseball. On the road, Judge is hitting just .212/.318/.365. But it's not just him; the Yankees as a team slug .474 at home and .421 on the road. By some metrics, Yankee Stadium is the third-friendliest hitters' park in baseball this year.
It's not just the Yanks, either, because Oakland Coliseum is a pitcher-friendly park -- the third-most favorable to pitchers. Matt Chapman slugged .425 at home but .612 on the road. Cahill's home/road splits this year have been stunning -- 1.84 ERA at home, 7.02 on the road. He has had a recent back injury and wasn't strong in his first game back. Cahill shouldn't start here either.
That being the case, each team might want to consider fly-ball and homer tendencies. Tanaka has a 47 percent ground-ball rate this year, compared to Happ's 32 percent with New York, and he has a slight strikeout edge, too. He's the right choice for the Yankees.
For the A's, it won't realistically be Mengden, who had one of baseball's lowest strikeout rates. For the other four, let's look at how they've fared against righty hitters the first time through the order, both this year and the past three years. (We're showing wOBA, an OBP-like stat that gives more credit for extra-base hits. The 2018 average wOBA for righty hitters is .312)
Jackson: .230 this year, .350 past three years
Petit: .292 this year, .262 past three years
Fiers: .240 this year, .340 past three years
Hendricks: .366 this year, .317 past three years
There's a compelling argument for Petit, actually, as he's long had strong career numbers against righties (.271 on-base percentage). But he doesn't seem to be in consideration, and Fiers, while presumably the "ace," has high fly-ball and homer numbers. That leaves Jackson and Hendricks. There's probably not much difference between the two, to be honest. Let's assume they start with Hendriks, as they did against the Yanks earlier this month, as he's been serving as the opener for most of September and been unscored upon in his past 10 appearances. (This would also save Jackson and Fiers for a potential AL Division Series).
So we'd see a traditional starter vs. an "opener." How might it play out, inning by inning? Here's one potential playbook.
First inning
A's: Hendriks (RHP)
Yankees: Tanaka (RHP)
Second inning
A's: Mengden (RHP)
Yankees: Tanaka (RHP)
Let's assume Hendriks gets through the first inning cleanly, but not perfectly, requiring four or five batters. This is a good entry point for Mengden, who has followed him effectively several times in September and has been more effective against lefties, both this year (.217/.246/.392) and for his career. Unless the Yankees want to put a weaker hitter like Gardner at the top, which would be a win in itself for the A's, this is where they'd be.
Third inning
A's: Mengden (RHP)
Yankees: Tanaka (RHP)
Mengden generally faces 15 or so hitters when he enters in relief. He won't get that many here, but so long as things are going OK, he'll get a second inning. Bob Melvin won't want to use nine one-inning relievers, anyway.
At this point, Tanaka would just be getting to the top of Oakland's lineup a second time. New York will have relievers ready, but not entering.
Fourth inning
A's: Buchter (LHP)
Yankees: Tanaka (RHP)
Let's switch things up, presuming that Mengden was able to get past the righty-heavy part of the top of the Yankees' lineup. We'll bring in Buchter for an inning, which will either be brutal on the Yanks' lefties (career .162/.248/.293) or force Aaron Boone to make changes earlier than he wants.
Tanaka has been strong the first two times through the order this year, with a .223/.274/.381 line. He's been pounded after that, with a .554 slugging. Boone won't let it get that far.
Fifth inning
A's: Petit (RHP)
Yankees: Green (RHP)
Now we're back to the top of the Yankees' lineup for a third time, presumably, so in comes Petit, who has been quietly effective for years, and especially so in the second half (.193/.246/.412). Petit has pitched to more than four hitters just once in his past 10 games, so he gets one inning.
For the Yanks, it won't really be about platoon matchups from here on out. All six primary relievers -- Chapman, Britton, Betances, Robertson, Green and Jonathan Holder -- have been effective against lefties and righties. It will be about styles, about when Boone needs a grounder (Britton) or curveballs (Robertson) or flames (Chapman).
Sixth inning
A's: Trivino, Familia, Rodney or Shawn Kelley (all RHP)
Yankees: Green/Holder (RHP)
For Oakland, now it's time to overwhelm with hard-throwing righty relievers, and it's sort of a pick-em for Melvin here. This quartet combined for a 3.14 ERA and a .205/.294/.313 line with the A's this year; he can pick and choose as he likes, but Rodney would be best served against lefties, as he's allowed them only a .146/.239/.195 line since 2015.
Seventh inning
A's: Trivino, Familia, Rodney or Kelley (all RHP)
Yankees: Britton (LHP)
Britton's season marks look more good than great, but part of that was with Baltimore, working back from injury. He's been dominant in September, allowing three hits; in the second half, he has a 79 percent ground-ball rate.
Eighth inning
A's: Treinen (RHP)
Yankees: Betances (RHP)
As non-traditional as the A's can be, Treinen has generally been used as a regular late-inning closer. That won't keep him locked up until the ninth, however; he's entered 13 games in the eighth this year. Melvin won't hesitate if the game is close.
Ninth inning
A's: Treinen (RHP)
Yankees: Chapman (LHP)
The only thing we know for sure, of course, is that it won't go exactly this way. It can't. Too much can happen, too many unexpected hits or circumstances or choices. We haven't even mentioned Emilio Pagan, Stephen Tarpley, Sonny Gray or J.B. Wendelken. Last year, the Yanks had to scramble after Severino lasted one out in the AL Wild Card Game, then won anyway. The only thing you can plan on are relievers. So many relievers.
Mike Petriello is an analyst for MLB.com and the host of the Statcast podcast. He has previously written for ESPN Insider and FanGraphs.