Kendrick, Sipp take steps toward Opening Day
Martinez wants one leadoff hitter; Glover plays catch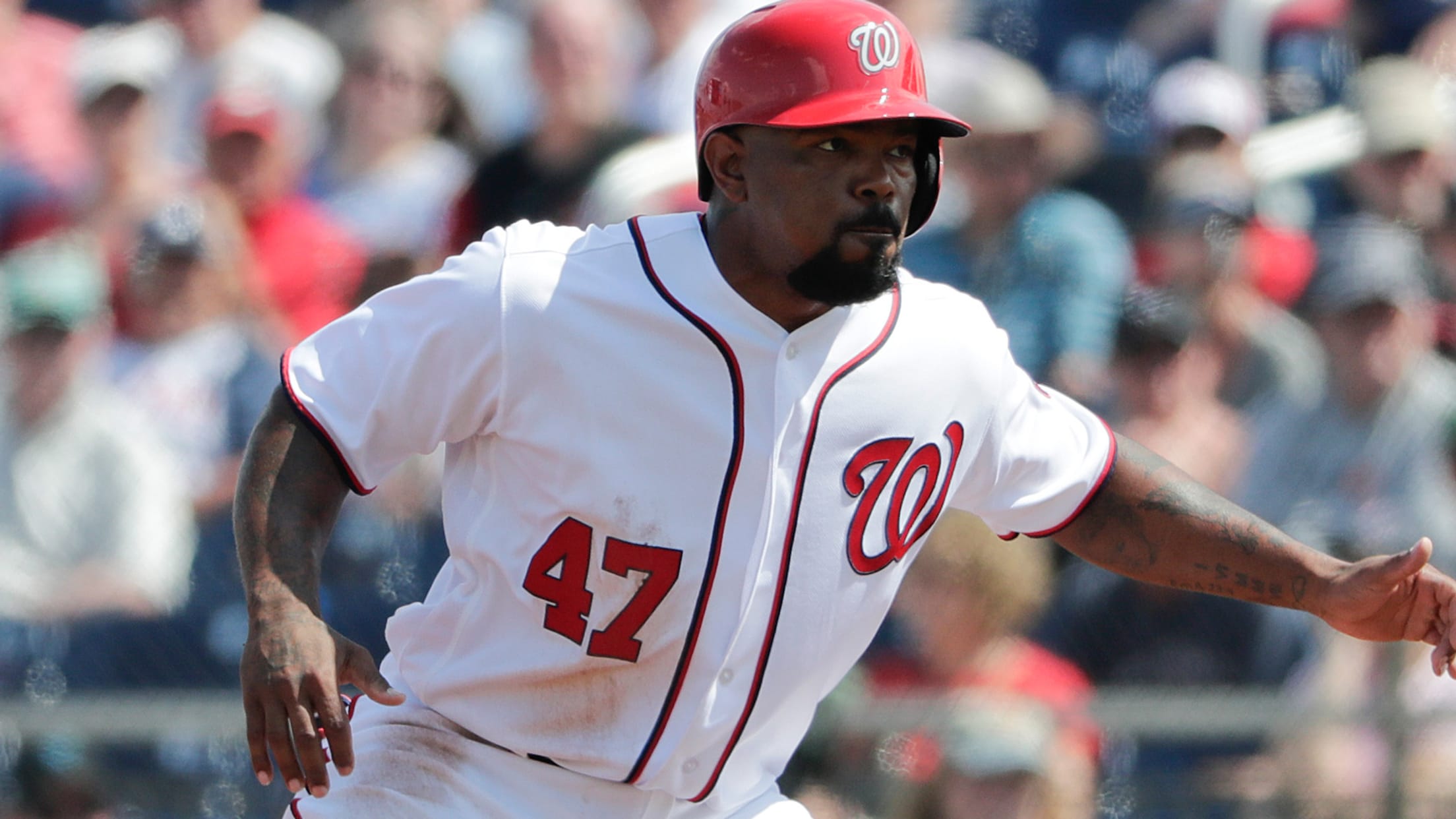 WEST PALM BEACH, Fla. -- Two Nationals veterans took a significant stride toward being ready for Opening Day, when left-hander Tony Sipp threw a live bullpen session on Thursday afternoon and faced off against Howie Kendrick. Sipp threw about 15 pitches in his first action against hitters this spring and
WEST PALM BEACH, Fla. -- Two Nationals veterans took a significant stride toward being ready for Opening Day, when left-hander Tony Sipp threw a live bullpen session on Thursday afternoon and faced off against Howie Kendrick.
Sipp threw about 15 pitches in his first action against hitters this spring and told manager Dave Martinez his arm felt good. This was also Kendrick's first time seeing live pitching since he strained his left hamstring earlier this spring. With one week to go before Opening Day, Martinez is still optimistic both players could be ready to begin the season on time, although they each still have hurdles to clear.
Martinez wants Kendrick, who is also coming off surgery on his right Achilles, to play in at least three or four games before Opening Day to prove he is healthy. He is still only running at about 85 percent, Martinez said, so Washington could start him in a Minor League game to control his at-bats before he gets into a Grapefruit League game.
Sipp, who signed last week and got a late start in camp, will take an off-day Friday, and as long as his arm continues to feel good, he'll be scheduled to pitch again on Saturday, likely in a Minor League game.
"For me, it's more about just getting him in baseball shape, facing hitters," Martinez said. "It's a lot different when you're actually facing a guy standing in the box than when you're throwing the ball in the bullpen. So we'll see how comfortable he is doing that today."
Both Kendrick and Sipp, as well as with Michael A. Taylor (knee, hip) are expected to remain in West Palm Beach after the Nationals wrap up Grapefruit League play on Sunday to continue working toward their returns.
One leadoff hitter
Martinez rolled out what could be a preview of his Opening Day lineup for Thursday night's 7-1 win over the Cardinals, with Adam Eaton leading off and Trea Turner hitting second. Martinez has been considering which player he prefers to lead off all spring and at the start of camp acknowledged he was leaning toward letting Turner hit first.
Martinez did not give much insight into which way he was leaning to start the season, but he did say he wants to keep one lineup in place as much as possible.
"I really feel the way we are structured that having the same guys hit in front or behind guys, they get an idea of how they're getting pitched to on a consistent basis," Martinez said.
Hellickson, Doolittle featured vs. Cards
Jeremy Hellickson tossed five shutout innings with six strikeouts and three walks his final start of the Grapefruit League against the Cardinals. The Nats have still not revealed a date for Hellickson to make his first regular-season start, and Hellickson said he might remain in Florida after camp breaks on Sunday for another exhibition start to remain on schedule.
Sean Doolittle gave up two hits, but tossed a scoreless ninth inning with a strikeout, in a bounce-back outing after struggling in his most recent appearance.
"It's not quite where I want it to be, but that was definite improvement over last time," Doolittle said. "I haven't had a chance to look at the numbers yet. I just felt cleaner. … I'm super encouraged by that, especially after last outing."
Glover begins playing catch
Right-handed reliever Koda Glover has started playing catch off flat ground, his first baseball activity since he was shut down at the end of February with a right forearm strain. Given his injury history, Washington has treated Glover cautiously since the injury first popped up. He will start the season on the injured list as he builds up his pitch count.
"We're going to make sure he's really ready," Martinez said. "He's got to have Spring Training. I would just say that his progression is going well, and every day we get reports on him and he's getting better. So we'll just let him prepare himself to be ready.
Up next
With less than a week before Opening Day, Max Scherzer will take the bump for his final Grapefruit League outing on Friday night against the Marlins at Roger Dean Stadium. In five starts this spring, Scherzer has 22 strikeouts and three walks in 19 2/3 innings with a 4.58 ERA. First pitch is set for 7:05 p.m. ET.