Mariners closer Strickland out 'a couple months'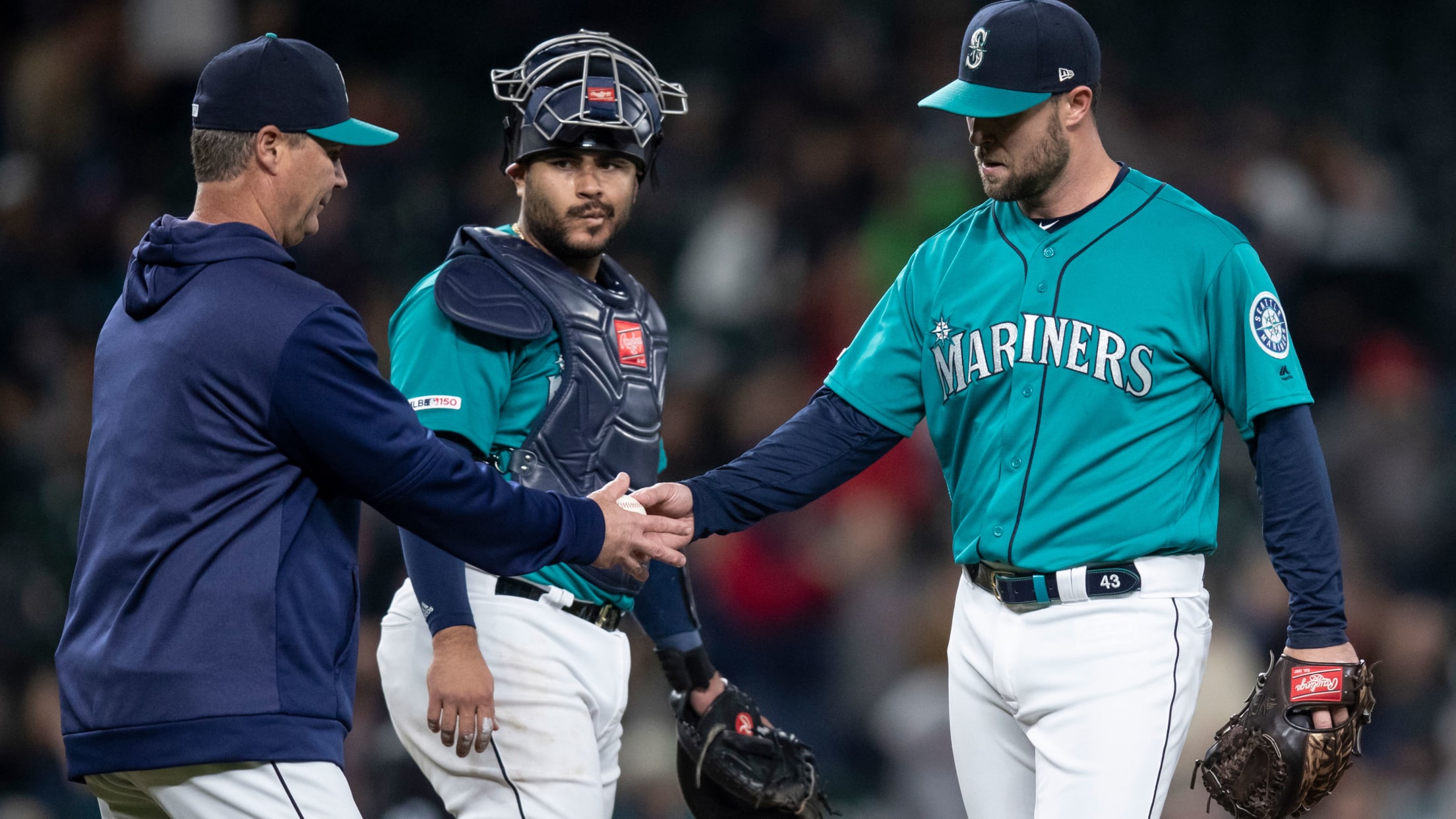 SEATTLE -- Mariners closer Hunter Strickland will be sidelined up to "a couple months" after an MRI exam revealed a Grade 2 strain of his right lat muscle, manager Scott Servais said Sunday. Strickland said doctors didn't set any timetable on his return, but he was taking solace in the
SEATTLE -- Mariners closer Hunter Strickland will be sidelined up to "a couple months" after an MRI exam revealed a Grade 2 strain of his right lat muscle, manager Scott Servais said Sunday.
Strickland said doctors didn't set any timetable on his return, but he was taking solace in the fact it wasn't a Grade 3 strain, which would have required surgery.
"It's not the best news, not the worst," Strickland said. "I'll just try to find the positive in it and look forward. At least I'll get to come back this season. You have to find a positive, because it sucks either way."
Strickland saved Seattle's first two wins in Tokyo against the A's on March 20-21, but he gave up a three-run homer to Mitch Moreland in the ninth inning of Friday's 7-6 loss to the Red Sox while dealing with tightness in the back of his right shoulder from the time he started warming up.
The 30-year-old missed 10 days toward the end of Spring Training with a stiff lower back, but he said he didn't know whether the issues were related since his back has been fine for the last two weeks.
Strickland will rehab the shoulder with ice and stem therapy for now and is considering a PRP injection to help speed up the recovery, but he has no clear indication of when he might return.
"They said there's no real timetable," Strickland said. "Everybody is different. So it's just kind of how I'm recovering. Hopefully sooner than later."
Servais brought in lefty Zac Rosscup in the ninth inning on Saturday to face the lefty-heavy bottom of Boston's lineup with a four-run lead, then had right-hander Nick Rumbelow come in for the save after the Red Sox scored three unearned runs.
Veteran right-hander Cory Gearrin wasn't available in that game, but will likely be one of the closer options as well, with lefty Roenis Elias another possibility.
"We'll try to match up the best we can and put the right guys in there," Servais said. "It'll be a different guy at the end of the game almost every night, unless somebody takes it and runs with it."
The Mariners could regain two experienced relievers in the next week or so as Anthony Swarzak is expected to come off the 10-day injured list on Tuesday after missing most of the spring with a right shoulder impingement. Shawn Armstrong, recovering from a left oblique strain, likely will need a Minor League rehab outing before returning potentially by next weekend.
Yesterday: Called up to the show.
Today: Cake and presents.

Not a bad couple of days for David McKay. Happy Birthday! 🎂🎁🎈 pic.twitter.com/GNrMY5r2cY

— Seattle Mariners (@Mariners) March 31, 2019
Nice present for McKay
Right-hander David McKay celebrated his 24th birthday on Sunday after earning his first big league promotion the day before. It's been a surprising ascension for a youngster who wasn't even on the radar a year ago when he was acquired from the Royals after going 6-5 with a 6.49 ERA as a starter in Rookie League ball.
"Two years ago with the Royals, I had one foot out the door," he said. "I ended up getting traded over here for a dollar, just a throw-in. I made the best of a fresh start and took advantage of it."
McKay made some adjustments in his throwing motion by lowering his arm slot slightly last year and went 5-1 with a 2.49 ERA in 35 relief outings in Double-A Arkansas. Still, getting the callup Saturday was a stunner.
"At first, it was just a shock. I honestly couldn't believe it," he said. "But it started to settle in more and more, and it's just the dream, realizing it happened. It took a lot of hard work and ups and downs, but it finally paid off. It's not a bad birthday, definitely one of the better ones."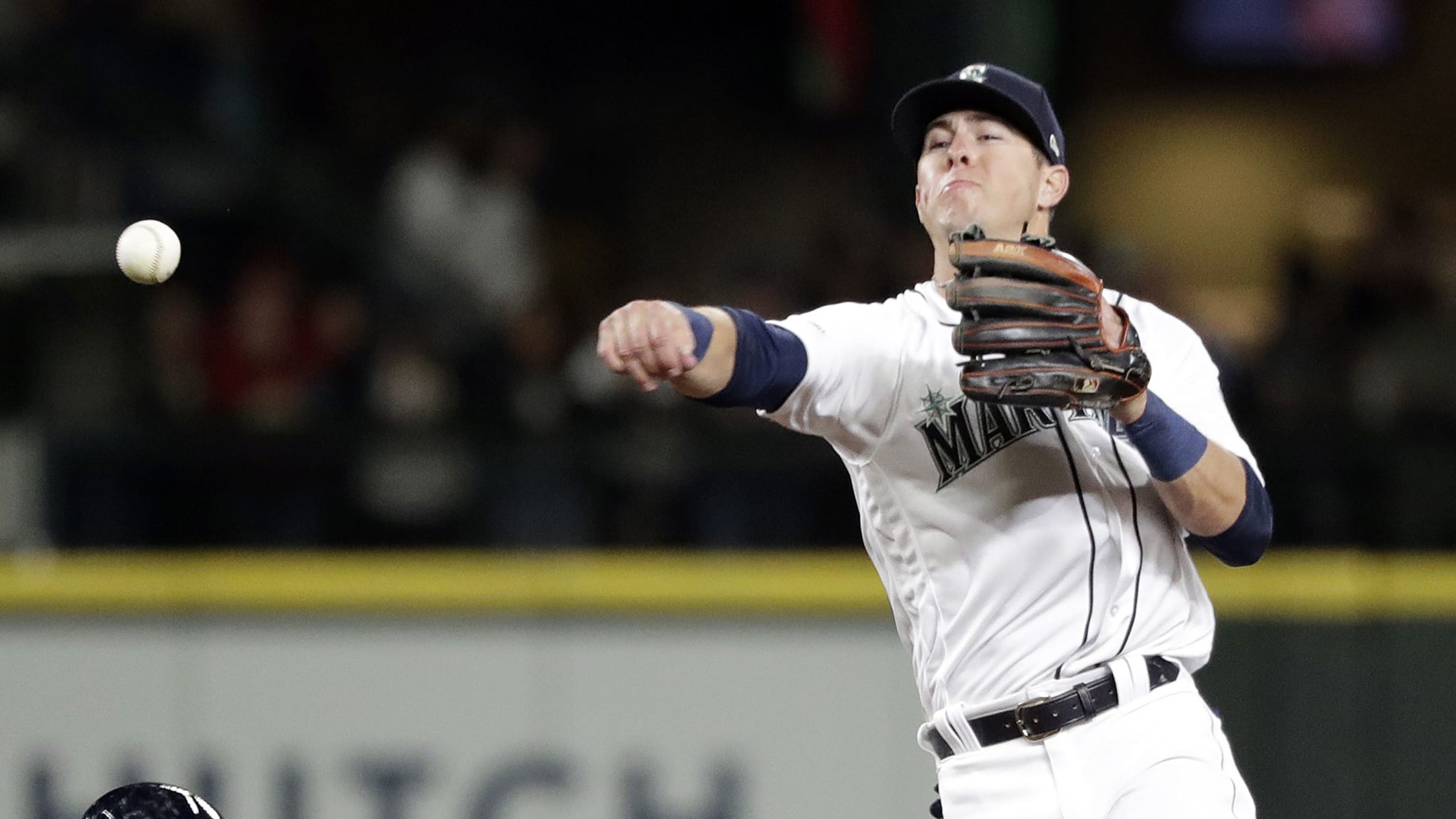 Plenty of support for Moore
After committing three straight errors at third base in the ninth inning on Saturday, rookie utility man Dylan Moore found plenty of understanding teammates coming to his support.
"You play this game long enough, you are going to have that game," Servais said. "We've all had that game. I've had that game. I had three passed balls in an inning [in Triple-A]. Things like that happen.
"But for me, a good sign was that a lot of teammates, veteran guys, grabbed him," said Servais. "Guys maybe you wouldn't expect. He said, 'Everybody is giving me their story.' I said, 'Oh, I've got one and guess what, Dylan? Now you have one, too.' You joke about it and move on. He'll learn from it."
Teammate Ryon Healy has played plenty of third base and was among those offering advice.
"I don't know if anything I said helps, but I've been there," Healy said. "I know the feeling and it's not fun. But he's a professional and stuff like that makes you learn and grow as a player, and I know he's going to do exactly that."