Desmond nominated for Clemente Award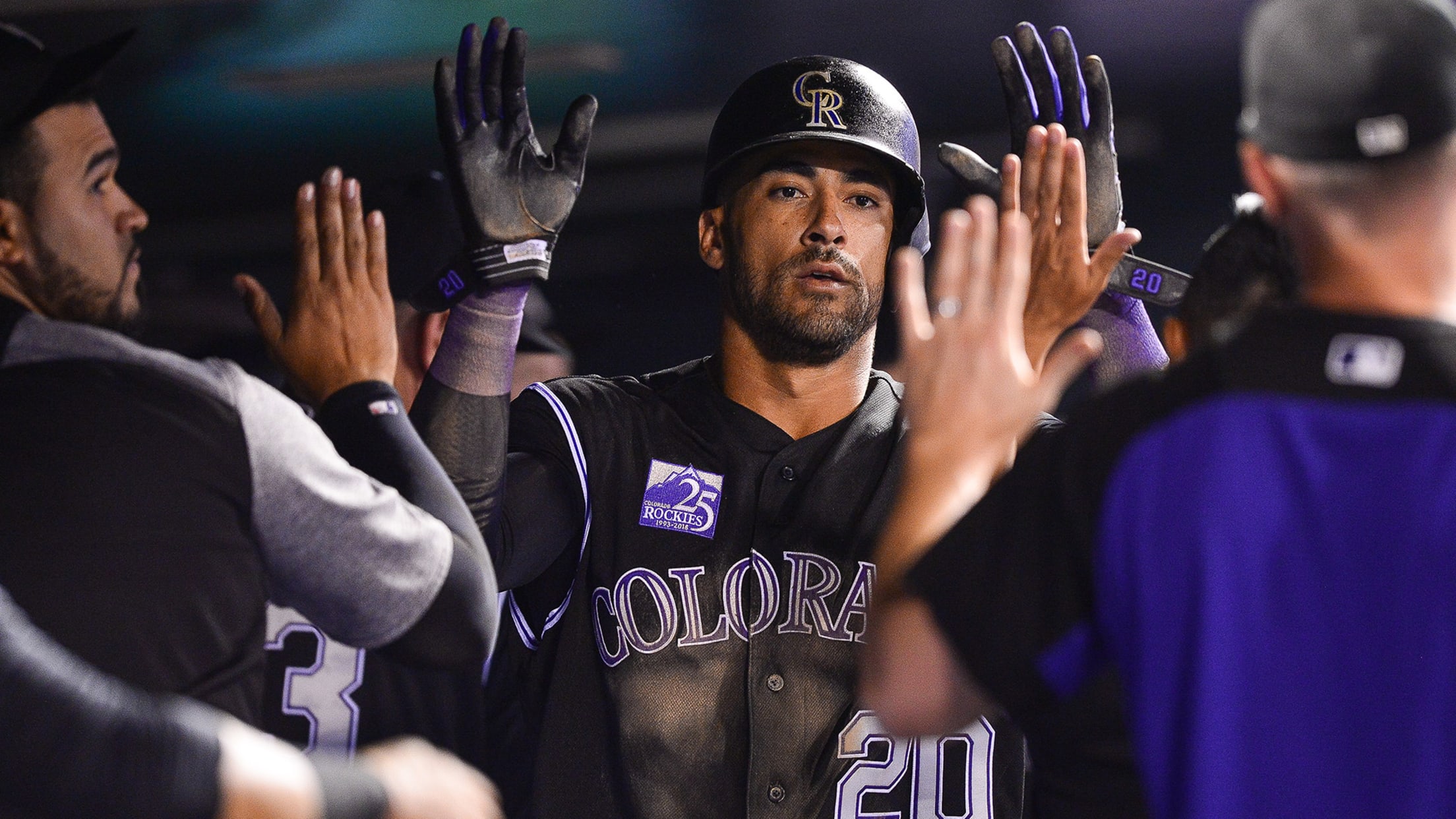 DENVER, CO - AUGUST 22: Ian Desmond #20 of the Colorado Rockies is congratulated after scoring an eighth inning run against the San Diego Padres at Coors Field on August 22, 2018 in Denver, Colorado. (Photo by Dustin Bradford/Getty Images) (Dustin Bradford/Getty Images)
DENVER -- In just his second year wearing purple pinstripes, Ian Desmond earned his second consecutive nomination from the Rockies for the prestigious Roberto Clemente Award, honoring the player who best represents the game of baseball through character and positive contributions both on and off the field. The award honors
DENVER -- In just his second year wearing purple pinstripes, Ian Desmond earned his second consecutive nomination from the Rockies for the prestigious Roberto Clemente Award, honoring the player who best represents the game of baseball through character and positive contributions both on and off the field. The award honors Clemente's legacy as both an unsurpassed humanitarian and a first ballot Hall of Famer who won 12 Gold Gloves, was a 15-time All-Star and won the 1966 National League Most Valuable Player Award, all as a member of the Pittsburgh Pirates.
In addition to being a two-time All-Star as both a shortstop and an outfielder, Desmond has been a leader off the field, working to raise awareness about Neurofibromatosis (NF), a genetic disorder that causes tumors to grow along nerve tissue, including the brain and spinal cord, affecting roughly 1 in 3,000 births worldwide. Desmond developed a close friendship with a young man who suffers from NF, and he has been a key figure in raising both awareness and funds to fight the disorder. Following through on a pledge to donate $1,000 for every run and RBI he recorded during NF Awareness Month in May, Desmond donated $29,000 to the Children's Tumor Foundation, exceeding his 2017 donation by $13,000.
"Being nominated for this award for the second straight year is a tremendous honor," Desmond said. "Roberto Clemente continues to be an inspiration to all professional baseball players, and his legacy pushes us to be positive contributors to the communities around us and those people within them who are in need."
In addition to his work with the NF community, Desmond has been active working with the children of the Salt River Pima-Maricopa Indian Community in Scottsdale, Ariz., the Rockies' Spring Training home. In March of this year, Desmond worked with the support of the Rockies and D-backs to host a three-day school supply and equipment drive, collecting over $6,000 in cash and several boxes full of supplies.
"It's well deserved on Ian's nomination, for sure," manager Bud Black said before Wednesday's series finale with the Giants. "He typifies what a big leaguer stands for outside of the ballpark. The things he did in Washington, the things he's doing now here in Denver -- he personifies what that award means. I'm very, very happy for him, and I hope he wins the big award."
Owen Perkins is a contributor to MLB.com.