Honored at Fenway, Frates donating to Hall
Items from Ice Bucket Challenge founder's Fenway game, as well as bucket, head to Cooperstown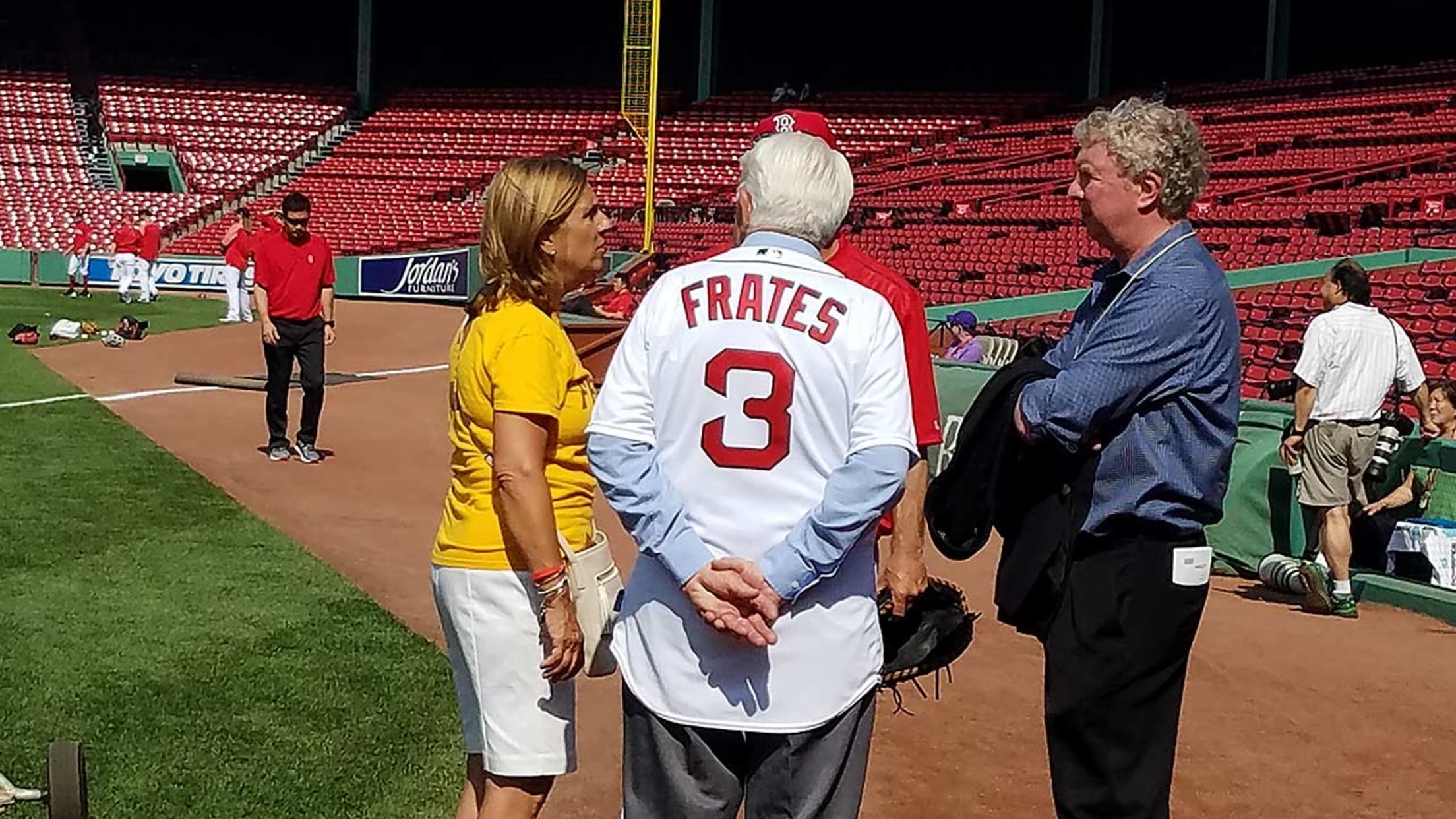 "He's battling to stay with us as long as he can right now," Nancy Frates said of her son. (Ian Browne)
BOSTON -- When baseball junkie Pete Frates was a child, he would plead with his parents each summer to take him to Cooperstown, N.Y., to see the Hall of Fame.His mom, Nancy, would gently tell him that it wouldn't be possible because the family ran ice cream stores and there
BOSTON -- When baseball junkie Pete Frates was a child, he would plead with his parents each summer to take him to Cooperstown, N.Y., to see the Hall of Fame.
His mom, Nancy, would gently tell him that it wouldn't be possible because the family ran ice cream stores and there was too much work to be done.
So it was a surreal feeling for the entire family to be on the field at Fenway Park on Saturday donating items that will be part of a permanent display at the Hall of Fame in recognition of the intertwinement between baseball and ALS.
Frates, who was diagnosed with ALS in 2012 and founded the Ice Bucket Challenge two years later, once hit a home run at Fenway Park, and he made diving catch while playing for Boston College.
Along with his parents and grandfather, Frates took part in Saturday's dedication. The items donated were Pete's hat, glove and sunglasses from that game at Fenway, as well as the ice bucket that was used to dump ice on Pete in front of the Green Monster on Aug. 14, 2014.
Red Sox manager John Farrell and infielder/outfielder Brock Holt also took part in the ceremony.
"I think it's a great gesture for some of his personal items to be held in Cooperstown," said Farrell. "I think when anybody thinks of ALS, certainly Lou Gehrig is the first one that comes to mind. But I think as time has gone on, Pete might become the face of the disease. You marvel at his ability to take a very negative and trying situation into a positive one where there's so many fundraising opportunities."
Nancy Frates was overcome by emotion after the ceremony.
"I think at this stage, he's battling to stay with us as long as he can right now," she said. "It's events like these that are just so over the top in his dreams. It's something so great."
The Baseball Hall of Fame is eager to get the ALS display unveiled.
"The curators want to be able to tell the story of ALS and its connections to baseball, and at this point, you can't do that without talking about Pete and talking about what he's done for the disease in terms of awareness and fundraising," said Jon Shestakofsky, vice president of communications and education for the Hall of Fame. "It's important to the museum for us to have some artifacts that can help us tell that story, along with Lou Gehrig and Catfish Hunter. It really comes down to us being able to tell the stories of baseball and America through the lens of baseball, and this is such an important story now as it relates to ALS and this disease."
Though Pete finally did make it to Cooperstown a few years back on a trip with friends, his mother is grateful that his legacy there will be permanent.
"This whole ride has been an amazing journey with extraordinary highs but incredible lows, and it's one I would never want anyone to be on," Nancy Frates said. "I'm hoping no one ever as to go on the ALS journey again. We're working hard for that. This honor is just amazing, it's the Hall of Fame."