The 10 most impressive pitching debuts of '19
Statcast shows what made these 1st-year arms stand out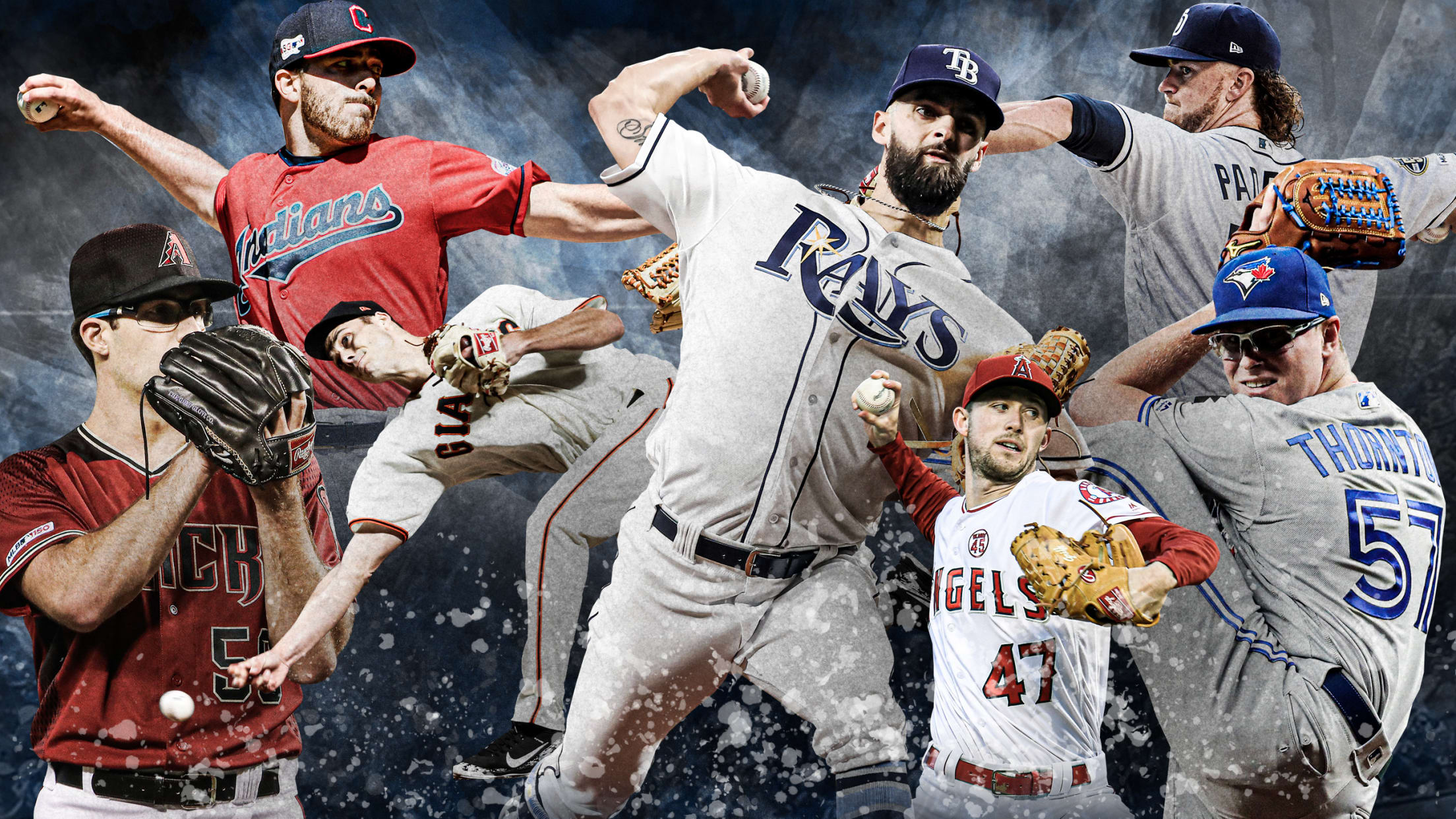 There's a seemingly deeper pool of young talent in MLB right now than ever before, and with so many up-and-comers to keep track of, some performances can slip through the cracks. That's why MLB.com has compiled a list of the year's 10 most impressive first-year pitchers -- a group that
There's a seemingly deeper pool of young talent in MLB right now than ever before, and with so many up-and-comers to keep track of, some performances can slip through the cracks.
That's why MLB.com has compiled a list of the year's 10 most impressive first-year pitchers -- a group that stood out not just for their box score numbers, but the tools they showed along the way. With an assist from Statcast, each pitcher below is paired with a metric that helps show why his performance caught our eye.
(Note: We're only looking at pitchers who made their first career appearance in 2019, excluding some breakout rookies like Mike Soroka, John Means and Giovanny Gallegos.)
Nick Anderson, RHP, Rays
Key stat: 41.7% strikeout rate
This list must start with Anderson, the steal of this year's Trade Deadline. Not only did Anderson's strikeout rate finish second-best behind Josh Hader, it was also the third-best by any rookie in history (minimum 50 inning) behind Kenley Jansen (2011) and Brad Boxberger ('14). The ingredients: A four-seam fastball with elite vertical movement ("rise"), and a breaking ball that tunnels perfectly off that heat and generated MLB's second-highest curveball whiff rate behind teammate Blake Snell.
Anderson, remarkably, went from a reliever who couldn't stay on the Twins' 40-man roster last fall to a Deadline addition who paired 41 K's with one unintentional walk across two months with the Rays. Then, with everyone watching, he became a star (eight more strikeouts, no walks, one earned run) in the postseason.
Andres Munoz, RHP, Padres
Key stat: 99.9 mph average four-seam fastball velocity
Munoz is the best bet to replace Jordan Hicks, last year's breakout velocity king, at the top of the leaderboard while Hicks recovers from Tommy John surgery. Just under half of Munoz's 281 fastballs came to the plate at 100 mph or harder, and, much like we've seen with Aroldis Chapman, that set up devastating results for Munoz's second pitch (.057 BA against his slider, which, as you'll see below, has some terrifying movement). Munoz is one reason the Padres could survive whatever happens with All-Star closer Kirby Yates, who hits free agency next year.
Emmanuel Clase, RHP, Indians (traded from Rangers after season)
Key stat: 99.2 mph average cutter velocity
Trading away a franchise icon in Corey Kluber was a risk for the Indians, but there's one obvious tool they got back in Clase's one-of-a-kind, triple-digit cutter. No pitcher who threw at least 200 cutters in a season since 2008 (the start of modern pitch tracking) came within 3 mph of Clase's average this year, and, as MLB.com's Mandy Bell notes, Cleveland's entire pitching staff combined for just 12 pitches of 98+ mph in 2019 (all of them were thrown by starters Trevor Bauer and Mike Clevinger). Clase and fellow sophomore James Karinchak (59.2% strikeout rate in the Minors, eight punchouts and one walk with Cleveland in September) should help the Tribe turn that stat around in a hurry next season.
Here's a scary thought: Clase and Munoz could have pitched in the same bullpen. Both were in the Padres' farm system before San Diego traded Clase to Texas in May 2018.
Zac Gallen, RHP, D-backs
Key stat: .181 combined BAA on four-seamer/changeup
Gallen's arm strength is right around average for a starter, but he showed an impressive ability to balance the throttle with his four-seamer (.192 opponent BA) and changeup (.157) while recording a 2.81 ERA across 15 starts. As noted by The Athletic's Eno Sarris in August (subscription required), Gallen's magic lay in how his changeup danced off his heat; the combination of the two recorded similar movement profiles as aces like Shane Bieber and Stephen Strasburg.
By season's end, Gallen's changeup whiff rate ranked seventh-best among full-time starters behind some brand names: Luis Castillo, Blake Snell, Strasburg, Cole Hamels, Lucas Giolito and Gerrit Cole. Though Jazz Chisholm, Arizona's former No. 1 prospect, could still flourish with Miami, the D-backs have to be thrilled with the rotation piece they got at the Trade Deadline.
Colin Poche, LHP, Rays
Key stat: 88.5% four-seam fastball usage rate
Who throws almost exclusively fastballs, when those heaters only average about 93 mph? The owner of the sport's biggest "rise" ball.
Poche's heat topped the Statcast leaderboard with 4.3 more inches of vertical movement than the average four-seamer. Like his teammate Anderson, Poche attacked the top of the zone with that "rise," getting on top of hitters' swings and finishing with elite marks in both four-seam whiff rate and pop-up rate. Of the 434 pitchers who faced at least 150 batters, Hader was the only one who allowed a lower expected batting average (minimum 150 batters faced), based on batted-ball quality and strikeouts, than Poche.
Poche, a "player to be named later" in the 2018 Steven Souza Jr. trade, still has a home run problem to correct (nine allowed in 51 2/3 innings). But Tampa Bay's 2020 bullpen looks stifling again when you combine him with Anderson, José Alvarado, Diego Castillo, Emilio Pagán and Chaz Roe.
Chris Paddack, RHP, Padres
Key stat: .275 expected wOBA allowed
Statcast's Expected wOBA examines how a pitcher should fare, based on the quality of contact he allows (exit velocity and launch angle) and the real-life strikeouts and walks he racks up. The year's best pitchers are typically at the top of the xwOBA leaderboards -- look at the names Paddack finished among this year:
Lowest xwOBA allowed in 2019
Minimum 500 batters faced (108 pitchers)
1) Gerrit Cole, NYY: .238
2) Justin Verlander, HOU: .249
3) Jacob deGrom, NYM: .253
4) Max Scherzer, WSH: .254
5) Stephen Strasburg, WSH: .266
6) Kenta Maeda, LAD: .274
7-T) Paddack, SD: .275
7-T) Walker Buehler, LAD: .275
7-T) Charlie Morton, TB: .275
10) Luis Castillo, CIN: .277
Paddack paired the whiffs (26.9% strikeout rate) with command (31 walks in 140 2/3 innings), and opponents couldn't square him up very often (32.3% hard-hit rate, 94th percentile among starters that induced at least 250 batted balls). If he can continue developing his curveball into a quality third pitch, his future looks very bright.
Griffin Canning, RHP, Angels
Key stat: 32.3% whiff-per-swing rate
The Angels haven't made the big-splash acquisitions many expected for their rotation, and so maybe they're partially banking on Canning's raw tools. The righty's whiff rate (misses out of total swings) ranked eighth out of the 152 starters who induced at least 500 swings, slotting him behind Justin Verlander and Robbie Ray and in front of Lucas Giolito and Chris Sale. Canning's slider was the eye-opener of his rookie season, generating whiffs on roughly 46% of opponents' swings.
Los Angeles shut Canning down with elbow inflammation in August, but if he can deliver more big innings in 2020, his club could desperately use them.
Trent Thornton, RHP, Blue Jays
Key stat: 88th percentile four-seam and curveball spin
Thornton's 4.85 ERA showed he has plenty to learn, but the tools are there. The righty averaged a 2,373-rpm spin rate on his four-seamer and 2,795 rpm on his rarely used curve, putting him in elite territory for each pitch. He also carried a 3,089-rpm average on his slider, which ranked among the league leaders in average vertical drop.
Thornton still needs to harness all that movement toward the edges of the strike zone, but the Blue Jays should give him plenty more innings to tinker in 2020.
Aaron Civale, RHP, Indians
Key stat: 2.4% barrel rate allowed
Civale didn't throw hard, but he nevertheless showed a knack for missing the fat part of the bat. Barrels are Statcast's term for hitters' dream batted balls with exit velocity and launch angle combos that typically go for extra-base hits, and only two pitchers allowed fewer barrels on a rate basis than Cleveland's rookie starter. We're only talking about a 10-start sample for Civale, but he, Clase and Karinchak give the Indians a horde of sophomore pitchers (not to mention Zach Plesac) for fans to be excited about next year.
Tyler Rogers, RHP, Giants
Key stat: 1.01-foot average vertical release point
Rogers was on the opposite end of the spectrum from Munoz and Clase, submitting the absolute lowest average fastball velocity of any primary pitcher in baseball at just 82.4 mph. But Rogers made up for that with the lowest release point in the game, as well as its eighth-widest (righty or lefty).
Rogers dropped down and told hitters, "Try to see this, no matter how slow I throw it." And it worked: The rookie's 70% ground-ball rate was baseball's third highest, and his 26% hard-hit rate allowed finished just outside the top 10. As much fun as it is watching Tyler's older brother, Taylor, dominate as the Twins' closer, Tyler's true submarine delivery should be on your must-watch list next season.