Inbox: Can Braves repeat as NL East champs?
Beat reporter Mark Bowman answers questions from fans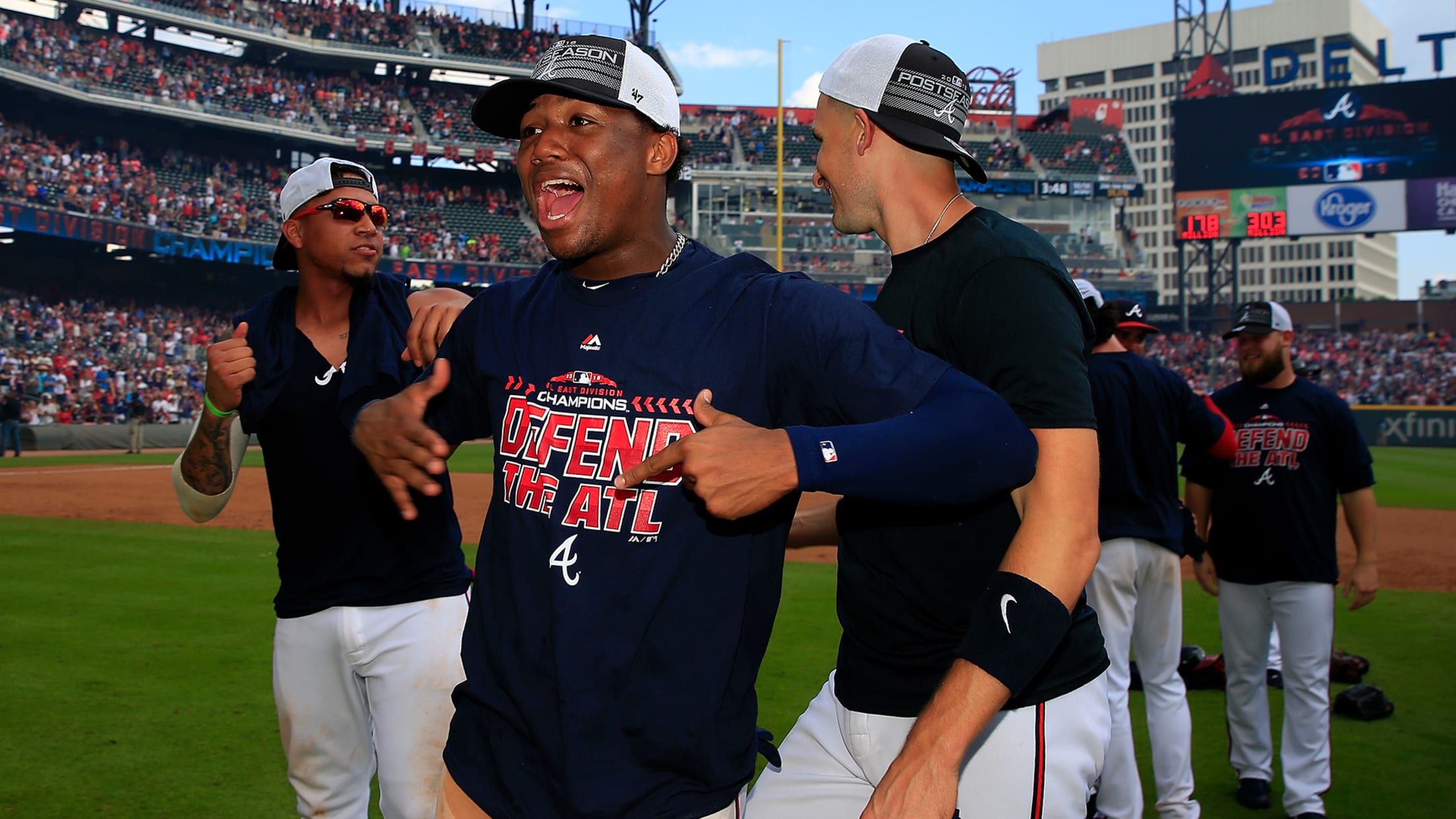 ATLANTA, GA - SEPTEMBER 22: Ronald Acuna Jr. #13 of the Atlanta Braves celebrates after clinching the NL East Division against the Philadelphia Phillies at SunTrust Park on September 22, 2018 in Atlanta, Georgia. (Photo by Daniel Shirey/Getty Images) (Daniel Shirey/Getty Images)
Can the Braves win the division with the current roster? -- @latech94 When combining the experience gained by a talented young core with the addition of Josh Donaldson's MVP-caliber talents, you can argue the Braves are stronger than they were when they entered their memorable 2018 season. But even if
Can the Braves win the division with the current roster? -- @latech94
When combining the experience gained by a talented young core with the addition of Josh Donaldson's MVP-caliber talents, you can argue the Braves are stronger than they were when they entered their memorable 2018 season. But even if they are indeed better, are they good enough to defend their crown within a much-improved National League East?
The Mets have gotten better since posting the division's top record over the season's final three months. The Nationals and Phillies have the financial capability to further bolster the significant improvements they have already made. But instead of focusing on what it would take to win in 2019, the Braves should remain focused on the long-term benefits of their recently completed rebuild.
:: Submit a question to the Braves Inbox ::
In other words, don't significantly diminish the potential value of 2020-25, just to improve the possibility of defending a division title. The Astros earned a postseason berth earlier than expected in '15, then missed a year of playoff experience before making the necessary moves to win the World Series and begin their mini-dynasty in '17.
Maybe the extended developments of Sean Newcomb and a few of the top-flight starting-pitching prospects will be enough to account for the unexpected valuable innings provided by Anibal Sanchez. Or maybe the Braves will end up with Sonny Gray or another veteran capable of serving as the front-line starter Atlanta needs.
Maybe the pursuit of an outfielder results in the acquisition of a bat capable of fortifying a lineup that already includes three MVP candidates -- Ronald Acuna Jr., Donaldson and Freddie Freeman. Or maybe an extra year of experience will further enhance the potential values of Ozzie Albies and Dansby Swanson.
Just like we had no idea the Braves would win last year's division crown, we can't definitively say how much the acquisitions of Edwin Diaz (Mets), Patrick Corbin (Nationals), Andrew McCutchen (Phillies) and maybe Bryce Harper (???) will influence this year's NL East race. But we know the Braves have a strong core and are built to be contenders for many years to come.
There's nothing wrong with using some of the current prospect capital to improve the possibility of defending a division crown. But there's no need to deal just to deal or spend just to spend for 2019, when you know the deal may handicap you in '20 and beyond.
Favorite #Braves memory of 2018? GO! pic.twitter.com/9D2Ec4gkrf

— Atlanta Braves (@Braves) December 31, 2018
Who hits fourth behind Acuña, Donaldson and Freeman? -- @BSum94
This interesting question fuels the incentive to fill the outfield void with an above-average bat. Here are the current top-of-the-lineup options:
1) Acuna, Donaldson, Freeman, ????
2) Acuna, Ender Inciarte, Freeman, Donaldson
3) Inciarte, Donaldson, Freeman, Acuna
While the efficiency at the leadoff spot serves as an influential variable, it's important to point out how many plate appearances each spot in Atlanta's lineup tallied last year: leadoff (760), second (737), third (724) and fourth (713).
Quite frankly, I don't know why anybody would be interested in giving Acuna approximately two plate appearances fewer per week by moving him from leadoff to the cleanup spot. Likewise, I'm going to maximize Donaldson's opportunities by keeping him in his preferred second spot. But this leaves a hole in the fourth spot and provides reason to wonder if it would be worth gambling on Nicholas Castellanos.
Castellanos easily ranks as the Majors' worst defensive outfielder with the Outs Above Average metric, according to Statcast™. But the range possessed by Inciarte and Acuna provides reason to contemplate taking this risk of adding yet another 20-plus homer guy to what would indeed be an intimidating lineup.
.@ronaldacunajr24 was on another level leading off.

And today, he turns 21! 😱 pic.twitter.com/8oO7p8zfaC

— MLB Stats (@MLBStats) December 18, 2018
Odds Fred McGriff gets into the Hall of Fame via the "Today's Game" ballot (just assuming he'll be nowhere close to 75 percent in his final year of eligibility)? -- @JPMendelson
Thanks to Ryan Thibodaux's (@NotMrTibbs) Hall of Fame ballot tracker, it appears McGriff will end up with 30-35 percent of the votes this year, his final one on the ballot. The "Crime Dog" will eventually be enshrined, but it is hard to understand how he has never previously received more than 25 percent of the votes.
McGriff stands as one of 16 players to hit .280 with a .375 on-base percentage, .500 slugging percentage and at least 490 home runs. The 15 others are Willie Mays, Frank Robinson, Alex Rodriguez, Mel Ott, Gary Sheffield, Babe Ruth, Jose Pujols, David Ortiz, Mickey Mantle, Frank Thomas, Jimmie Foxx, Manny Ramirez, Ted Williams, Lou Gehrig and Barry Bonds.
From 1988-97, McGriff hit the third-most homers in the Majors (trailing only Bonds and Mark McGwire) and ranked eighth with a 43.2 fWAR. The seven players who ranked ahead of him within this 10-season span included six Hall of Famers -- Griffey, Cal Ripken Jr., Barry Larkin, Thomas, Rickey Henderson and Wade Boggs -- and Bonds.
I'm baffled by the limited support Billy Wagner has gotten while Mariano Rivera will be a near-unanimous selection. I'm confused as to why Omar Vizquel's glove is valued more than Andruw Jones'. But while it's hard to predict whether Wagner or Jones will eventually be enshrined, I think it's safe to say McGriff and Dale Murphy will soon have a committee provide them this great honor.
Is it possible to see Craig Kimbrel's market falling so low he comes back to Atlanta on a deal like Josh Donaldson? -- @ryyxma
Donaldson's attempt to reset his market led him to gain the same salary he had before his past two seasons were marred by injury. Kimbrel doesn't need to reset his market, he simply needs it to at least approach what he was seeking.
If you remove the potential opt-out years of Albertin Chapman's contract and keep the $11 million signing bonus, you have a three-year, $56 million deal. This still seems to be a little steeper than what the Braves would be willing to pay. But if Kimbrel is still looking for a job a couple weeks from now, there might be reason to start thinking about the possibility of a reunion.
With everything really quiet, do you think general manager Alex Anthopoulos pulls off a "surprise" trade or signing that no one expects? -- @LSUBravesFan
Quite frankly, Anthopoulos pulling off a surprise trade or signing is probably the best bet. Yeah, he has done his due diligence on a number of fronts. But more possibilities will arise on the trade front once teams start filling their needs and getting a better idea of where things stand from a financial perspective. In other words, the next big acquisition might be one that hasn't even been discussed yet by the Braves.
Mark Bowman has covered the Braves for MLB.com since 2001.