Inbox: Could Braves add another bullpen arm? 
MLB.com's Braves reporter answers questions from fans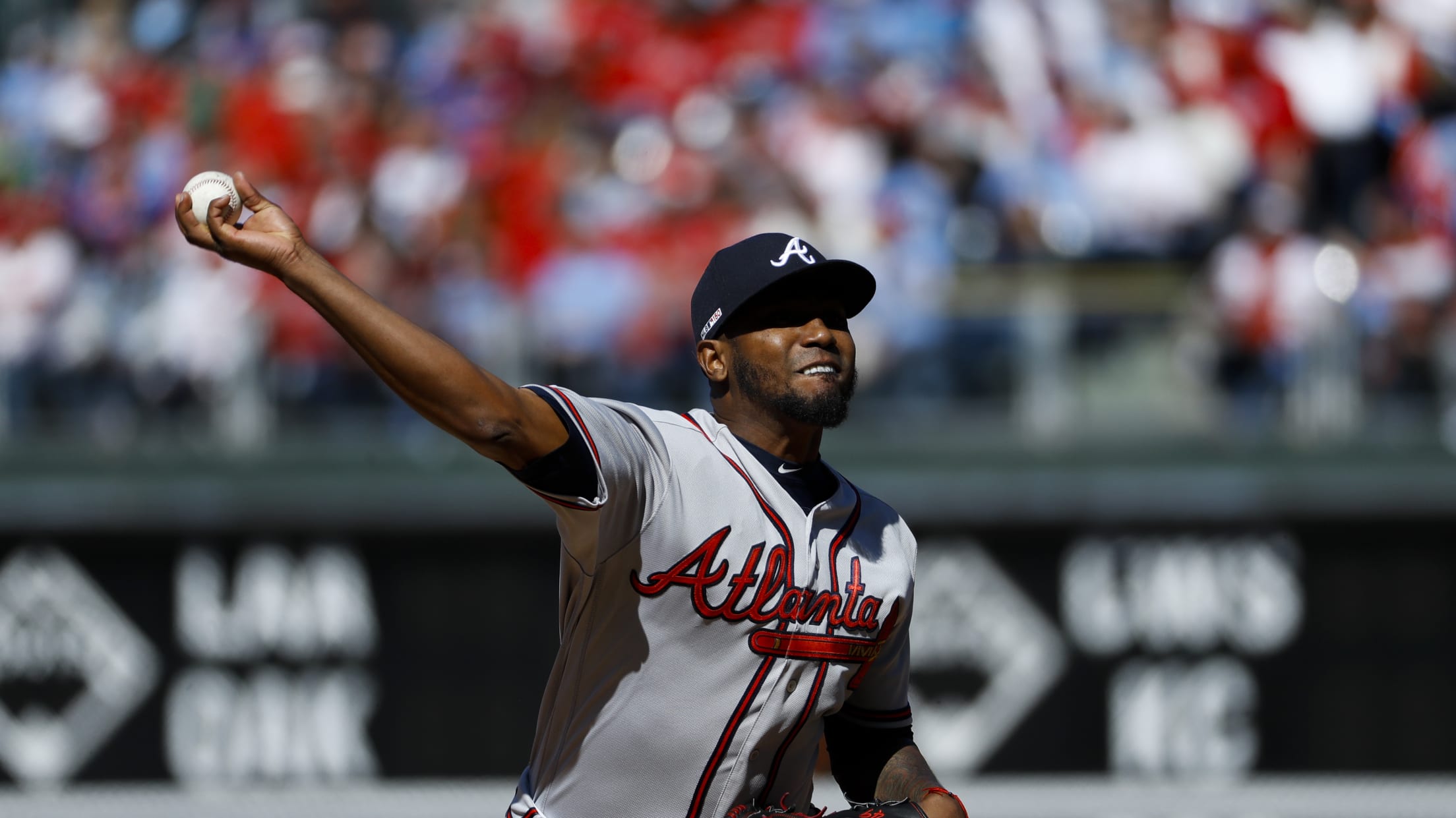 Is it likely for the Braves to make any acquisitions before the end of May for relief pitching or do they feel comfortable with A.J. Minter and Darren O'Day coming back within a few weeks? -- @JustCodyCann The return of a healthy Minter within the next couple weeks would influence
Is it likely for the Braves to make any acquisitions before the end of May for relief pitching or do they feel comfortable with A.J. Minter and Darren O'Day coming back within a few weeks?
-- @JustCodyCann
The return of a healthy Minter within the next couple weeks would influence my primary concern, which is Arodys Vizcaino's durability. But while Minter provides another closing option on those days when Vizcaino is unavailable, the uncertainty of Vizcaino's shoulder doesn't erase concerns about the quality of depth that currently rests within Atlanta's bullpen.
Shane Carle made a bad pitch Thursday. If he throws Maikel Franco anything other than a fastball there, he's not part of today's discussion. But while he's proven he can provide quality depth, there isn't any reason for the Braves to be currently carrying Luke Jackson, whose best roster credential was being out of options. With that being said, you're bound to get diminishing returns when the cost of attempting to preserve organizational depth weakens the current value of a necessary asset.
At the same time, you can argue that with the pitcher's spot coming up fourth in the top of the seventh, maybe it would have made more sense to ask Jackson, instead of Wes Parsons, to get that final out in the sixth. I understand both sides of this argument. But regardless, with Parsons, Carle and Josh Tomlin all capable of providing length, it doesn't make much sense to carry Jackson instead of Dan Winkler, who was optioned because the Braves felt they needed yet another multi-inning guy while utilizing a young rotation.
Once Mike Foltynewicz and Kevin Gausman return, I'd like to see Max Fried start to assume more of a regular relief role. I like the increased velocity and aggression he brings when working out of the 'pen. Patrick Weigel and Kyle Muller will become attractive bullpen pieces at some point this summer. But both need time to develop before being considered legit options.
Hypothetical situation: If Bryse Wilson pitches a gem Saturday through six innings and the Braves take a 3-2 lead into the bottom of the seventh, which relief pitchers are most likely to handle the next three innings for the Braves?
-- @EricCarroll21
Given Vizcaino is well rested, he'd be available for the ninth. Exactly who attempts to preserve the lead for him will likely depend on the matchups that present themselves during the seventh and eighth innings. Two of the five hits Jonny Venters allowed against the Reds on Monday were recorded by a left-handed hitter, but he'd handled them over the previous few weeks and limited them to a .200 on-base percentage last year. Jesse Biddle's work in camp would lead me to limit him to matchups against lefties. Parsons and Chad Sobotka would be the top candidates to handle the right-handers. Parsons has just two career appearances, but given the situation, I'd be more comfortable testing the hot hand in a high-leverage spot.
What's the feeling for Julio Teheran after his sixth straight Opening Day start?
-- @BravesStats
In terms of stuff and aggressiveness, Teheran's first start of this season was better than I can remember since he had that strong stretch in 2016. Here's what I liked:
1) His four-seamer averaged 91.3 mph and topped out at 93.7 mph. That pitch's average velo exceeded this mark in just two of his starts last year (91.5 mph on June 17 and July 4). The average velo in last year's season opener was 89.5 mph, which was just below his career-low 89.9 mph season average.
2) It wouldn't be in his best long-term interest to attempt to consistently match the career-high 42 percent slider usage he generated Thursday. But you can't argue with the results as he's posted a 2.13 ERA within the 10 career starts he's used his slider at least 35 percent of the time. He registered nine swinging strikes and four called strikes with the 37 sliders he threw. More importantly, his usage enhanced unpredictability and likely influenced Rhys Hoskins staring at that 3-2 two-seamer that came back across the plate in the fourth.
3) Yeah, Teheran allowed another first-inning run when he fell behind 2-0 and then threw leadoff hitter Andrew McCutchen a cookie that became a souvenir. But he proceeded to retire the next nine batters and ended up issuing just one unintentional walk. That fourth-inning walk to J.T. Realmuto proved costly, but he was much more aggressive and he seemed quite comfortable being reunited with Brian McCann.
Why are we wasting the best player in the National League in the four hole? Nick Markakis is good but there's not a single pitcher in the league who won't pitch around Ronald Acuna Jr. to get to him?
-- @baileypolson
We've addressed this many times, and I've always said I believe Acuna should be in the leadoff spot, especially against right-handed pitchers. But your reasoning is not necessarily sound given 47.6 percent of the pitches thrown to Freddie Freeman last year were in the zone. The previous career-high percentage was 44.6 percent.
Markakis' ability to consistently put the bat on the ball forces pitchers to respect him. We saw it during Thursday's second inning, when Acuna walked, stole second and scored on Markakis' single. My thinking is I'd rather allow Acuna to do this in the first inning and then give Josh Donaldson, Freeman and Markakis a chance to enhance the value of his power-speed tools.
Mark Bowman has covered the Braves for MLB.com since 2001.