Inbox: Could Healy be moved before Deadline?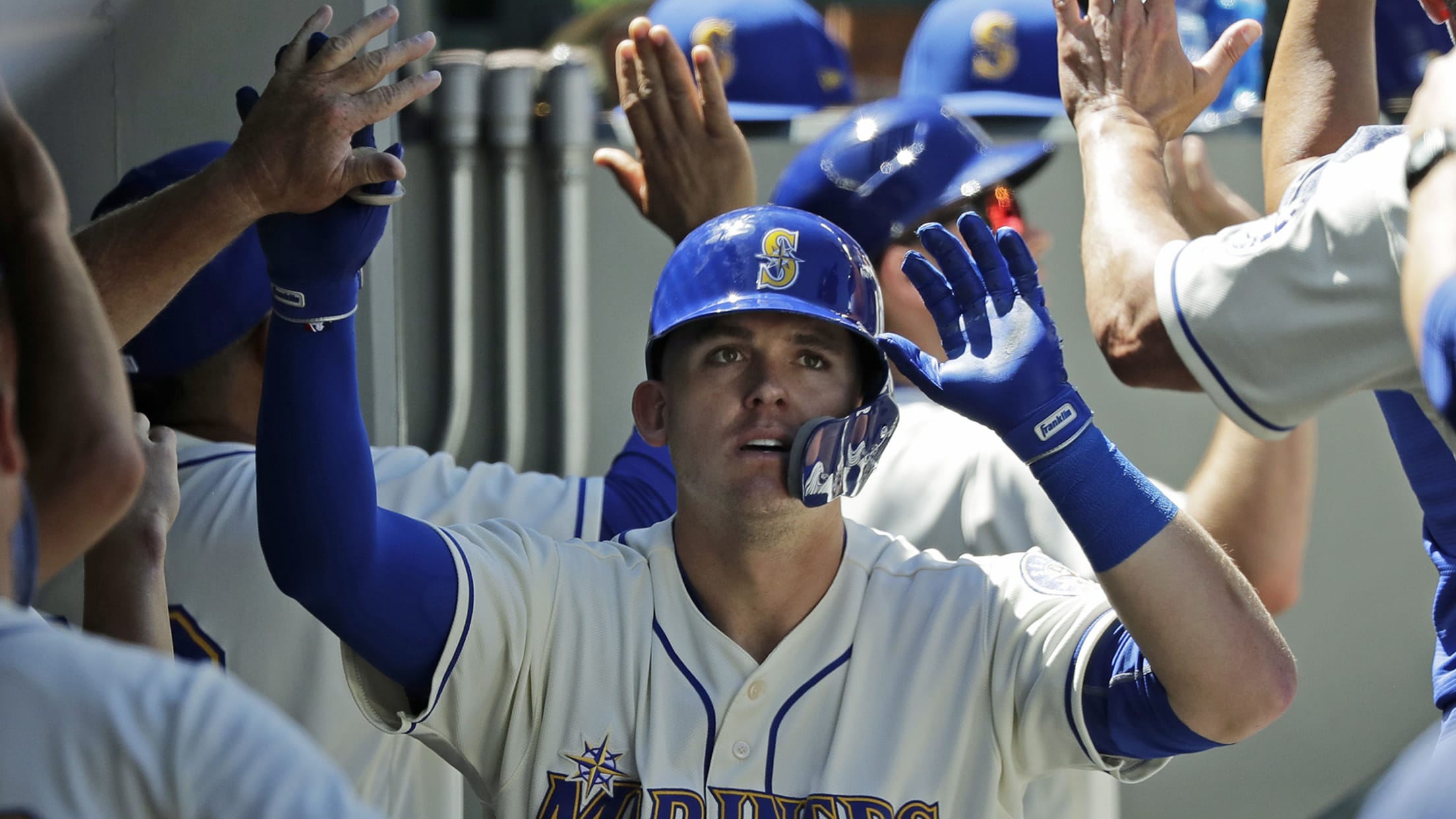 Seattle Mariners' Ryon Healy is greeted in the dugout after he hit a three-run home run against the Colorado Rockies during the sixth inning of a baseball game, Sunday, July 8, 2018, in Seattle. (AP Photo/Ted S. Warren) (Ted S. Warren/AP)
I read the Royals might be interested in Ryon Healy. What do you think the return could be with him and how likely do you think it would be that the Mariners use him as a trade chip? -- Paul W., SeattleThat's an interesting situation because typically contending teams trade
I read the Royals might be interested in Ryon Healy. What do you think the return could be with him and how likely do you think it would be that the Mariners use him as a trade chip?
-- Paul W., Seattle
That's an interesting situation because typically contending teams trade Minor League prospects to bolster their Major League rosters, not current starters. But Healy's role clearly will be lessened once Robinson Cano returns in mid-August, so it's not out of the question that Mariners general manager Jerry Dipoto might use Healy to acquire pitching help.
I don't see a likely match with the Royals, however, given Kansas City has considerable young first base depth coming up in its system. And while it'd be great to land a quality starter like Danny Duffy, the Royals' rebuild doesn't likely involve getting rid of guys with three years of team control remaining.
The other issue with trading Healy: Who plays first if you get to the playoffs, when Cano is ineligible? I'm not convinced they're that eager to get rid of a 26-year-old with four years of team control remaining who has hit .272 with 58 homers in his first 303 games in the Majors, hasn't yet come into his prime and could be a nice piece going forward at first base or designated hitter. But pitching is costly, so we shall see.
:: Submit a question to the Mariners Inbox ::
What are some realistic trade candidates to bolster the rotation as we near the July 31 non-waiver Deadline?
-- Cal W., Hillsboro, Ore.
A couple of names that keep popping up are Cole Hamels from the Rangers, Chris Archer and Nathan Eovaldi of the Rays and Matt Harvey of the Reds. For what it's worth, the Mariners were one of six teams with scouts at the Rangers game on Monday -- along with the Yankees, Phillies, Red Sox, Braves and Indians -- to see Hamels pitch, though they also could have been checking in on lefty reliever Jake Diekman and righty closer Keone Kela.
Hamels carries about $7 million of remaining salary this season, plus a $6 million buyout (or $20 million salary) for 2019, but the Mariners still have an extra $7 million in this year's budget thanks to Cano's suspension.
Archer is also intriguing, but he has three years of team control remaining at a reasonable $28 million, so he'll require a considerable prospect package, and that makes it tougher for the Mariners.
Harvey had been pitching very well since being acquired from the Mets, but got roughed up his last outing for the Reds. He and Eovaldi would be two-month rentals, so the prospect cost would be less.
What's happening with the naming rights for Safeco Field?
-- Tyler M., Pullman, Wash.
Don't have an answer for that yet, other than it won't be Safeco Field when next season begins as that 20-year deal is expiring. From what I hear, the club is still negotiating with several potential bidders, but no agreement is done.
What's taking the Mariners so long in making a trade? Change can't come fast enough when we're struggling?
-- Patrick, Kent, Wash.
Patience, Patrick! Don't forget that Dipoto already made one of the biggest trades so far this season two months ago when he acquired Alex Colome and Denard Span, and I'm sure he'll make more moves before next Tuesday's deadline.
But remember that sellers are trying to get the best return possible, and many ask for the moon initially. Buyers often wait until prices start dropping as the deadline nears and teams become more realistic in what they're seeking. There's a lot of sellers this year, so buyers like Seattle could benefit from waiting.
Saw that the Mariners are interested in Asdrubal Cabrera. Is this just another rumor or are they serious? Is there a need?
-- Alexander S., Portland
Although Cano's return eliminates any need for depth at second base -- where Cabrera has played all season for the Mets -- I don't rule this one out since the 32-year-old would be a nice offensive upgrade over utilityman Andrew Romine and can play short or third base as well. And Dipoto mentioned the possibility of trying to add some versatility. Cabrera would be a nice veteran insurance policy in the infield, if the price is reasonable.
Do you expect perhaps a bigger trade for the Mariners in August with a waiver deal? Similar to Mike Leake last year?
-- Andy R., Snohomish, Wash.
That's a great question as often the Trade Deadline buzz overlooks the fact that deals still can be done after July 31, they just require the players involved to clear waivers. That can limit things, but Dipoto acquired not only Leake, but first baseman Yonder Alonso, backup catcher Mike Marjama and reliever Ryan Garton last August. The year before, he brought in Ben Gamel, Pat Venditte and Arquimedes Caminero in August deals.
It's definitely harder to make swaps in August, but not impossible. Trades can still be made in September as well, but players acquired after Aug. 31 aren't eligible for postseason rosters.