Inbox: Is it a make-or-break season for Brinson?
Beat reporter Joe Frisaro answers questions from Marlins fans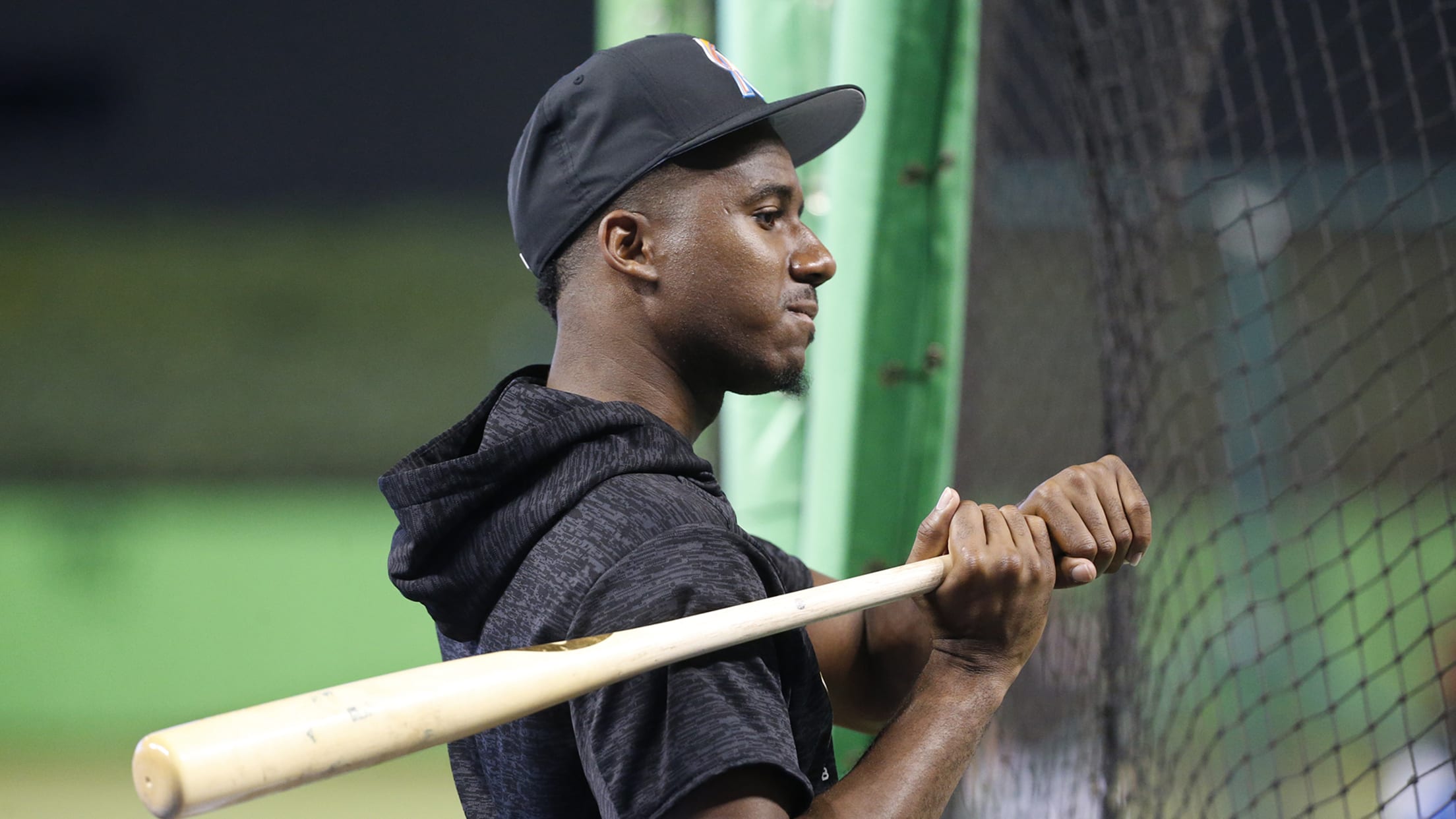 Miami Marlins' Lewis Brinson waits for batting practice before the start of a baseball game against the Milwaukee Brewers, Tuesday, July 10, 2018, in Miami. (AP Photo/Wilfredo Lee) (Wilfredo Lee/AP)
Is this a make-or-break season for Lewis Brinson? -- @patrick_rotellaMake or break may be too harsh, but I'd certainly say this is a season the Marlins want to see results from Brinson. The 24-year-old center fielder was given every opportunity at the big league level in 2018, and we know
Is this a make-or-break season for Lewis Brinson? -- @patrick_rotella
Make or break may be too harsh, but I'd certainly say this is a season the Marlins want to see results from Brinson. The 24-year-old center fielder was given every opportunity at the big league level in 2018, and we know he had his struggles -- finishing with a slash line of .199/.240/.338 with 11 home runs and 42 RBIs. He also dealt with some injuries, but he showed promising signs in the second half. In his final 25 games after the All-Star break, Brinson hit .239/.263/.337.
:: Submit a question to the Marlins Inbox ::
Beyond the basic numbers, Brinson did greatly improve the quality of his at-bats down the stretch.
But to become an everyday, impact player, Brinson must improve against offspeed pitches. According to Statcast™, he hit .242 against all fastballs last year but just .143 off breaking pitches.
I know J.T. Realmuto questions are getting out of hand, but do you think there is a chance the Marlins carry him? If the team makes leaps, it may convince him to be part of things long term. Or is that a pipe dream? -- @natemescher2020
What you suggest is the topic that has received the least amount of attention. I've tried to be consistent in my reporting since October that retaining Realmuto remains an option for the Marlins. That's not to say a club won't step up and offer the Marlins a package they can't resist before Spring Training begins. As of now, Miami has not lowered its demands.
With less than six weeks to go until pitchers and catchers begin workouts in Jupiter, Fla., on Feb. 13, each passing day increases the chances the All-Star catcher is a Marlin when Spring Training begins.
Even though Realmuto's agent, Jeff Berry, has stated his client is not interested in a contract extension, I do think the Marlins should revisit the possibility before Spring Training.
How are the Marlins going to entice the fan base who lives in Broward County, Boca Raton area and Palm Beach County? What can the organization do to make fans want to go to the park from all the way up there? -- @PantrySecurity
Fair question, considering the Marlins are focusing much of their marketing efforts in Miami-Dade County and those who live roughly within a 20-minute drive to Marlins Park.
Perhaps the best way to say it is, building up the fan base, like the product on the field, is a process. The Marlins have to start somewhere, and the first step makes sense -- entice those who live closest to the park.
At the same time, the Marlins don't want to turn their back on Broward and Palm Beach Counties.
New flooring for the new year! pic.twitter.com/LoOGUHOo7R

— Marlins Park (@MarlinsPark) January 3, 2019
Aside from winning, the organization has really focused on enhancements to Marlins Park, which we've seen throughout the offseason, like adding the party deck in center field and the standing room only zones. Making the ballpark experience more comfortable is part of the bigger picture. It would also help to have some dining options outside the park, so fans can arrive early and stay late to allow the usually heavy traffic on the highways around the ballpark to thin out.
Another way to appeal to the bases north of the ballpark is to better promote Spring Training. The Roger Dean Chevrolet Stadium Complex in Jupiter is located in a nice area, with beaches and plenty of dining and shopping spots close by.
The Marlins have stockpiled a lot of outfielders in the Minor Leagues through trades and international signings. I also see a lot of rumors about trading J.T. Realmuto for yet more outfield prospects. Why not look for a top shortstop or pitching prospects or another catcher in return?
-- @MrBseball3
Many fans have expressed a similar sentiment. The answer is basic: You want the most impactful players as possible in the deal, and you can never have enough depth, even at the same position. More than an outfielder, the Marlins need power. They are predominantly right-handed heavy, so left-handed power is in demand. If Miami can get an elite talent, like left-handed-hitting outfielder Kyle Tucker of the Astros, then you do so.
Secondly, not all of the outfielders in the system will develop at the same time. And not all will pan out. If you have a surplus of outfielders, you can also trade to address other areas of the roster.
I see the Jupiter Hammerheads announced their coaching staff. I haven't seen any other affiliates' assignments. Who else is coaching? -- @rokrobster
The new manager at Triple-A New Orleans is Keith Johnson, who formerly was in the Angels' system. At Double-A Jacksonville, Kevin Randel takes over as manager of the Jumbo Shrimp. Randel gets the promotion after managing at Class A Advanced Jupiter last year. Todd Pratt is the new manager at Jupiter, and Mike Jacobs will manage at Class A Clinton.