Inbox: Scouting the top names in the Draft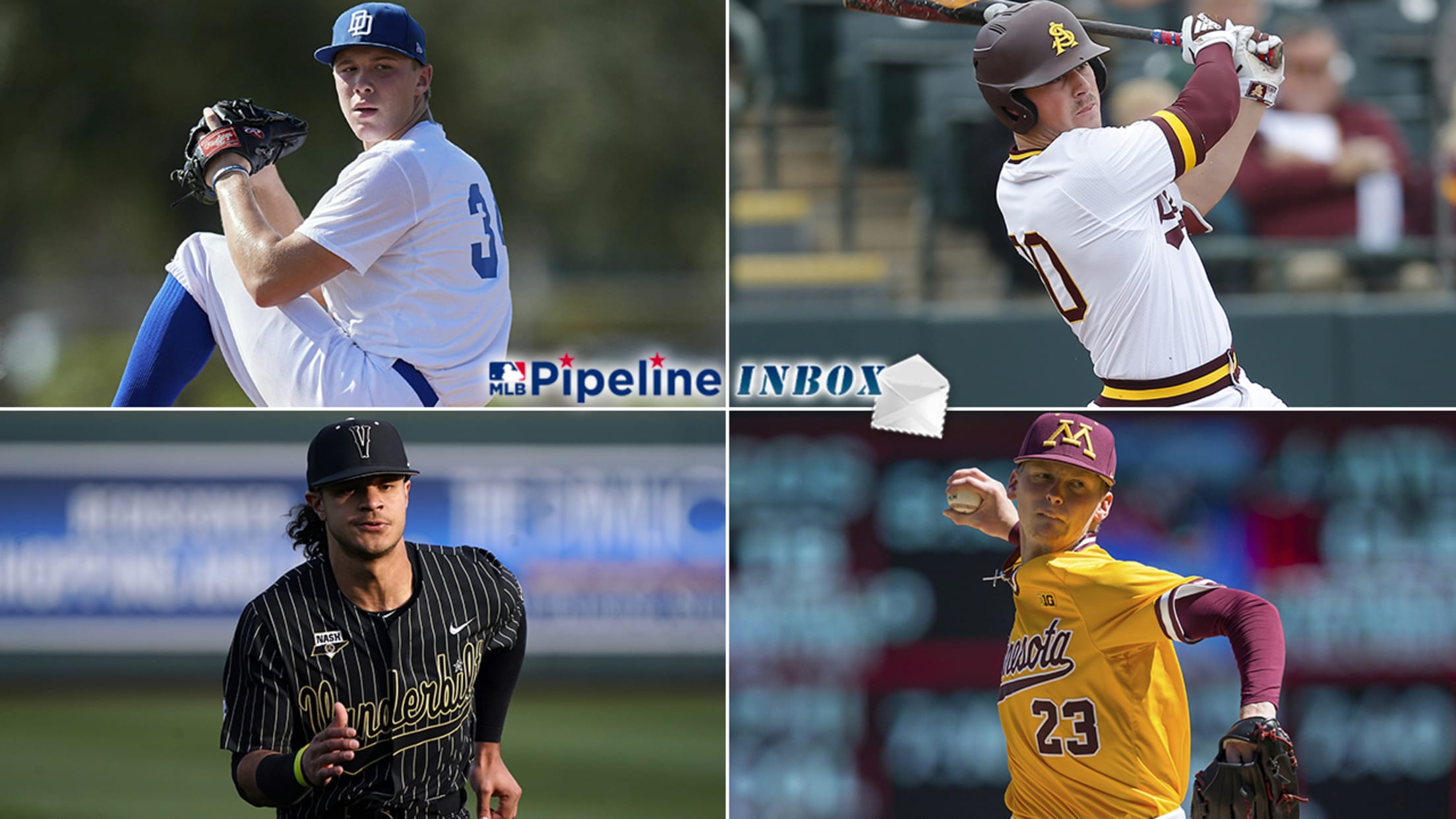 We're all about the Draft right now at MLB Pipeline. Toward the end of last week, we unveiled an expanded Top 200 Prospects list and my first crack at projecting the first round. Already this week, we've presented a 2010 redraft, sweet-swinging Tennessee high schooler Robert Hassell's memories of facing
We're all about the Draft right now at MLB Pipeline. Toward the end of last week, we unveiled an expanded Top 200 Prospects list and my first crack at projecting the first round. Already this week, we've presented a 2010 redraft, sweet-swinging Tennessee high schooler Robert Hassell's memories of facing Mo'ne Davis in the Little League World Series, a feature on Arkansas outfielder Heston Kjerstad and a look at the Draft's best two-way prospects.
Let's keep the Draft coverage rolling with an all-Draft edition of the Pipeline Inbox ...
While it may be futile, any chance you will release a complete mock draft or at least a 2-3 round mock? As an O's fan it's the highlight of the year. Thank you

— jlarsh7 (@jlarsh7) May 17, 2020
There's so little concrete information even late in the first round that doing a three- or five-round projection would be just a series of random guesses. But I get that the Draft matters to fans of the Orioles, who have the Nos. 2, 30 and 39 overall selections, so how about I list the players who didn't make my 29-pick mock last week whom I expect to be the next 10 guys off the board?
In order of their ranking on our Draft Top 200:
Nick Bitsko, RHP, Central Bucks East HS, Doylestown, Pa. (No. 14)
Bryce Jarvis, RHP, Duke (No. 25)
Chris McMahon, RHP, Miami (No. 29)
Casey Martin, SS, Arkansas (No. 30)
Jordan Walker, 3B, Decatur (Ga.) HS (No. 33)
Jordan Westburg, SS, Mississippi State (No. 37)
C.J. Van Eyk, RHP, Florida State (No. 39)
Aaron Sabato, 1B, North Carolina (No. 41)
Dax Fulton, LHP, Mustang (Okla.) HS (No. 43)
Jared Shuster, LHP, Wake Forest (No. 78)
If they want him, the Orioles are in a great position to go get Bitsko, who could be the best high school pitcher in the Draft. Because he reclassified to the 2020 Draft in January and never got to pitch in a game this spring, he hasn't been scouted heavily, which may make teams reluctant to use their first pick on him. Baltimore's second choice comes before any other club's, and it has the largest bonus pool at $13,894,300.
I'm a tigers fan and obviously will be quite happy with Spencer Torkelson being in our system, but I just can't get the risk factor of drafting a 1B at #1 out of my head and honestly would prefer Austin Martin, do you think Torkelson could translate well to another position?

— Sully➡️Who even knows (@bigsullyt) May 17, 2020
First, don't worry about Torkelson's position. The Arizona State slugger's combination of hitting prowess, power and plate discipline is so special that he might be the best offensive player to come out of college baseball since Mark Teixeira in 2001. Most teams would love the chance to take him with the No. 1 overall pick.
Though he has below-average speed, Torkelson is a bit underrated as an athlete and may be able to handle a position other than first base. Third base is probably a stretch in terms of range and arm strength, but he may be able to play left field. And it really won't matter -- his bat is that good.
Could you expound on the defensive expectations for Vanderbilt's Austin Martin? I've seen it mentioned that he had throwing issues this spring. Is that a concern going forward? What level of defender does he project to be at third base, second base and/or center field?
-- Ben W., Oxford, Miss.
While no one doubts that Martin will hit, there are questions about where he'll wind up defensively. Scouts had hoped to see him at shortstop this spring, but Vanderbilt went with freshman Carter Young instead. Martin opened the season at third base, didn't look good throwing there during the first weekend and shifted to center field.
Martin has had some arm-related injuries and there are times when he looks tentative making throws, so some clubs do have concerns. He has twitchy athleticism and soft hands, but his arm could limit him at third base. He's more of a solid than a plus runner, so he projects more as an average-to-solid defender in center field and could be better than that at second base.
What would you rank these five arms for long term potential success in the big leagues. Meyer, Detmers, Crochet, Abel and Kelley. Also, what are the chances that Pittsburgh goes college arm at 7 in the form of Meyer or Detmers?

— Will Allison (@wjallison22) May 17, 2020
Let's start by ranking three of the best college arms (Minnesota right-hander Max Meyer, Louisville left-hander Reid Detmers, Tennessee southpaw Garrett Crochet) and our two top-rated prep pitchers (Oregon righty Mick Abel, Texas righty Jared Kelley) in terms of ceilings and floors ...
Ceiling: Meyer, Crochet, Abel, Kelley, Detmers
Floor: Detmers, Meyer, Abel, Crochet, Kelley
So if I were weighing both upside and risk, and I tend to err on the side of upside, I'd go Meyer, Abel, Detmers, Crochet, Kelley. That's no knock on Kelley -- I like all five of these guys and they all fit in the first 18 spots on our Draft Top 200.
I've heard more college bats than college arms for the Pirates at No. 7. I don't think Meyer or Detmers is out of the realm of possibility, but Florida high school outfielder Zac Veen or Arkansas outfielder Heston Kjerstad seem more likely based on intel a month before the Draft.