Inbox: How will Yanks handle Andujar's return?
Beat reporter Bryan Hoch answers questions from New York fans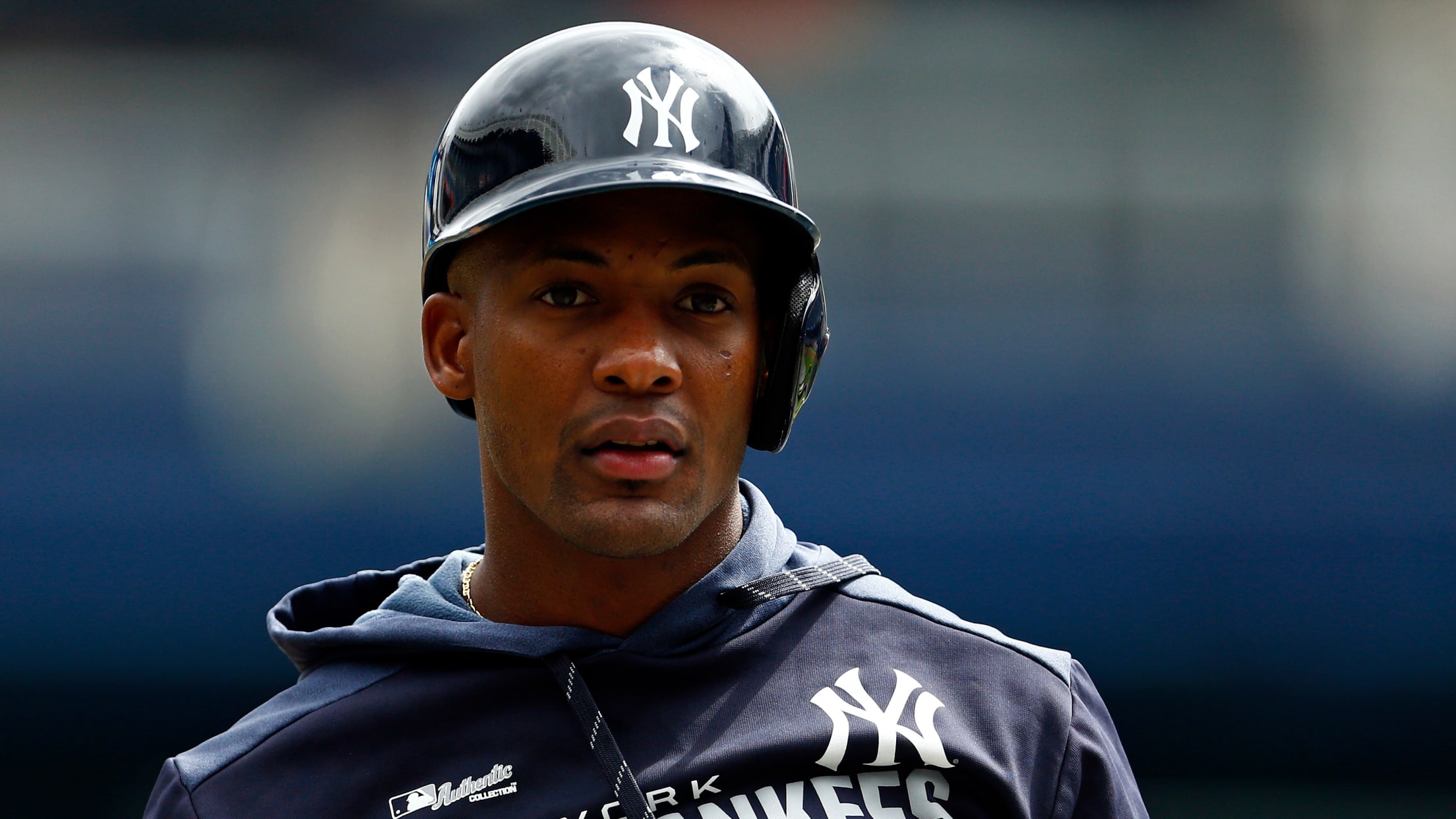 What will the Yankees do when Miguel Andujar comes back? Could he be used primarily as a designated hitter to keep Gio Urshela in the lineup at third base? -- Richard S. First things first: Let's see if Miguel Andújar is able to get through the remaining obstacles between now
What will the Yankees do when Miguel Andujar comes back? Could he be used primarily as a designated hitter to keep Gio Urshela in the lineup at third base?
-- Richard S.
First things first: Let's see if Miguel Andújar is able to get through the remaining obstacles between now and Friday, when he could join the Yankees for their series against the Twins. He is scheduled to play third base in an extended spring game on Monday, and if that goes well, he would join Class A Advanced Tampa for a brief rehab assignment.
From all indications, Andujar's bat will not be nearly as great a concern as his throwing, and so the Yankees have internally discussed the idea of using him as a DH or first baseman. They view that as a last resort, though, and the optimal situation would be to have Andujar return as a full-fledged third baseman who is capable of making repeated throws across the diamond.
Should that happen, the Yankees will have a tough call to make, assuming that Gio Urshela's left hand injury indeed does not prove to be significant. Urshela is a superior defender and he has contributed more than expected at the plate, but the Yanks are committed to using Andujar as their starting third baseman now and in the future.
Urshela has dabbled at the other three infield spots in his career, but his bread and butter is at the hot corner. In theory, I don't see the Yankees sending down their fourth outfielder in Tyler Wade, so maybe Thairo Estrada would return to Triple-A to clear a roster spot and then Urshela would be available to play third as Andujar's backup.
Is Luke Voit an early favorite to be an All-Star?
-- Noah
Luke Voit is off to a good start, having been selected as the most recent American League Player of the Week after hitting .433/.528/.867 with four homers and 10 RBIs in seven games, helping the Yanks go 6-1 so far on the West Coast. Order that man another shipment of Andujar's bats!
Among AL first basemen, Voit's .935 season OPS ranks second only to the Royals' Hunter Dozier, who is off to a terrific start (1.143 OPS). Voit's personality, power-hitting ability and popularity among the Yankees' large fan base should give him plenty of support when voting begins.
If and when Greg Bird is healthy again, what do the Yankees plan to do with him?
-- Yaakov C., Las Vegas, Nev.
That's yet to be determined, but it seems clear that Greg Bird will not be the Yankees' starting first baseman. Voit had the inside track on the job from the earliest days of the spring and did nothing to lose that standing. My assumption is that Bird would have eventually been optioned to the Minors as players returned from the injured list, but we never got to find out.
There are still those within the organization who believe that Bird can be a quality starting first baseman in the big leagues, but he has to stay on the field for that to happen. I could see Bird returning to Triple-A once he gets healthy and potentially increasing his value for a trade. Remember, those guys in the Minors are playing to impress all 30 organizations.
Any idea when Clint Frazier will be back?
-- Chip C.
Aaron Boone had offered a timetable of 10 to 14 days, and that appears to still be in play. The short end of that would be May 4 at home against the Royals. Clint Frazier played catch, hit in the cages and jogged on a treadmill during the series in San Francisco, and he is expected to run on the field during the Yanks' two-game visit to Arizona.
Has there been an update on Aaron Judge?
-- Pete C., New York
Aaron Judge has been traveling with the Yankees and is said to be showing signs of improvement, though he has been limited to receiving treatment. This past weekend in particular was a bummer for Judge, who had circled these dates on the calendar when the schedule came out.
Not only did he grow up in the Bay Area cheering for the Giants -- Rich Aurilia was his favorite player -- but Saturday marked Judge's 27th birthday. He got to see family and friends, but he would surely have liked to celebrate with a homer or two.
Which Yankees player would be most likely to crash the pool at Chase Field?
-- Chris W., Catalina Foothills, Ariz.
This one made me laugh. Of the players on the current roster, I think it would be Tommy Kahnle. I still remember him rolling on the champagne- and beer-soaked carpet in the visiting clubhouse at Rogers Centre after the Yanks clinched a postseason spot in 2017. I don't think there is a close second.
Would the Yankees have pursued Cameron Maybin if Giancarlo Stanton's shoulder weren't hurt?
-- Patrice C.
Doubtful. In fact, John Harper wrote an excellent column for SNY that detailed general manager Brian Cashman's efforts to run his so-called Statue of Liberty play -- "Give me your tired, your poor, your huddled masses" -- immediately following Frazier's left ankle injury.
Cashman said that he had exchanged calls and text messages with other GMs about more prominent players, but they opted for Cameron Maybin since they were able to get him on a plane to Anaheim within hours and were able to acquire him for cash, avoiding giving up a prospect of significance.
With the "next man up" mentality guiding the team right now, what's going to happen to these guys and the team chemistry as players return?
-- Derek M.
Chemistry is always a tricky thing to quantify. Do teams bond because they play well, or are they playing well because they are a tight unit? You can have a team of nice guys who play under .500; it's happening around the league now. In this case, Boone believes that his players have rallied around the injuries and that it is increasing their focus.
I don't doubt that is the case; as Voit said on Saturday, "It's fun, man, because no one thinks we should be winning these games."
Now let's fast forward a few months and put Judge, Giancarlo Stanton, Aaron Hicks and Didi Gregorius back in the lineup. That team will be closer to the one that was expected to compete for the AL East title this season, and so the expectations will be greater, but so will the talent level. As enjoyable as the "B-Bombers" have been to watch, if you're competing for a championship, I'll take the All-Star team that's currently on the injured list.
Is Domingo German for real?
-- Matthew K., Wooster, Ohio
In his five starts, Domingo Germán has gone 4-1 with a 2.73 ERA, holding opponents to a .167 batting average while striking out 28 against nine walks in 29 2/3 innings. There have been blips along the way -- San Francisco's four-run sixth inning on Sunday, for example -- but German is doing a good job of harnessing what many evaluators saw as above-average stuff.
"I'm not surprised at all," Gary Sánchez said on Sunday. "For a long time, I've been telling him that he has the stuff to be one of the best pitchers in the big leagues. The quality of his pitches are like that. He's been able to make adjustments. It was never a surprise for me."