Inbox: Where will top Draft picks rank?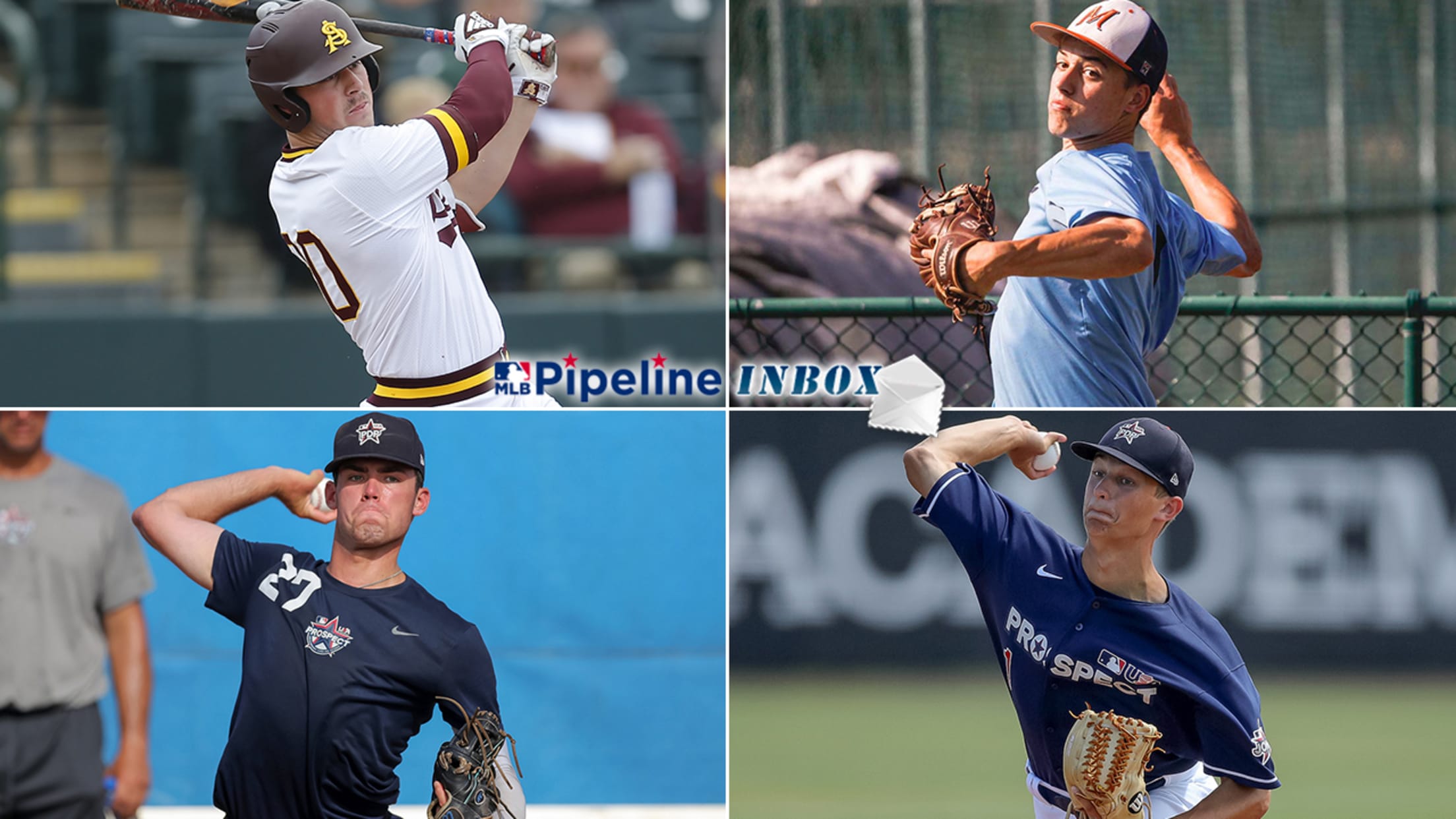 The spotlight on the Draft never has shone brighter. Not only is the MLB Pipeline crew devoting its full energy to the Draft, but the entire MLB.com team is cranking out one story after another. As I write this Inbox, Jonathan Mayo is polishing up our latest first-round projection, and
The spotlight on the Draft never has shone brighter. Not only is the MLB Pipeline crew devoting its full energy to the Draft, but the entire MLB.com team is cranking out one story after another. As I write this Inbox, Jonathan Mayo is polishing up our latest first-round projection, and we'll do four more of them between the two of us before the Draft begins on June 10.
We recorded our annual Draft Top 100 Prospects show for MLB Network on Tuesday, and that's merely one of six special Draft shows the Network will present between now and the actual event. Here's the schedule for those broadcasts:
June 4, 6 pm ET: Top 100 Prospects
June 5, 7 pm ET: MLB Tonight Draft Spotlight
June 6, 6 pm ET: Pitchers
June 7, 6 pm ET: Infielders
June 8, 7 pm ET: Outfielders
June 9, 7 pm ET: Front Office Focus presented by CohnReznick
The Pipeline Inbox overflowed with Draft questions this week, so let's get to them ...
If top 5 goes: DET-Torkelson, BAL-Martin, MIA-Lacy, KC-Veen, TOR-Hancock, then where do those guys rank immediately on their would-be new teams' prospect lists? #MLBDraft

— Mike Sellers (@puk32ellers) June 2, 2020
This is a slightly different take on the annual question I get from J.P. Schwartz about which draftees will rank No. 1 on their new organization's Top 30 list (look for that in the June 17 Inbox). Arizona State first baseman Spencer Torkelson may be the best offensive prospect to come out of the Draft since Mark Teixeira in 2001, and I'm going to go all in and say I'd put him first on our Tigers Top 30 ahead of Casey Mize, the No. 1 overall choice in the 2018 Draft.
Vanderbilt outfielder/third baseman Austin Martin would fit at No. 2 between catcher Adley Rutschman (No. 1 overall last year) and right-hander Grayson Rodriguez on the Orioles list. The Marlins are the only one of these Top 30s that I'm in charge of, and that's a tough decision with righty Sixto Sanchez and outfielder JJ Bleday occupying the top two spots. Texas A&M left-hander Asa Lacy has comparable stuff and is more durable than Sanchez, plus he's a southpaw, so I'd be tempted to put him first.
Florida high school outfielder Zac Veen would go at No. 2 for the Royals between shortstop Bobby Witt and right-hander Brady Singer. And Georgia righty Emerson Hancock would take the same place for the Blue Jays, fitting between righty Nate Pearson and shortstop Jordan Groshans.
All of which goes to show how difficult it is for even the most talented draftees to immediately rank as an organization's No. 1 prospect.
A number of junior college players have been drafted high in recent years, including Jackson Rutledge in the first round by the Nationals in 2019. Can you share a list of top juco prospects for 2020?
-- Dave P., San Francisco
Junior colleges have produced seven first-rounders in the last decade, starting with Bryce Harper going No. 1 overall to the Nationals in 2010 and followed by Cory Spangenberg (Padres, 2011), Tim Anderson (White Sox, 2013), Phil Bickford (Giants, 2015), Brendon Little (Cubs, 2017) and Nate Pearson (Blue Jays, 2017) and Rutledge. Jucos won't have a first-rounder this June, but they did place seven prospects, all pitchers, on our Draft Top 200:
95. Connor Phillips, RHP, McLennan CC
96. Beck Way, RHP, Northwest Florida State JC
97. Brandon Birdsell, RHP, San Jacinto JC
155. Dalton Fowler, LHP, Northwest Mississippi CC
158. Jake Smith, RHP, State JC of Florida, Manatee-Sarasota
167. Luke Little, LHP, San Jacinto JC
194. Tyson Guerrero, LHP, Lower Columbia (Wash.) CC
As a bonus, I'll rank 10 more juco prospects in order:
Mitchell Parker, LHP, San Jacinto (Texas) JC
Jared Viertel, RHP, Crowder (Mo.) JC
Christian McGowan, RHP, Eastern Oklahoma State JC
Hunter Parks, RHP, Florence-Darlington (S.C.) Technical JC
Ryan Ritter, SS, John A. Logan (Ill.) CC
Franco Aleman, RHP, St. John's River (Fla.) JC
Johnny Cuevas, RHP, JC of Southern Nevada
Mat Olsen, RHP, Central Arizona CC
Bryson Ware, SS, Pearl River (Miss.) CC
C.J. Weins, RHP, Wabash Valley (Ill.) CC
Who is a player you're higher/lower on than others in the industry (or even teams) are?

— matt cas (@matthias_cas) May 31, 2020
Episcopal HS (Bellaire, Texas) right-hander Tanner Witt immediately jumps to mind. The son of former first-rounder and big leaguer Kevin Witt, he's a projectable 6-foot-6 right-hander with the makings of a solid four-pitch repertoire and the athleticism to repeat his delivery and throw strikes.
After working at 88-92 mph on the showcase circuit last summer, Witt sat at 92-93 mph and touched 95 in his final start of the truncated 2020 season. That might have been a sign that he was about to take a significant step forward, but we never got a chance to find out. His tough signability may leave him unpicked in a five-round Draft, but I'd take him in the second round and bet he develops into a first-rounder after three years of college at Texas.
Best potential value play for the Dodgers at pick # 29 ? I'm finding it hard to get excited about this years class of college bats

— june (@june90294488) June 1, 2020
The Dodgers have the final pick in the first round, yet one of the elite high school right-handers (Oregon's Mick Abel, Texas' Jared Kelley or Pennsylvania's Nick Bitsko) could get to them at No. 29. Teams are always skittish about the risk that comes with prep righties and only Kelley got a chance to pitch in a game this spring.
Getting one of those three arms would be a coup for Los Angeles, which also might have a chance at the best true shortstop in the Draft, Illinois high schooler Ed Howard. He belongs in the teens but could slip into the 20s. All four of these guys are longshots to fall to No. 29, but it's not an impossibility that one will become a Dodger on Draft Day.