Inbox: Who will round out Sox's playoff roster?
Beat reporter Ian Browne answers questions from Boston fans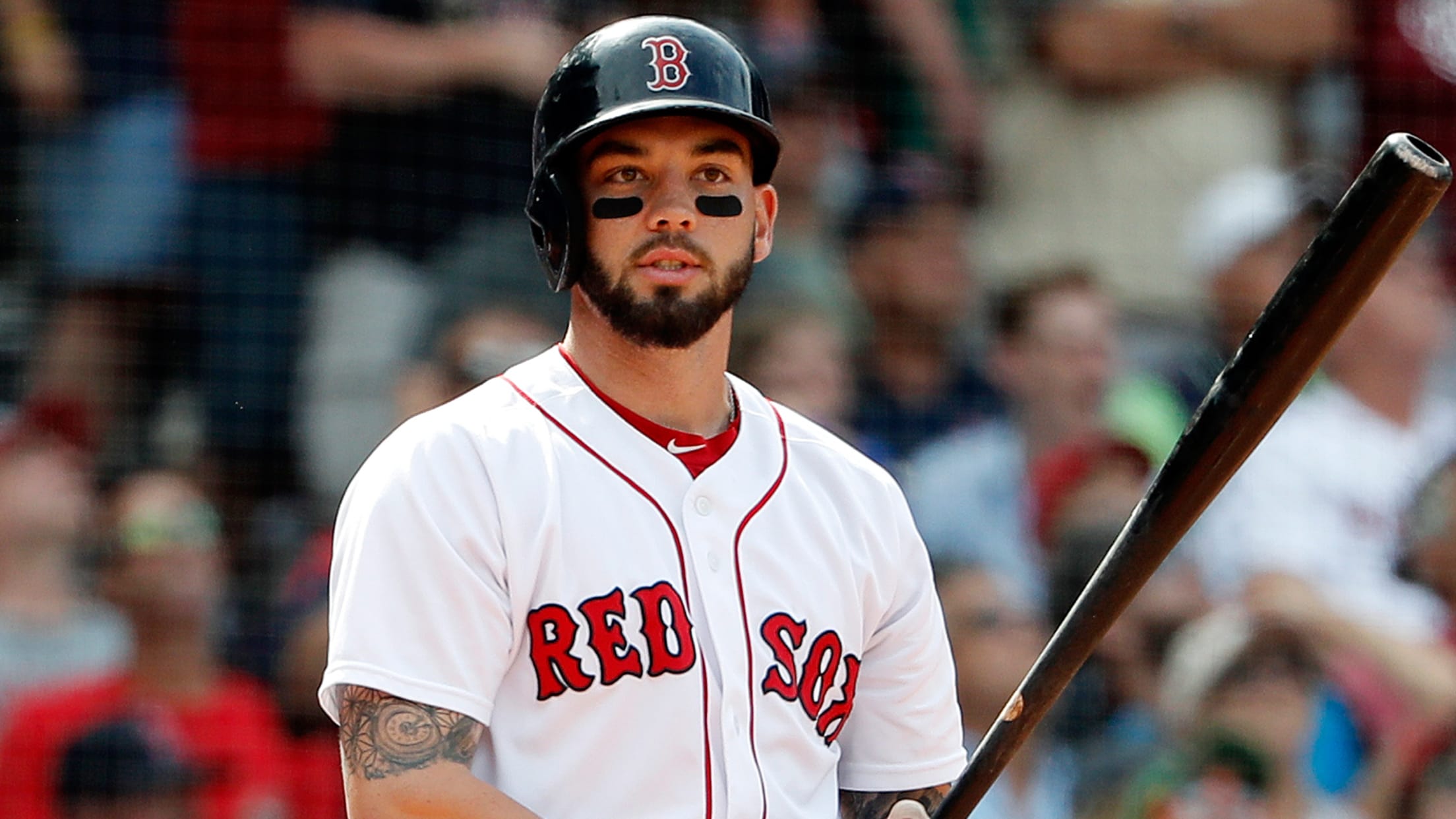 What's your playoff roster? -- @abromsonA lot of tough calls, for sure. If you go by past history, the Red Sox will go with a four-man rotation, a seven-man bullpen and a five-man bench. The rotation will consist of Chris Sale, David Price, Rick Porcello and Eduardo Rodriguez. The bullpen
What's your playoff roster?
-- @abromson
A lot of tough calls, for sure. If you go by past history, the Red Sox will go with a four-man rotation, a seven-man bullpen and a five-man bench. The rotation will consist of Chris Sale, David Price, Rick Porcello and Eduardo Rodriguez. The bullpen is much trickier. It is a given that Craig Kimbrel will be the closer and Matt Barnes, Ryan Brasier and Steven Wright will all be trusted setup men. Nathan Eovaldi should also have a role in the bullpen. That leaves two more spots. Do you take two more righties or mix in a lefty? If they take a lefty, it will be Bobby Poyner or Christopher Johnson. If they don't take a lefty, there are two spots open between Brandon Workman, Joe Kelly, Richard Hembree and Tyler Thornburg. I think Workman will make it no matter what.
I'll call Eduardo Nunez the starter at third base. That leaves a bench of Rafael Devers, Steve Pearce, Christian Vazquez, Blake Swihart and Brock Holt. Brandon Phillips is great insurance if one of the other infielders gets hurt. At this point, he is too repetitive with Nunez. You could make a case for taking Phillips or Tzu-Wei Lin instead of a third catcher, but I think they like the flexibility that Swihart brings at the plate (switch-hitter) and in the field (the ability to play many positions).
:: Submit a question to the Red Sox Inbox ::
How can the Red Sox justify a playoff roster spot for Sandy Leon? I know people say he is a great game caller, but his hitting is completely nonexistent.
-- Chris G., Norfolk, Va.
Sale, Porcello and Price all love throwing to Leon. That is no small factor. You want your top three pitchers to be as comfortable and confident as possible. By carrying three catchers, they can be aggressive about pinch-hitting for Leon early in the game. You saw this on Saturday when Holt batted for Leon in the fifth and clocked a go-ahead double.
Between errors and poor baserunning, Devers costs the Red Sox about 1.3 runs per game after deducting his offensive contribution. Shouldn't he be left off the postseason roster this year?
-- Paul D., Bristol, Conn.
Devers can impact a game in a hurry with his power. He has two weeks to get his swing right for the playoffs. If he can do so, his bat gives the team a possible difference-maker in October. I agree that his defense is concerning, and they'd probably have to remove him late in games. That said, I'd still have Devers on the roster.
With all the Red Sox's struggles in the 'pen -- especially in the setup role -- coupled with the lack of a left-handed reliever, why don't they try Rodriguez in the eighth for the playoffs. They could slide Eovoldi in as the fourth starter. I bet Rodriguez would thrive in that role just like Andrew Miller did, whom they traded to get E-Rod.
-- John C., Fort Lauderdale, Fla.
Rodriguez is too valuable to the starting rotation to be used in the bullpen. A championship team generally needs a solid four-man rotation in October. At times, you might shorten the rotation to three, but you can't do that for an entire playoff run. Manager Alex Cora is viewing E-Rod as a starter. You mentioned Eovaldi. Rodriguez has been much more consistent as a starter than Eovaldi. The hope is that Eovaldi can emerge into a flamethrowing weapon in the bullpen.
Is J.D. Martinez still in the Triple Crown race? Mookie Betts isn't going to slump anytime soon and Khris Davis will hit home runs. I want J.D. to win the crown, but can he?
-- Bella R., Tinley Park, Ill.
Martinez starts the week hitting .328, nine points behind Betts for the league lead. He has 41 homers, two fewer than Oakland's Davis. Martinez leads Davis in RBIs, 122-115. Sure, Martinez has a shot, but he'd have to get hot to gain nine points on Betts. Right now, I'd call it an outside shot. Either way, Martinez is having a fantastic season and will get strong consideration for the AL MVP Award.
Looking ahead, do you think the Red Sox will do any exploring over the offseason about either trades or promotions from within for a shot at third base? Or are they committed to Devers and his potential, given that even though he needs to upgrade both his hitting and fielding, he's still very young and somewhat raw?
-- Andy S., Birmingham, Ala.
If the Red Sox acquire anyone from outside the organization, it would be a short-term move. They have two promising corner infielders in their system in Michael Chavis and Brian Dalbec. Both have a lot of raw power. As for Devers, you can't give up on him after one tough year. Let's see what kind of adjustments he will make to get better.
How do you believe the current starting rotation stacks up compared to those of the 2004, '07 and '13 World Series teams?
-- Christopher T., Fair Oaks, Calif.
Great question. Let's see, in 2004, they went into the postseason with a rotation of Curt Schilling, Pedro Martinez, Bronson Arroyo and Tim Wakefield. Derek Lowe effectively ended up replacing Arroyo midway through the postseason. In '07, they had Josh Beckett, Schilling, Daisuke Matsuzaka and Wakefield. Jonathan Lester wound up taking over for Wakefield (injured) in the World Series. This year, they have Sale, Price, Porcello and E-Rod.
I think Sale at his best is right there with Schilling in 2004 and Beckett in '07. The question is whether he will be healthy enough to pitch like that. Keep in mind, Schilling also had health concerns in '04. If Price can overcome his history of tough starts in October, he is probably better than Pedro was by '04 and better stuff-wise than Schilling in '07, who was gutting his way through arm problems that season.
Porcello and E-Rod are right there with the Nos. 3-4 starters in 2004 and '07, though Lowe took his game up about three levels in that '04 postseason.
Hey, what does the AA stand for on Cora's cap?
-- Rich M., Courtice, Ontario
Sad story, actually. In late July, Ari Arteaga, a 16-year-old boy, died in a car accident. His father is J.D. Artega, a coach at the University of Miami, who is Cora's best friend. Cora will continue to pay tribute to Ari and his family by keeping the initials on his hat for the rest of the season.