Will Cubs make more changes to bullpen?
Beat reporter Jordan Bastian answers questions from Chicago fans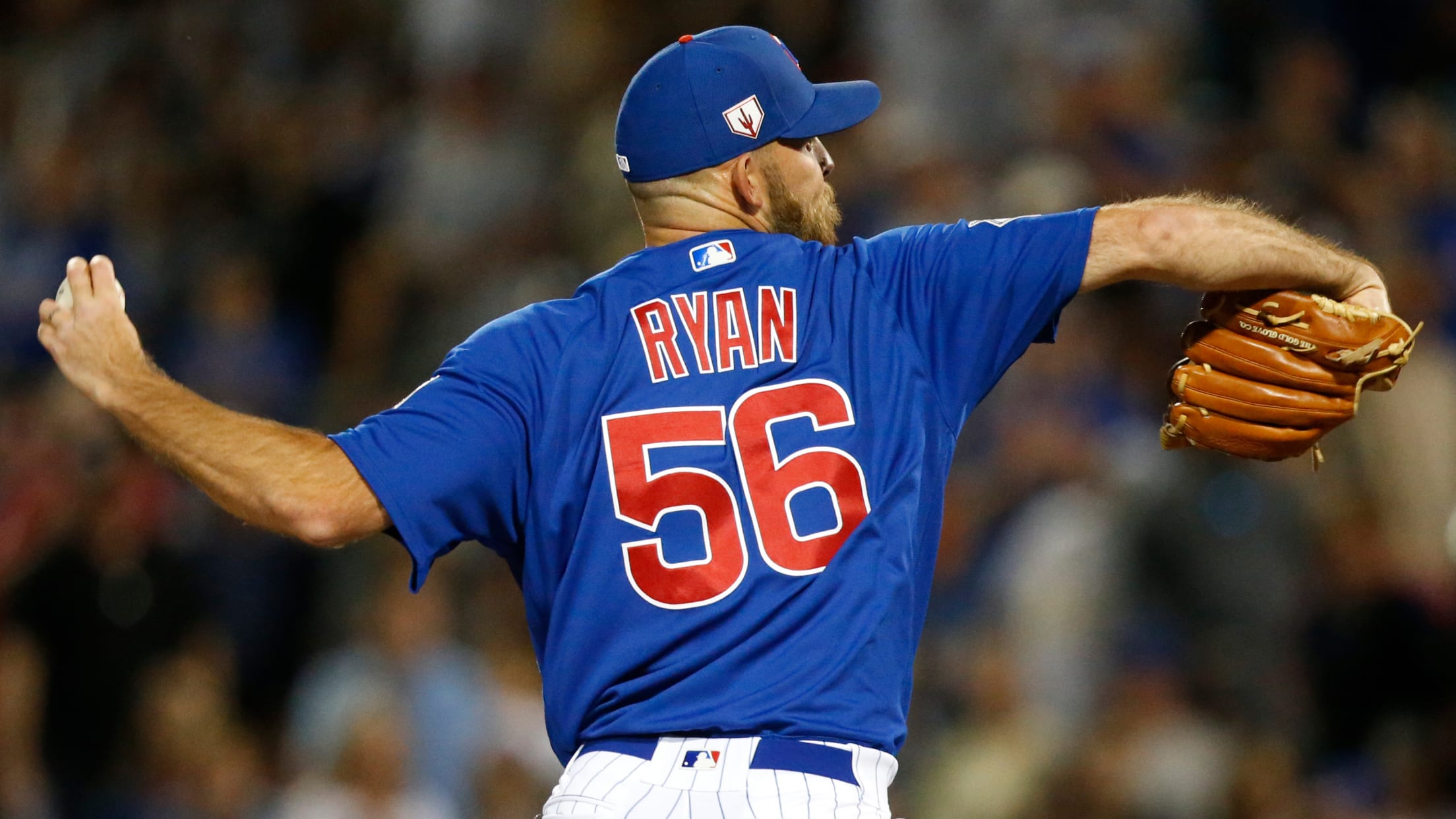 What do you think about the current changes to the bullpen? Do you also see more guys from the Minors getting called up? And do any names come to mind? -- Kimberly C., California Positive regression was going to happen at some point for the Cubs' bullpen. The group was
What do you think about the current changes to the bullpen? Do you also see more guys from the Minors getting called up? And do any names come to mind?
-- Kimberly C., California
Positive regression was going to happen at some point for the Cubs' bullpen. The group was not going to keep up that 8.00-plus ERA all season, no matter how bad things looked on that first road trip. I do think the recent additions of lefty Kyle Ryan and righty Allen Webster have helped the process of turning things around, though.
Right-hander Carl Edwards Jr. needed to hit the reset button. He looked great during the spring, but the pause he debuted in his delivery in the preseason morphed into an illegal re-planting of the foot in his regular-season debut. In my opinion, Edwards also seemed far too willing to immediately abandon a change that he worked so hard on for months. Then on Friday in Milwaukee, the reliever tried throwing a few pitches with his eyes closed in a pregame mound workout.
All of those things point to a pitcher who was searching. When that happens, a trip back to the Minors -- where the pressure is not as high -- can sometimes be the remedy. The Cubs need him to settle into a routine, get back to the basics of what got him to the big leagues and just regain confidence. I have no doubt Edwards will be back in Chicago's bullpen at some point this year.
In the meantime, Webster was a highlight of Spring Training, so he was deserving of a look. Ryan -- who worked with the Cubs in their pitch lab dating back to early last season -- was also a standout performer in the spring. He has a unique release point and a knack for getting ground balls.
Prior to the season, Cubs president of baseball operations Theo Epstein noted that the team views its bullpen as being about 16 arms deep. At Triple-A, Chicago also has options in Tim Collins, Brian Duensing, Dillon Maples, Dakota Mekkes, James Norwood and Rowan Wick. Junichi Tazawa is in Arizona and might be an option later this season. Tony Barnette (right shoulder) and Xavier Cedeño (left wrist) are also working their way back from the injured list.
If Jon Lester goes to the injured list, who fills his spot in the rotation? Tyler Chatwood? Alec Mills? Me? Is it me? Man, I need to do some stretching ...
-- Mike M., Evanston, Ill.
It won't be you, Mike, but I'd still recommend stretching. It's good for your health.
With lefty Mike Montgomery (left lat) on the injured list and not eligible for activation until Monday at the earliest, righty Tyler Chatwood is the top alternative on the big league staff. That said, he hasn't thrown more than two innings in an outing since March 6 in Spring Training. So, it's possible that the Cubs look to the Minor Leagues for a spot starter.
Duane Underwood Jr. (Triple-A) and Justin Steele (Double-A) are options from the 40-man roster. Alec Mills (Triple-A) would normally be one of the reserve choices, but he is in extended spring due to a neck issue that flared up near the end of camp. Mills will throw again on Thursday, but he's still getting built up. That takes him out of the immediate mix.
One silver lining is that the Cubs have off-days coming up on April 18 and April 22. That means Chicago technically only needs a fifth starter twice (Sunday vs. the Angels at home and April 27 vs. D-backs in Arizona) in the next 18 days (16 games). If Jon Lester is placed on the 10-day injured list as expected, he could return on April 19. That said, the two upcoming off-days allow the Cubs the flexibility to be conservative.
Who's more likely to see Wrigley first in 2019, Addison Russell or Ian Happ?
-- Adam B., Dyer, Ind.
Barring any weather problems that wash away an April game, Addison Russell will be eligible for return from his suspension and the restricted list on May 1 in Seattle. Obviously, the shortstop must still meet the team's standards behind the scenes to earn the opportunity to rejoin the team. Unless there is an injury on the Major League roster, though, I don't see Ian Happ coming back prior to Russell's eligibility date. In a perfect world, the Cubs will want Happ to get a hefty number of at-bats to properly gauge his progress with the offensive adjustments he's trying to make.
What impact, if any, does David Bote's extension have on Russell's future with the team?
-- Casey T.
I don't really think the David Bote extension (five years, $15 million through 2024 with options for '25 and '26) has a direct link to Russell's future. Russell is under control through '21. Looking at the middle infield overall, utility men Ben Zobrist (free agent after '19) and Daniel Descalso (signed through '20 with an option for '21) are coming off the books in that same time period. Shortstop Javier Báez is an extension candidate, but he is currently under control through '21, too. The Bote extension locks in a versatile option for second, short and third at a team-friendly rate, helping absorb the loss of any one of those players in the next few years. On top of that, a contract like Bote's will probably make him a trading chip for the Cubs down the road, too.
What is the latest timeline for Brandon Morrow's return? Is there any talk of keeping Pedro Strop in the closer role and letting Morrow handle the high-leverage situations in the seventh or eighth?
-- Jeff L., Cincinnati
Brandon Morrow continues to work through a throwing program in Arizona, and Epstein said there has been no change in the righty's timeline. That would make late April or early may seem possible, through Morrow has to clear the Minor League rehab hurdle before a return date can be nailed down. When he comes back, I'd expect manager Joe Maddon to lean on both Morrow and Strop in save situations, depending on matchups, rest days and other factors. Maddon doesn't like to slap the "closer" label on his pitchers, but Morrow would likely be the No. 1 guy for the ninth as the season progresses if he's healthy and performing to his capabilities.