Inbox: Will Rangers add veteran at third base?
Beat reporter T.R. Sullivan answers questions from fans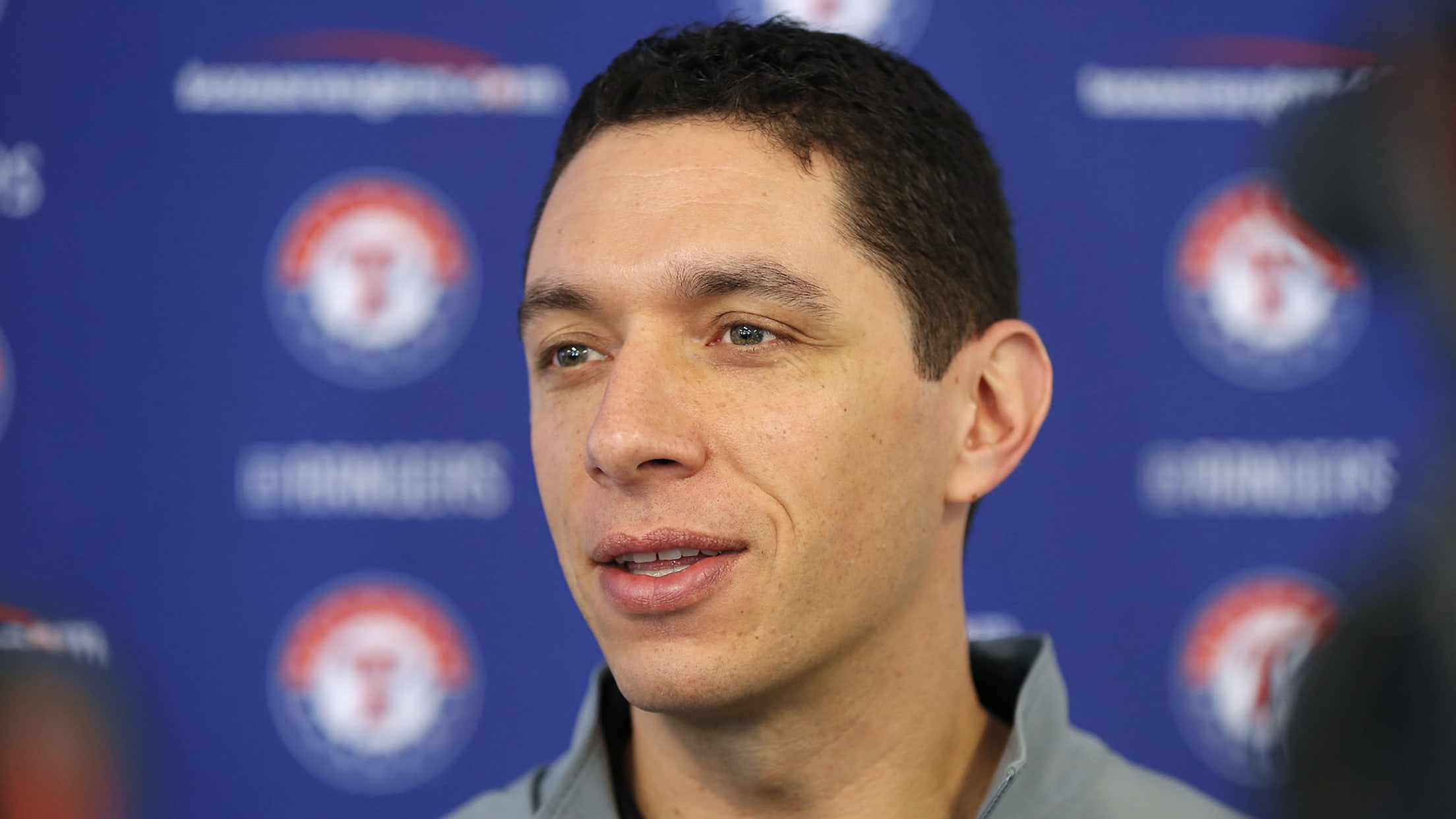 Texas Rangers General Manager Jon Daniels speaks to reporters during a baseball spring training workout, Thursday, Feb. 15, 2018, in Surprise, Ariz. (AP Photo/Charlie Neibergall) (Charlie Neibergall/AP)
With third base still a question mark, would a 1-2 year deal with Mike Moustakas be a possibility for the Rangers, or are they comfortable with Patrick Wisdom for a full season? -- Don M. Rowlett, TexasMoustakas is clearly the best third baseman on the free-agent market and an obvious
With third base still a question mark, would a 1-2 year deal with Mike Moustakas be a possibility for the Rangers, or are they comfortable with Patrick Wisdom for a full season?
-- Don M. Rowlett, Texas
Moustakas is clearly the best third baseman on the free-agent market and an obvious fit. The problem is signing him would require using financial resources that need to be devoted to pitching. The Rangers will almost assuredly add at least one veteran for third-base depth. There are some interesting names out there -- Josh Harrison, Matt Davidson, Derek Dietrich, Yangervis Solarte -- but most of them have been part-time third basemen. If the plan is to go young in 2019, maybe the best move would be to commit to Wisdom.
:: Submit a question to the Rangers Inbox ::
For those of us who haven't done the in-depth analysis of all the new hirings, what is the style and strength of our new Rangers front office and coaching personnel, and how do you think this new style will be reflected when the team rolls out in 3-5 years of operation in terms of playing style and development tactics?
-- Carlton R. Austin, Texas
As far as the front office, the Rangers are not changing their style. Last season was rough, but overall this has been a successful organization. There is a lot of expounding on research and development even though fans want to hear about wins and losses, but the club's offseason soul searching seems more about making sure it has every area covered and not missing any possible advantage no matter how small.
Analytics may lead to some changes in the way players are taught or evaluated, but ultimately games will be won by the same basic principles handed down by previously successful Rangers managers like Johnny Oates, Buck Showalter, Ron Washington and Jeff Banister: pitching, hitting, defense, fundamentals and "playing the game the way it is presented."
Do you think the Rangers would, at this point, like to be rid of Willie Calhoun? His liabilities seem to outweigh his only asset (hitting) because that asset has been slow to develop at the MLB level.
-- Tim P., Rockwall
This is why the changes made this offseason in the front office are so important. The Rangers are going to have tough decisions coming up soon on some of their young players and they need to be right about them. Calhoun is one, Ronald Guzman, Isiah Kiner-Falefa and Scott Heineman are among others. The Rangers can't afford to "get rid" of anybody. They must be in a position to make spot-on evaluations of all their players. Calhoun can hit, but he has been blocked by the glut of outfielders and his perceived "liabilities" have yet to be tested.
My husband and I have been going to Ranger games since 1973 ... our first date. I have noticed a big distinction in the new stadium name: Globe Life Field and not park or stadium. Who is going to name the stadium or will we go back to the Ballpark in Arlington?
-- Ann S., Arlington
Globe Life Field is the name of the facility. Globe Life and Accident Insurance Company bought the naming rights to the current facility and to the new ballpark as well. They changed from "park" to "field" to differentiate between the two stadiums.
With the Rangers struggling with developing our own starting pitching, does the organization or Jon Daniels ever exchange developmental philosophies with other organizations? The two that jump out to me that are great at developing high caliber pitchers are the Braves and Rays, and both teams seem to have an abundance of high quality pitching prospects right now.
-- Justin B. McKinney, Texas
There aren't that many secrets in this game. Managers, coaches, front office and Minor League personnel change organizations all the time. You like the Rays? The Rangers just interviewed Rocco Baldelli for their managerial job after he spent three years in the Tampa Bay organization. He didn't get the job, but no doubt the Rangers tried to squeeze as much information out of him as possible during the interview process. Look, most Major League players know how to hit a baseball. It's just that Michael Trout and Mookie Betts do it better than anybody. It's the same way with organizations that are successful developing pitchers. Some are better than others.
Would the Rangers trade Delino DeShields? The Reds need a center fielder and they have DeShields Sr. as a coach. So just thought that DeShields Jr. might be an option?
-- Mark S. Huntington, West Virginia
Almost every player in the Rangers' organization is available and that includes DeShields. But this is a situation the club has encountered in the past with other players and Jurickson Profar is a prime example. It is tough to trade a talented player when he is coming off a disappointing season. You are not going to get the value you expect in a trade. Profar wasn't widely coveted by other teams the past two offseasons before enjoying a breakout season in 2018. The Rangers likely place a much higher premium on DeShields than those interested in trading for him.