Cairo's son among Indians' Day 2 picks
Tribe takes five position players and three pitchers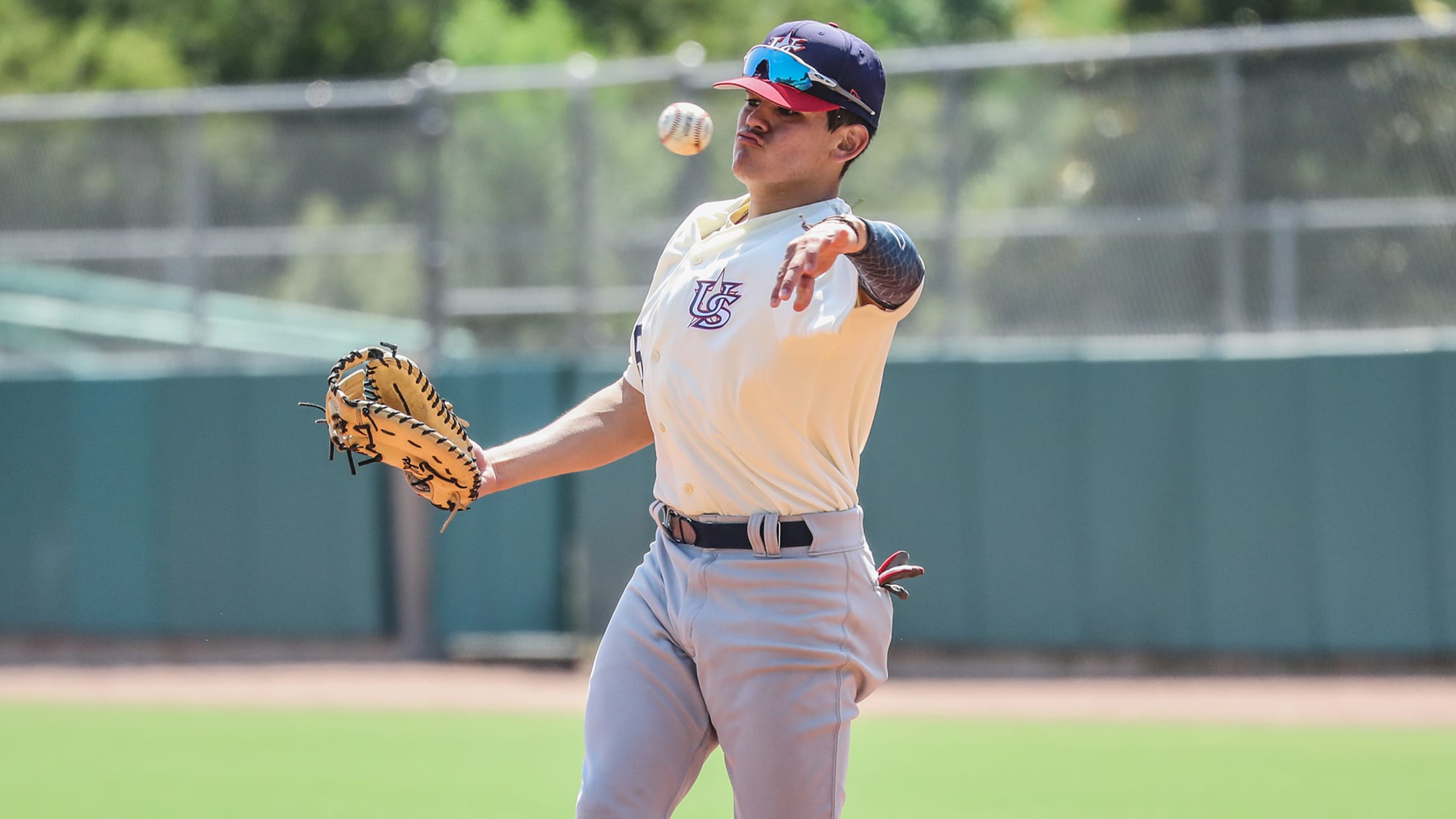 CLEVELAND -- After eight more picks in the 2019 MLB Draft, the Indians walked out of their Draft room pleased with their four high school and four college additions. The Tribe selected five position players and three pitchers, following Monday's first two picks of right-hander Daniel Espino and shortstop Yordys
CLEVELAND -- After eight more picks in the 2019 MLB Draft, the Indians walked out of their Draft room pleased with their four high school and four college additions.
The Tribe selected five position players and three pitchers, following Monday's first two picks of right-hander Daniel Espino and shortstop Yordys Valdes.
"Sure, everybody's exhausted at the end of the day, but you look up and, wow," Indians director of amateur scouting Scott Barnsby said. "Our guys did a great job … We came out of the day feeling pretty good. Let's hope these guys go out and do well."
Here's a look at who Cleveland drafted in Rounds 3 through 10 on Tuesday:
Round 3, 101st overall: Joe Naranjo, 1B, 18, Ruben S. Ayala High School (Chino Hill, Calif.)
Naranjo didn't have to be at his former high school's baseball practice on Tuesday afternoon for the team to erupt in cheers following his Draft announcement.
Ayala High School baseball head coach Chris Vogt was hosting an incoming freshmen camp. The Draft was being broadcasted over the school's loudspeakers so they wouldn't miss Naranjo's big moment.
"It was really cool," Vogt said. "We probably had 15 to 20 kids who are in the program already who played with Joe, and they all started cheering. It just shows what kind of kid he is."
Naranjo's bat is one of the best of high school hitter's in this year's class. In 31 games during his senior season, he hit .382 (39-for-102) with eight doubles, three triples, eight home runs and 29 RBIs. He's committed to Cal State Fullerton, but going in the third round likely means he'll sign with Cleveland.
"He has a very good understanding of the strike zone," Vogt said. "He doesn't get fooled very often … He's got some line-drive approach right now that I can see, as he gets a little bit more advanced, I could see his power numbers really jump."
"He's nicknamed 'Joey Barrels,'" Barnsby said. "Hopefully for a reason."
Naranjo is a first baseman, but some think he could have the potential to play an outfield corner. He played in the grass from time to time during high school, and Vogt believes the 6-foot 18-year-old could make the transition, if needed.
"We've had scouts say that, defensively, he's an average big league first baseman right now," Vogt said. "And I think he's such a good athlete. Once he gets some reps, I think could play either corner outfield spot, and I think he could do it pretty well."
Round 4, 130th overall: Christian Cairo, SS, 18, Calvary Christian High School (Clearwater, Fla.)
The Indians picked up a player with some Major League bloodlines. Cairo is the son of former Major Leaguer Miguel, who spent parts of 17 seasons in the big leagues for nine teams. Because of his upbringing, Cairo is known for his high baseball IQ, an attribute that played a large impact in his high draft stock.
"He came to a workout we had at IMG in the fall," Barnsby said. "His dad was there. It's been clear from a young age that this guy really understands the game. Part of that's because he's been in a big-league locker room, he's been to Spring Training. ... But you can tell watching him play that he's been around the game for a long time. It makes a big difference."
Ranked No. 97 in the MLB Pipeline, the 5-foot-10, 170-pound shortstop is currently committed to Louisiana State.
"He's versatile enough where he could play short or second base, but we see him as a shortstop," Barnsby said.
Round 5, 160th pick: Hunter Gaddis, RHP, 21, Georgia State
Don't let his college record (1-7) fool you. Gaddis was the bright spot of a struggling team this season, recording 112 strikeouts in 91 innings, which ranked second in school history and 14th in the NCAA last season. Those numbers led him to be the highest player selected from Georgia State.
"His overall win-loss record was not a reflection of how he pitched," former Georgia State head coach Greg Frady said. "It was just we couldn't close games out at the end of the games to help him win. But he is the highest Draft choice in Georgia State baseball history, and I think he's one of the best players -- if not the best -- to ever play in our program."
The 6-foot-6, 212-pound righty battled some command issues over the past season, but he truly made a name for himself in summer ball. He become the first Georgia State player to make the U.S. collegiate national team in 2017 and performed well in the Cape Cod League last year.
"The intangibles are what separate Hunter from the norm, first and foremost," Frady said. "He can field the mound. He can hold runners. He's just like having another infielder out there."
Round 6, 190th pick: Jordan Brown, SS, 17, Junipero Serra High School (San Mateo, Calif.)
The Indians picked up their third shortstop of the Draft in the sixth round by selecting Brown, a 6-foot-3, 185-pound high school senior who hit .464 this past spring with 18 RBIs in 23 games.
"This guy has a long, athletic body," Barnsby said. "The thing about Jordan is he's really young and he has a really good frame. So we're obviously hoping he develops physically, grows into some power … We think he's really gonna get some power down the road."
Brown displayed some hitting tools in his time in high school and uses a gap-to-gap approach. In his three seasons at the varsity level, he owned a career average of .419 with 49 RBIs, 18 doubles and two home runs in 76 career games.
Round 7, 200th pick: Xzavion Curry, RHP, 20, Georgia Tech
Curry was a part of the starting rotation for Georgia Tech and made 11 starts before battling through a right shoulder injury later in the season. He pitched to a 4.08 ERA with 66 strikeouts in 57 1/3 innings. He throws a 92 to 94 mph fastball and mixes in breaking balls.
"He was actually a two-way guy coming out of high school," Barnsby said. "Then he came to Georgia Tech as a position player as well, shut that down in the fall and just focused on pitching. He emerged as the Friday night guy this year."
The 6-foot, 195-pound righty is a starter, but he may be more of a relief pitcher in the big leagues.
Round 8, 250th pick: Will Brennan, OF, 21, Kansas State
Although he was a two-way player in college, playing both the outfield and pitching, the Indians drafted Brennan as an outfielder and see him staying strictly in that role.
"He pitched some in college. It was kind of tough, he was going back and forth," Barnsby said. "But we see him more as a position player."
In his junior year, the 6-foot, 190-pound left-handed hitter batted .291 with 14 doubles, one triple, four home runs, 32 RBIs, 37 runs, 13 stolen bases and just 12 strikeouts in 58 games.
"He can run. He can play all three outfield positions," Barnsby said. "We mentioned the pitching. He's got arm strength."
Round 9, 280th pick: Will Bartlett, C, 18, IMG Academy (Bradenton, Fla.)
Drafted as a catcher, the Indians envision Bartlett mostly as a first baseman in his future. But the big benefit the Tribe sees in the 6-foot-3, 215-pound 18-year-old is his potential for power in the box. He hit .500 with 10 doubles, two triples, seven homers and 43 RBIs in his senior year. Bartlett is committed to play at the University of Arizona.
"This guy not only has really impressive bat-to-ball, but he's got big raw power," Barnsby said. "We're pretty confident this guy's gonna get to his power. He can impact the ball when everything's on time."
Round 10, 310th pick: Zach Hart, RHP, 22, Franklin Pierce University (Rindge, N.H.)
Hart went 5-1 with three saves and a 2.65 ERA with 18 walks and 68 strikeouts in 14 appearances (10 starts) in his senior year. He was 1-1 with a 1.54 ERA in 11 appearances in the Cape Cod League.
"Big, physical kid," Barnsby said. "He threw well in the Cape last summer. … We agreed to terms with him and he's ready to go. We're excited to get all these guys on board.
The Draft concludes on Wednesday, with exclusive coverage of Rounds 11-40 on MLB.com beginning at noon ET.