ALDS roles undecided for Bauer, Clevinger
Tribe right-handers could pitch out of 'pen early in series vs. Astros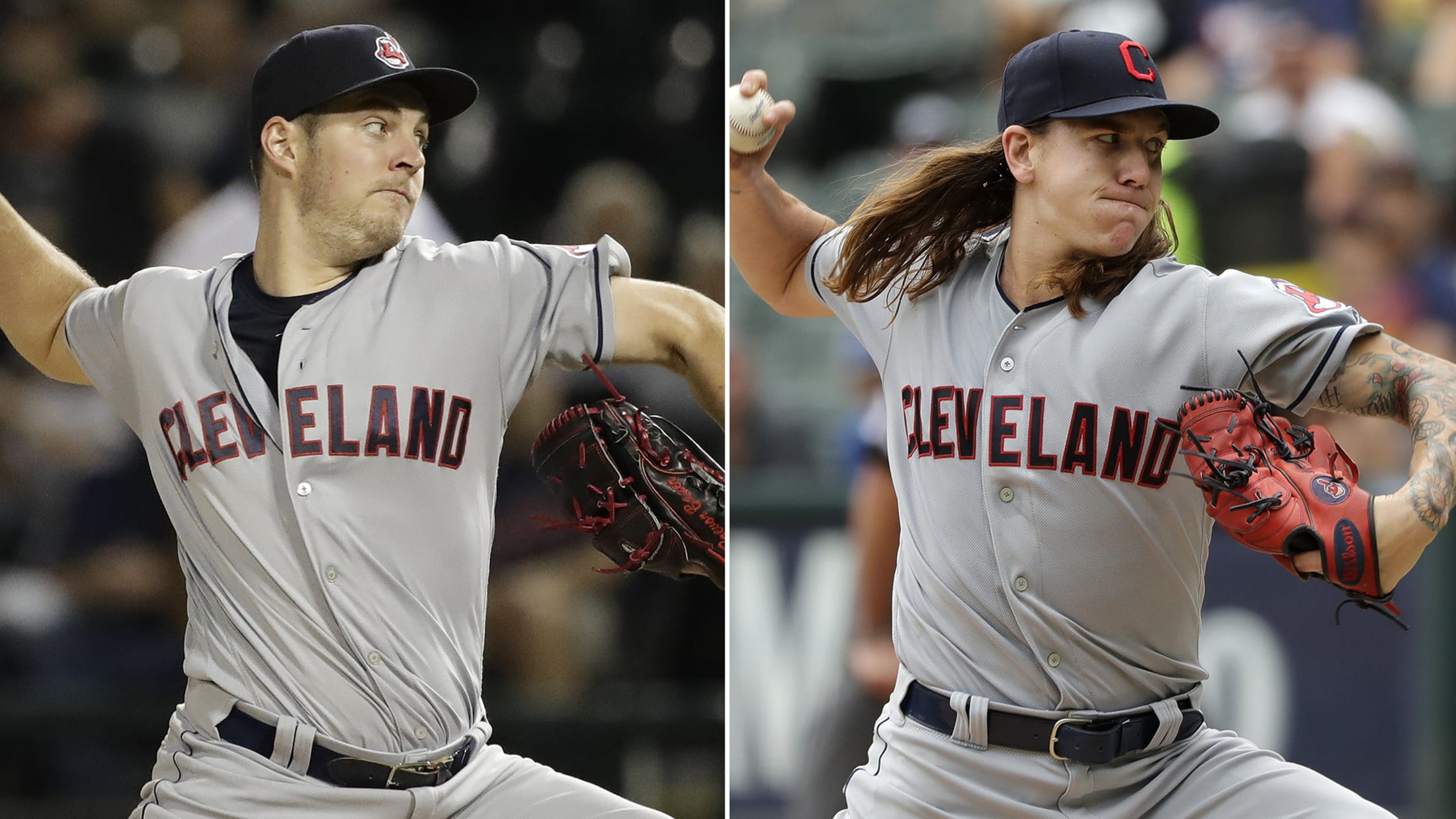 KANSAS CITY -- The Indians have yet to unveil the full scope of their pitching plans for the upcoming American League Division Series against the Astros. The biggest question at the moment is how Cleveland intends to utilitize right-handers Trevor Bauer and Mike Clevinger.During the Tribe's run to the World
KANSAS CITY -- The Indians have yet to unveil the full scope of their pitching plans for the upcoming American League Division Series against the Astros. The biggest question at the moment is how Cleveland intends to utilitize right-handers Trevor Bauer and Mike Clevinger.
During the Tribe's run to the World Series in 2016, one of the driving forces for the club in October was a focus on the game in front of them, rather than planning too far in advance. With that approach in mind, Indians manager Terry Francona may make either Clevinger or Bauer available out of the bullpen for Games 1 and 2 in the ALDS.
"You're getting ahead of yourself," Francona said with a smirk prior to Thursday's game against the Royals at Kauffman Stadium. "There's something to be said for [having Bauer or Clevinger available in relief early on] -- like maximizing your roster. We'll get to it, though, when [it's appropriate]."
Clevinger is scheduled to start on Friday and Bauer (two starts into his return from a stress fracture in his right fibula) is slated to pitch out of the bullpen in Sunday's regular-season finale. Francona wants to get through those two outings before making any announcements about their place within the ALDS pitching staff.
As things currently stand, ace Corey Kluber (starting Saturday) and righty Carlos Carrasco (starting Sunday) project as the Game 1 (Oct. 5) and Game 2 (Oct. 6) starters, respectively, against Houston. If one of Clevinger or Bauer were to pitch out of the bullpen in either of those ALDS games, that pitcher could return to start Game 4 (if necessary), with the other handling Game 3.
"We have to have another meeting," Clevinger said. "I don't know what's set in stone so far. But, I mean, I obviously want to pitch as much as possible. I'd definitely like to get to start this time as well. Whatever [Francona] thinks is best."
Clevinger said he, Bauer and the other pitchers are willing to embrace any assignment in order to advance farther than last October's first-round exit.
"It feels a lot more comfortable than last year," Clevinger said. "I don't know what it is. It just feels a lot more comfortable, with whether it's me, Cookie [Carrasco], T.B., whoever is starting or going to the bullpen. It doesn't feel like such a weird, 'Who's going to be a starter now? Who's going to be in the bullpen now?'
"It feels like more of a collective, 'Hey, we need a piece out there for a righty.' I'll go out there. Cookie: 'I'll go out there.' T.B. will go out there. And I feel just as much confidence in having [any] one of us start. It's a good dynamic right now."
Bauer echoed that sentiment.
"Whenever they give me the ball, whatever role they want to use me in, I'll pitch," said Bauer, who built up to 60 pitches in his start on Tuesday. "It's just all about getting the team in a spot where the team can be successful in October. We have a lot of guys who are being revved up for that and getting put in the best positions that allow for them to help the team."
Worth noting
• Utility man Erik Gonzalez, who was hit in the head (on the helmet) by a pitch in the eighth inning of Wednesday's game in Chicago, was cleared to fly with the Indians to Kansas City. Francona said he was encouraged by Gonzalez's progress on Thursday, but noted that the infielder was still in Major League Baseball's concussion protocol and would continue to be monitored in the coming days.
"He's actually doing pretty well," Francona said. "He's kind of clear-eyed. He's bouncing around a little bit. So we'll see how he shows up [Friday]. If he continues to trend in that direction, they'll give him a little bit of activity, which, all things considered, that would be really fortunate. You saw it. He got smoked."
• With only a few games left in the regular season, and Cleveland's place in the postseason locked in, Francona is balancing keeping guys in rhythm and providing some rest ahead of the playoffs. For Thursday's game, regulars Jason Kipnis, Michael Brantley, Yonder Alonso and Edwin Encarnacion were out of the starting lineup.
"I'm just trying to balance guys playing," Francona said. "I know people are paying to watch these games. I don't ever want it to feel like there's disrespect. So we try to put enough out there and do it at the right time."