Inbox: What's in store for Clevinger, Bieber?
Beat reporter Mandy Bell answers questions from Cleveland fans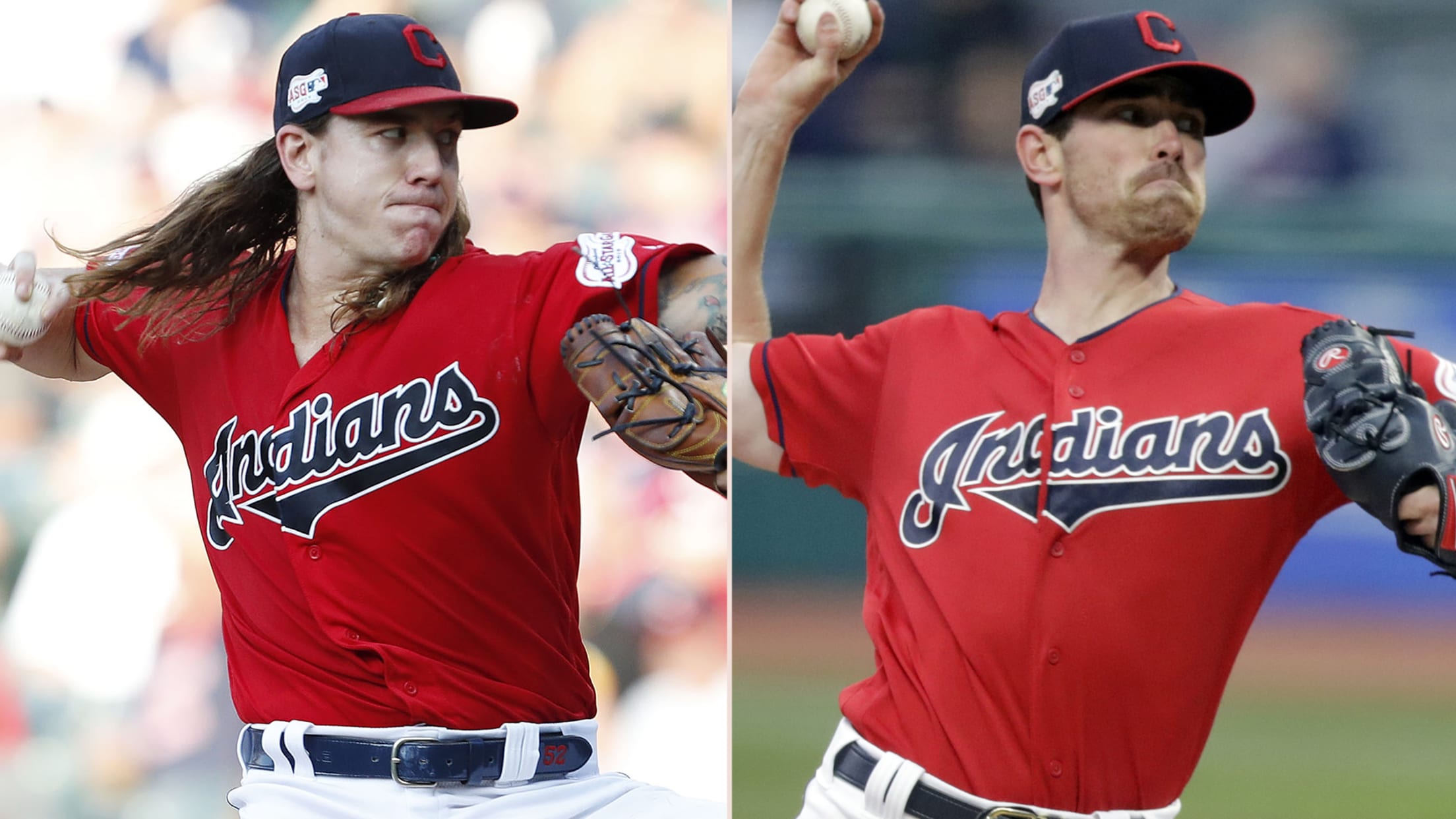 CLEVELAND -- The GM Meetings are officially over, and little has been resolved regarding the Indians' plans for their offseason. Will Francisco Lindor be traded? Do they tap into that starting pitching depth? Maybe Lindor doesn't get extended, but could others land a long-term deal? Let's take a look at
CLEVELAND -- The GM Meetings are officially over, and little has been resolved regarding the Indians' plans for their offseason. Will Francisco Lindor be traded? Do they tap into that starting pitching depth? Maybe Lindor doesn't get extended, but could others land a long-term deal?
Let's take a look at some possible answers in this week's Inbox:
Any chance Clevinger or Bieber gets a long-term deal this winter to avoid the potential for yearly arbitration fights? I know Bieber has had less MLB experience than Clevinger, but Bieber just finished fourth in the Cy Young vote.

— Dan Walk (@WalkTalk1) November 14, 2019
There is definitely a chance. Indians general manager Mike Chernoff was tentative to reveal any specifics at this week's GM Meetings in Arizona when he was asked about locking in Mike Clevinger or Shane Bieber for a long-term deal, but it is certainly something the Indians have been and will continue to discuss. Bieber hasn't yet reached arbitration yet and Clevinger is entering his first year of eligibility this offseason. It seems like a perfect time to sign at least one of them to an extension, especially after declining Jason Kipnis' $16.5-million option for 2020.
"I've seen us do it in the past with both young pitchers and position players in their pre-arbitration years or as they get to arbitration," Chernoff said. "We just have to determine if it's a good fit for us and for those guys. But obviously they're with us for a long time and we hope like with most of our players to continue to extend them moving forward."
Any chance of signing Kluber to an extension coming off an injury plagued year?

— Byron Lee Medlock (@MedlockLee) November 14, 2019
Very unlikely. With a tight payroll, the Indians must pick and choose where they will splurge for extensions. If you add that to the depth the club realized it had this past season with Zach Plesac, Aaron Civale and Jefry Rodriguez along with Clevinger and Bieber, it doesn't seem like an extension would be needed for Corey Kluber this offseason after an injury-plagued 2019 campaign.
Does it make the most sense to trade Plesac for outfield/infield help? I see him having the lowest ceiling out of our young pitchers, and teams are calling for pitching.

— Mitchell Beaudreau (@Fatherbeatrice) November 14, 2019
It's hard to determine who would have the lowest ceiling after a quick look at the young arms this year, but teams certainly are calling for pitching. A Plesac trade could make sense (especially if the Indians hold on to Lindor over the winter) to add a few pieces that can help improve the team in 2020 and beyond. The infield is the Tribe's biggest concern heading into next season and the second-base and third-base free-agent markets aren't loaded with affordable bats that would really appeal to Cleveland. But if they are just looking for a temporary fill-in until Nolan Jones, their top prospect according to MLB Pipeline, is ready to take over third at the Major League level, the free-agent market may be the way to go. As the front office debates which route it wants to take, they've been clear that they'd be willing to listen to offers on all of their pitchers. At this point, anything could be a possibility.
#Indiansinbox The chances less or more than 50% that Lindor gets traded before the season starts?

— ANGELO_C (@Angelo7266) November 14, 2019
This could change throughout the offseason. As of today, the chances would be less than 50 percent that Lindor gets traded before the season starts.
Would the indians have been better served to not involve San Diego in the Bauer trade and instead have Trammell now instead of Franmil and Logan Allen?

— # (@kc_jordan) November 14, 2019
It's only been a small sample size, but the Indians needed -- and still need -- immediate offensive help and that's exactly what Franmil Reyes can provide. He may not have had the flashy numbers he had when he was in San Diego in his two months with the Tribe, but the potential is crystal clear. Taylor Trammell may be a better defensive option than Reyes when it comes to the outfield, but for a team that needs an impactful bat now, a 22-year-old in Double-A wouldn't satisfy that demand. Whether Trammell's big league career pans out better than Reyes' remains to be seen, but the Indians absolutely had to secure that bat (along with Yasiel Puig) in order to be a contender at the end of the 2019 season.
Do you see a realistic lineup that includes all of Santana, Franmil and Bobby Bradley?

— Don Vollnogle (@DonVollnogle) November 14, 2019
This depends on the growth of Bobby Bradley. Maybe his brief stint in the Majors last year eliminated all the jitters and he'll be able to return in 2020 with a new level of confidence. But the 23-year-old looked a little overmatched in his handful of big league at-bats this past season. Assuming his Minor League power stats start carrying over with the Indians, there's definitely a realistic chance to have him, Carlos Santana and Reyes all in the lineup. Cleveland seems set on allowing Reyes to try to earn the right field job next year. If he gets time in the outfield, Bradley and Jake Bauers could end up battling for the designated hitter role. In that case, that trio could end up being in the core of the Indians' batting order.
With the likeliness of Tyler Naquin not being ready for the beginning of the regular season, will the Tribe brass look for a veteran outfielder in free agency/trade to fill in until he's is ready, or will they look for his replacement within the organization?

Andy Mees, Sandusky

— Andy Mees (@AndyMees216) November 14, 2019
If they do make a bigger trade, whether it be a pitcher or Lindor, some outfield help would likely be something the Indians target. It seems less likely that they'd go after an outfielder on the free agent market, especially when they have decent options already within the organization. Reyes is expected to get the first crack at the right-field job. Jordan Luplow, Greg Allen and Bauers would then be looked at in left. If Reyes doesn't provide the defense the Indians need, Daniel Johnson seems ready to get the call up to the big leagues. A Johnson, Oscar Mercado and Tyler Naquin (eventually) outfield has the potential to be solid. But to reach that point, acquiring another outfielder could definitely help.
What's the timetable for Daniel Johnson? Love your work Mandy!

— James Carney (@LegumeCarney) November 14, 2019
If there's anything that's close to a guarantee, it's that Johnson will at least get a taste of the big leagues at some point in 2020. He may not break camp with the team, especially if Reyes is going to be playing in the outfield more often than serving as the designated hitter, but there will be a point where the club needs to see what the 24-year-old, who's known to have off-the-charts arm strength, has to offer.