Tribe washed out, will play Monday if needed
Makeup game vs. Tigers will depend on postseason implications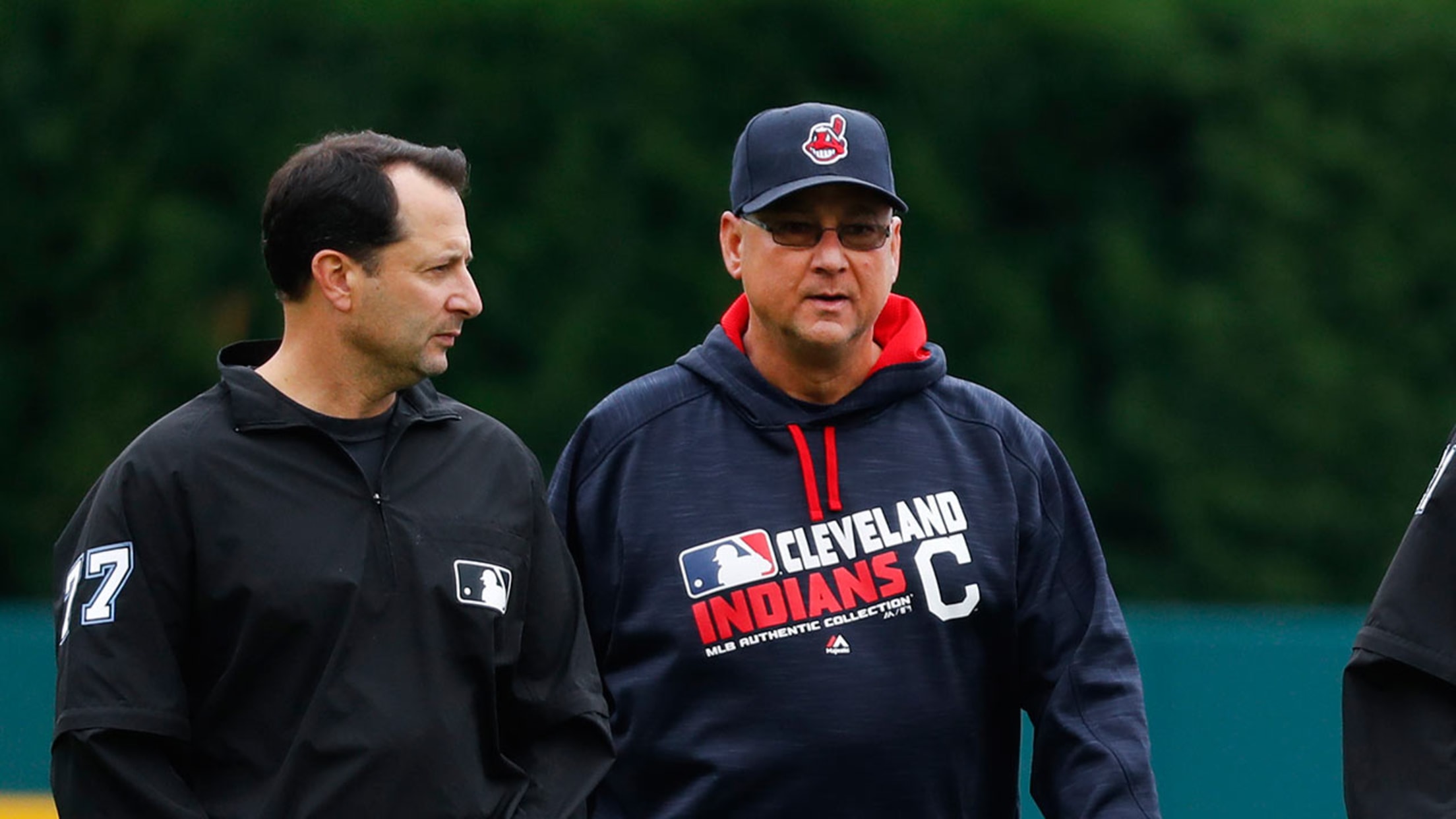 Manager Terry Francona and the Tribe waited out the rain, but the game was postponed. (Paul Sancya/AP) (Paul Sancya/AP)
DETROIT -- The Indians tried to wait out the rain on Thursday, but they will now be forced to wait to find out if they need to return to Detroit ahead of the American League Division Series.Due to heavy rainfall that pounded Detroit overnight and persisted through Thursday afternoon and
DETROIT -- The Indians tried to wait out the rain on Thursday, but they will now be forced to wait to find out if they need to return to Detroit ahead of the American League Division Series.
Due to heavy rainfall that pounded Detroit overnight and persisted through Thursday afternoon and evening, Cleveland's scheduled game against the Tigers was postponed. If the contest has any impact on the AL's postseason picture, the Indians and Tigers will meet at 1 p.m. ET Monday at Comerica Park for a makeup game.
"I'm not sure what you can do. I haven't figured out a way to control the weather," Indians manager Terry Francona said. "I think this is one of the days where you're glad that you're not 20 games out, as opposed to being in it. All it is, is an inconvenience. We can live with that."
As a result of a clarification that became effective for this season, Major League Baseball requires all 162 games to be played, if a game impacts seeding or home-field advantage for the postseason. If a game would have no impact on seeding or home-field advantage, then it would not have to be played.
If a game proves necessary in any way -- for either club or for seeding purposes -- then it will be rescheduled for Monday.
For the game to matter for the Indians, they would need to be a half-game ahead of Texas or Boston through Sunday, because both the Rangers and Red Sox own a tiebreaker over Cleveland. A win would then secure home field for the Tribe for at least the ALDS. If the Indians were a half-game behind either team, playing Monday's game would not impact the postseason seeding.
As things stand, the AL East-champion Red Sox (92-67) would open at home against the Indians in the ALDS, while the AL West-champion Rangers (94-65) would await the winner of the AL Wild Card Game. Detroit is 1 1/2 games back of the Orioles and Blue Jays, who are tied for the top spot, in the AL Wild Card race.
This weekend, the Red Sox will host the Blue Jays for three games, while the Rangers play the Rays in a three-game set in Arlington. Cleveland has three road games in Kansas City to round out its planned regular-season slate.
Francona shrugged off the possibility of needing to return to Detroit.
"It doesn't matter," Francona said. "We have three days off [after Sunday]. We'd have two instead. I think it'd be a fun game to play, actually. So, either way, we'll be OK. It's not that big of a deal."
The Indians, who will begin their ALDS matchup on Oct. 6, reshuffled their rotation slightly in the wake of the postponement. Rookie lefty Ryan Merritt was scheduled to start on Thursday, but he will now pitch on Friday night in Kansas City. Right-handers Trevor Bauer (Saturday) and Josh Tomlin (Sunday) will pitch the last two games in that series.
Thursday's game was called after a delay of four hours and 13 minutes, during which Francona, Tigers manager Brad Ausmus and the umpires walked the field to examine the conditions. The Indians noted that the field took in more than six inches of rain in the past 24 hours.
"It couldn't have taken any more water at all," Francona said. "At that point we were a little iffy, like it was soft. With the forecast coming, it was going to be tough. ... For us to be inconvenienced for four hours isn't the end of the world. And I understand why [it was postponed]. And the communication was good."