Indians release Venable, Thatcher
Detwiler told he'll be member of Opening Day 'pen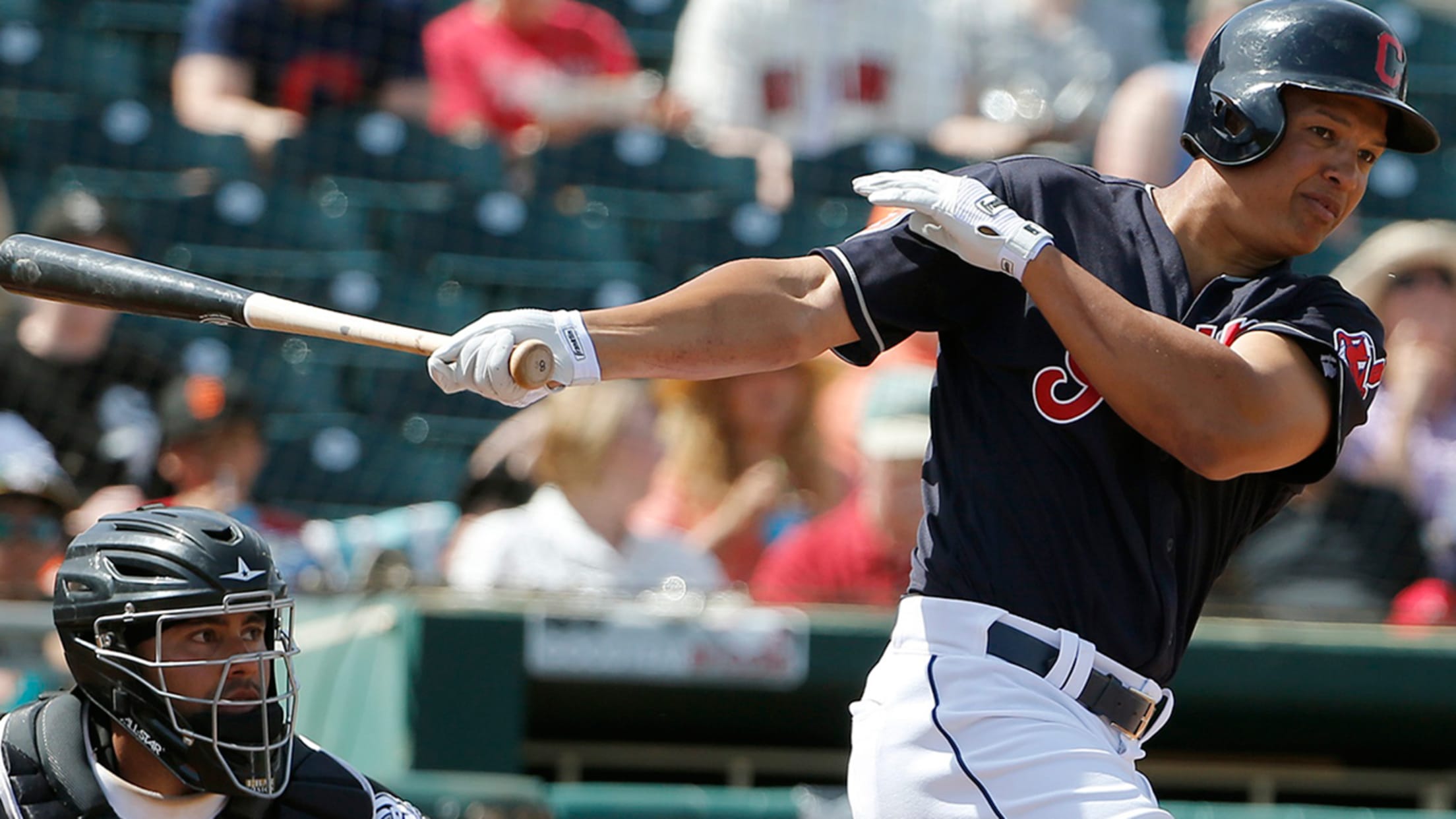 Will Venable hit .133 (4-for-30) in 13 Cactus League games with the Indians before his release Sunday. (AP)
GOODYEAR, Ariz. -- The Indians delivered some tough news to Will Venable on Sunday, informing the outfielder he would not be a part of the Opening Day roster. Venable then asked for and was granted his release in order to pursue other job opportunities."We have tried to certainly gauge where
GOODYEAR, Ariz. -- The Indians delivered some tough news to Will Venable on Sunday, informing the outfielder he would not be a part of the Opening Day roster. Venable then asked for and was granted his release in order to pursue other job opportunities.
"We have tried to certainly gauge where we think guys are," Indians manager Terry Francona said. "By that, I don't mean just by their Spring Training numbers, but history, resume, health, all the things. I think we just felt like today we told Will that we have guys ahead of him. It's not an indictment, or us saying he can't play, because I don't think we feel that way."
• Indians Spring Training info
The 33-year-old Venable, who was in camp as a non-roster invitee, hit .133 (4-for-30) in 13 Cactus League games with the Indians. With him out of the mix, Marlon Byrd, Collin Cowgill and Robbie Grossman are the three leading candidates for the two outfield vacancies. Rajai Davis, Lonnie Chisenhall and Tyler Naquin are all a part of the Opening Day plans.
Francona noted that lefty reliever Joe Thatcher, 34, was also granted his release on Sunday, while left-hander Ross Detwiler was informed that he will make the Opening Day bullpen.
Other items of note from Sunday:
• Left fielder Michael Brantley (right shoulder surgery in November) will take a couple of days off from hitting due to the recent soreness in his shoulder, according to Francona. With Brantley likely to open the season on the 15-day disabled list, Cleveland is planning to go with a conservative approach for Brantley's comeback.
"We're going to let this thing settle down for a couple days, and then start to ramp him back up," Francona said. "He's not going to start the season with us as our starting left fielder. ... So, if that's the case, let's not do something that doesn't make sense. Let's give him a chance to be healthy for the whole year."
• The 38-year-old Byrd, who signed a Minor League deal with Cleveland on March 18, has hit .467 (7-for-15) with five doubles (tied for the team high this spring) through five Cactus League games. Byrd has impressed the Indians at the plate in his bid to make the Opening Day roster.
"He said he was ready to play, and he was," Francona said. "I think it's interesting, because he's actually moving pretty good. I would say that the last thing to come looks to me like it'll be his defense."
• Chisenhall, who has dealt with tightness in his right forearm over the past two weeks, was back in the starting lineup for the Indians on Sunday. Francona noted that Chisenhall collected roughly 10 at-bats over the past two days in Minor League games.
• Francona said the Indians are planning on having their Opening Day roster set before the team leaves for a pair of exhibition games against the Rangers on Friday and Saturday in Texas. Cleveland still has to name a fifth starter, finalize the last spot in the bullpen and select two reserve outfielders.