Indians scout donating kidney to grandson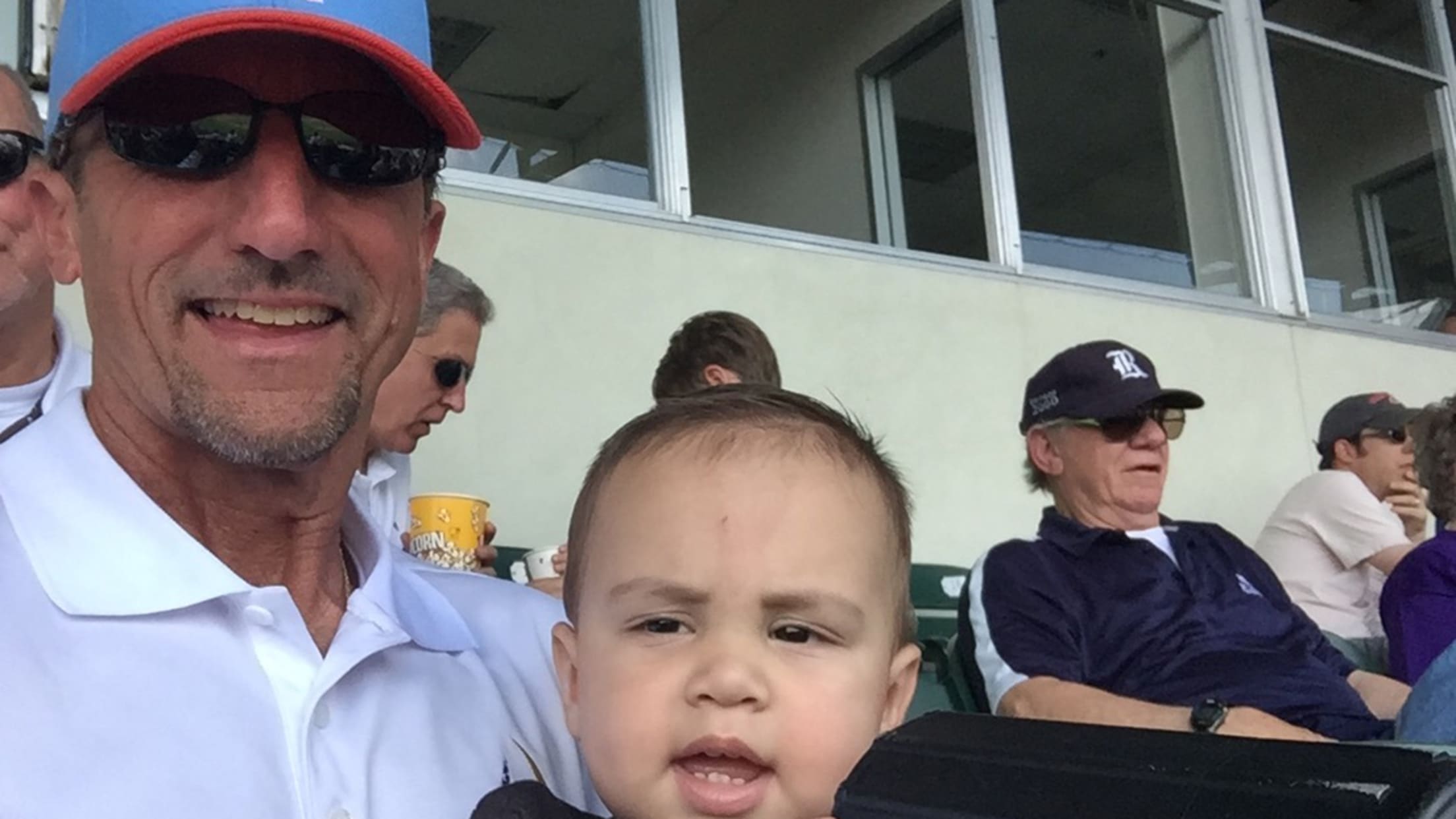 HOUSTON -- Next Wednesday morning, a scout for the Indians, 61-year-old baseball lifer Kyle Van Hook, will check himself into St. Luke's Health at the Texas Medical Center.At 8 a.m., Van Hook will be wheeled into an operating room where doctors will remove one of his kidneys. When that procedure
HOUSTON -- Next Wednesday morning, a scout for the Indians, 61-year-old baseball lifer Kyle Van Hook, will check himself into St. Luke's Health at the Texas Medical Center.
At 8 a.m., Van Hook will be wheeled into an operating room where doctors will remove one of his kidneys. When that procedure is completed, the kidney will be taken next door to Texas Children's Hospital where his 20-month-old grandson, Briscoe, will have been prepped for surgery.
If all goes as planned, the kidney will be working inside Briscoe approximately 30 minutes after it has been removed from his grandfather. And with that, Briscoe Van Hook should have a chance to be a healthy, happy and completely normal little boy.
Actually, he appears to be that right now. That's one of the amazing parts of this story.
"If you didn't know…" Kyle said, his voice trailing off. "He's such a happy baby, joyful."
One other thing to know about Briscoe: Down the road, he's going to be a baseball man. Some things just have to be a certain way.

Briscoe's grandfather has spent a lifetime in the game as a college coach and a scout, first for the Mariners, now for the Indians. Kyle's 32-year-old son, Clay, Briscoe's father, is an assistant baseball coach at the University of Oklahoma, and son-in-law Scott Shepperd is an assistant coach at University of the Incarnate Word in San Antonio.
"Obviously, it's been my whole life," Clay said.
Some of his earliest and best memories are of serving as a bat boy for his dad's teams at Blinn College or of accompanying him on day-long scouting trips.
"I still remember going with him to LSU to watch Ben Sheets pitch," Clay said. "Afterwards, we're out in the parking lot, and folks are serving us gumbo. I'm thinking, 'Hey, this scouting life is pretty good.'"
Another nice part of this story is how the baseball community has rallied around the Van Hooks. One of Clay's teammates at the University of Texas, Carson Kainer, a 2006 Reds Draft pick, shared his experience of getting a new kidney a decade ago. Wake Forest coach Tom Walter, who donated a kidney to one of his players, Kevin Jordan, did the same.
Clay, wife Selina and their families became more immersed in the topic of kidney disease -- and perhaps more important, organ donation -- than they ever imagined.
"At first, you're asking why the Lord did this to you," Kyle said. "And then you're at Texas Children's, and you see so many kids in worse shape. You feel shame and guilt for those feelings because there are kids in there with four or five wires coming out of their chests."
Clay was a star quarterback at Brenham High School and an All-Big 12 baseball player at Texas. When his dad would ask Longhorns coaches about Clay, they would say he was like a coach on the field. In Kyle's world, that's the highest possible compliment.
Clay was on the Longhorn team that won the College World Series in 2005. Even better, he met his future wife while he was at Texas and she was a student at the University of Texas at San Antonio. They were married in 2010, and in '12, they had their first child, a daughter named Avery. Briscoe was born in December 2015, with something called polycystic kidney disease, a condition in which cysts develop inside the kidney, causing them to fail.
Briscoe spent the first four months of his life in a hospital, and he has been hooked to a dialysis machine around 11 hours daily for every day of his life.
There have been trips to the emergency room for worrisome fevers. Briscoe has just now begun to drink water by mouth, but he will not consume food that way until after the new kidney is functioning.
And yet, he's a happy kid, a kid with a big smile, a kid filled with love who ties his grandfather -- Pappy -- in knots.
"You just wouldn't know there's anything wrong," Kyle said. "But he just started walking a couple of months ago."

Doctors told Clay and Selina from the beginning that Briscoe eventually would need an adult kidney transplant around his second birthday. But he grew so quickly and seemed so healthy otherwise that the timetable was pushed ahead a few months.
Last spring when friends and family members began being tested for compatibility, granddad would have none of it.
"When this came up, he just said, 'I'm giving him my kidney,'" Clay said. "My dad is very passionate and very religious. We tried to tell him there were certain hurdles to this and that it might not happen. He prayed every night. He wanted this so badly. He's doing as special a thing as a man can do for his grandson.
"Words can't express how great of a man he is. He's been my best friend. Everything is about family and faith. Everyone who knows him knows he's a tireless worker. There have been days when he'd scout a game in Fort Worth and drive back to our home in Brenham to catch one of my high school games. He thought nothing of that. What we're about to embark on is a testament to that passion."
Kyle said there was no question that his grandson was going to have his kidney. He just didn't know if being 61 was going to be a problem.
"I run, I lift [weights]," Kyle said. "I keep my kidneys flushed with Bud Light. I've told them that Briscoe may ask for one when he wakes up."
Kyle's scouting life has served him well for parts of the experience. Last weekend, he took a red-eye flight to Houston from the Area Code Games in Los Angeles for a final round of medical tests.
Kyle had them and immediately caught another red eye back to Los Angeles. His parking lot ticket showed the rental car had been at LAX for 11 hours.
For a baseball scout, that's normal stuff. All the good ones think nothing of driving 600 miles before lunch for one more look at a certain prospect. That's the life Kyle Van Hook loves.
Briscoe will be hospitalized at least a couple of weeks as his body adjusts to his grandad's kidney, and then the family will be off on its next great adventure, to Clay's new job at OU after six years at Rice.

"We've been so regimented for two years that it hasn't hit us that there's a light at the end of the tunnel," Clay said. "The thing is, Briscoe has been such a happy baby. He hasn't had as much interaction with other kids."
Selina has detailed her tiny son's journey on a blog, and both Clay and Selina hope to use Briscoe's disease as a platform for the importance of organ donation.
"My wife is a rock star," Clay said. "To be a coach's wife is difficult enough with all the travel and stuff. To be the mother of a child who needs constant surveillance is something you can't prepare for."
As Kyle put it: "I thank the good Lord every day for her. She deserves the Congressional Medal of Honor. It's parenting times 10. For instance, they have to sterilize Briscoe's room every night before hooking him up to the dialysis machine because the risk of infection is so great.
"I don't know too many people who could have done it. Clay is gone so much with coaching games, and she is amazing."
In these final days before the transplant, the entire family is a swirl of emotions, wanting to get the procedures over with, wanting to get on with the next chapter of Briscoe's life.
"I'm sure there'll be a lot of tears shed on Tuesday and Wednesday," Clay said. "We're as confident as can be. We know we're in good hands. We look forward to Briscoe having a normal childhood, things like getting to be on a playground with other kids, things he has missed out on. We're so thankful for this new life he'll have."