Tribe's fun nicknames part of Players Weekend
Lindor, teammates to sport unique gear Aug. 25-27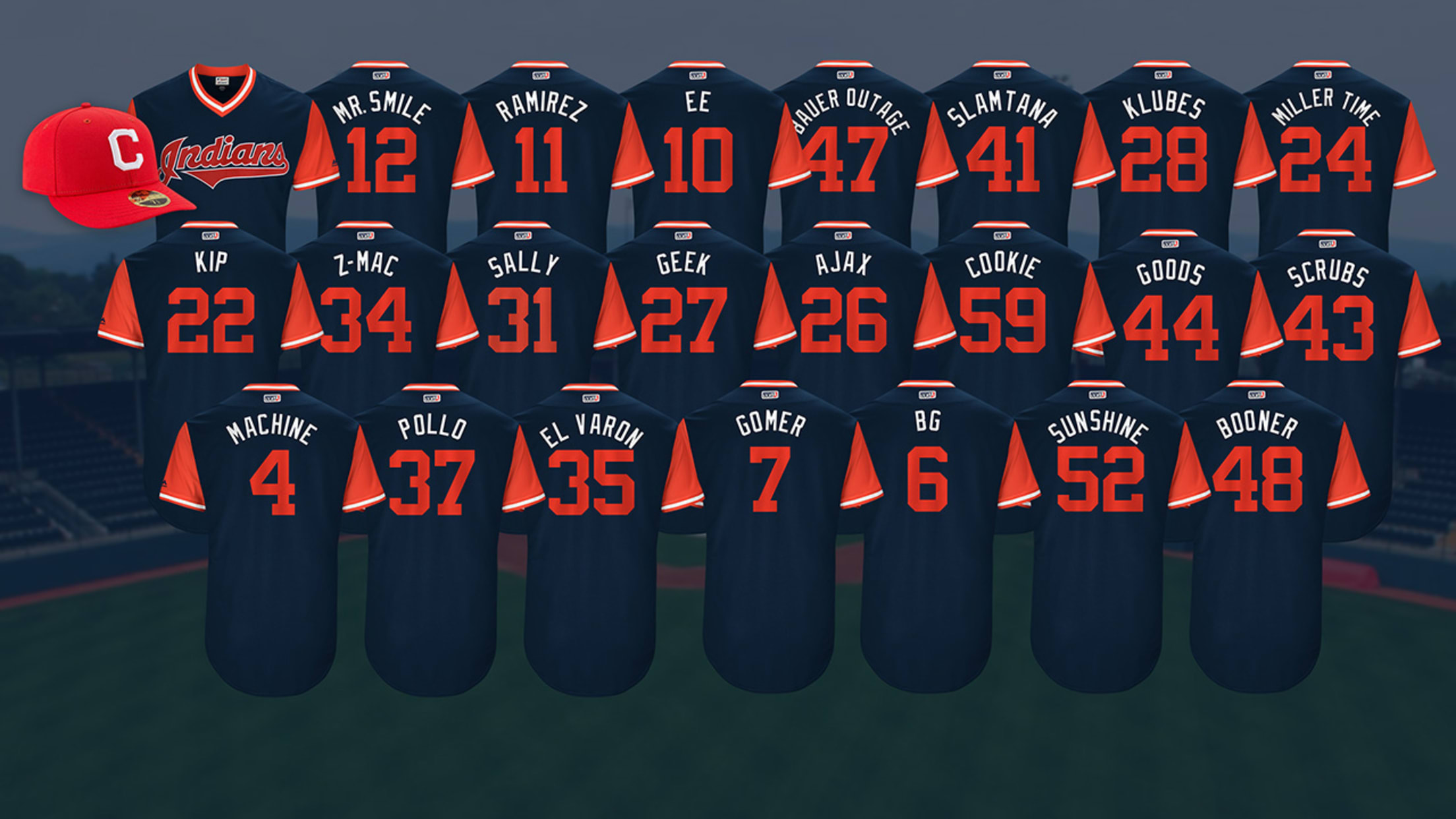 CLEVELAND -- Francisco Lindor flashed a smile when asked what nickname would be on the back of his Indians jersey later this month. The shortstop does not really have a publicly embraced moniker yet, but he is known as "Frankie" by both his teammates and fans.• Players Weekend gear available
CLEVELAND -- Francisco Lindor flashed a smile when asked what nickname would be on the back of his Indians jersey later this month. The shortstop does not really have a publicly embraced moniker yet, but he is known as "Frankie" by both his teammates and fans.
• Players Weekend gear available at MLBShop.com
"No, it won't be Frankie," said Lindor, whose jersey will say "Mr. Smile" on the back.
Lindor will have fun with the nickname on his jersey during Players Weekend, which will be introduced by Major League Baseball and the MLB Players Association on Aug. 25-27, when the Indians host the Royals. During the weekend's slate of games, players around baseball will don colorful, non-traditional uniforms featuring alternate designs.

One of the jersey elements will be nicknames, and Lindor said most of the Indians' players will have one on the back of their uniforms during the special event.
"It'll be a good mix," Lindor said. "There will be ones that people expect and then there will be a couple that you won't expect. It's going to be different."
Beyond nicknames, the players will also wear uniquely colored and designed spikes, batting gloves, wristbands, compression sleeves, catcher's masks and bats. Players will have specially designed caps and socks, along with postgame shirsts that highlight a charity or cause of their choise.
The uniforms will also include a special patch that shows the progression of a child evolving into a Major Leaguer. In the white space under the logo, players will have the opportunity to place the name of a person who helped them along their journey to the big leagues.
"That's extremely cool," Lindor said. "That's something that you're thankful, but you don't always tell them a lot. When you can put it on a jersey, it shows you're thankful, and they'll see it. It'll be cool for them to see it and know how much you appreciate them."
The game-worn jerseys will later be auctioned at MLB.com/auctions, with 100 percent of the net proceeds going to the MLB-MLBPA Youth Development Foundation, which was established in 2015. The joint venture of MLB and the MLBPA had an initial commitment of $30 million, focused on improving the caliber, effectiveness and availability of amateur baseball and softball programs in the United States and Canada.
The Pirates and Cardinals will debut the uniforms on Aug. 20, during the MLB Little League Classic in Williamsport, Pa. The rest of MLB will follow suit the following weekend.
"It's going to be something different," Lindor said. "It's going to be something that kids are going to look at, and they're going to be telling their parents, 'That's pretty cool. I want to play baseball.' It's going to be fun and bring a lot of fans to the game."
Here's a list of nicknames that some Indians are expected to sport on the back of their jerseys on Players Weekend:
• Francisco Lindor: "MR. SMILE"
• Edwin Encarnacion: "EE"
• Jason Kipnis: "KIP"
• Michael Brantley: "DR. SMOOTH"
• Carlos Santana: "SLAMTANA"
• Corey Kluber: "KLUBES"
• Terry Francona: "TITO"
• Danny Salazar: "SALLY"
• Carlos Carrasco: "COOKIE"
• Trevor Bauer: "BAUER OUTAGE"