Tito on Chisenhall return: 'You need to be ready'
Tribe wants to see more production from right fielder before activating him from DL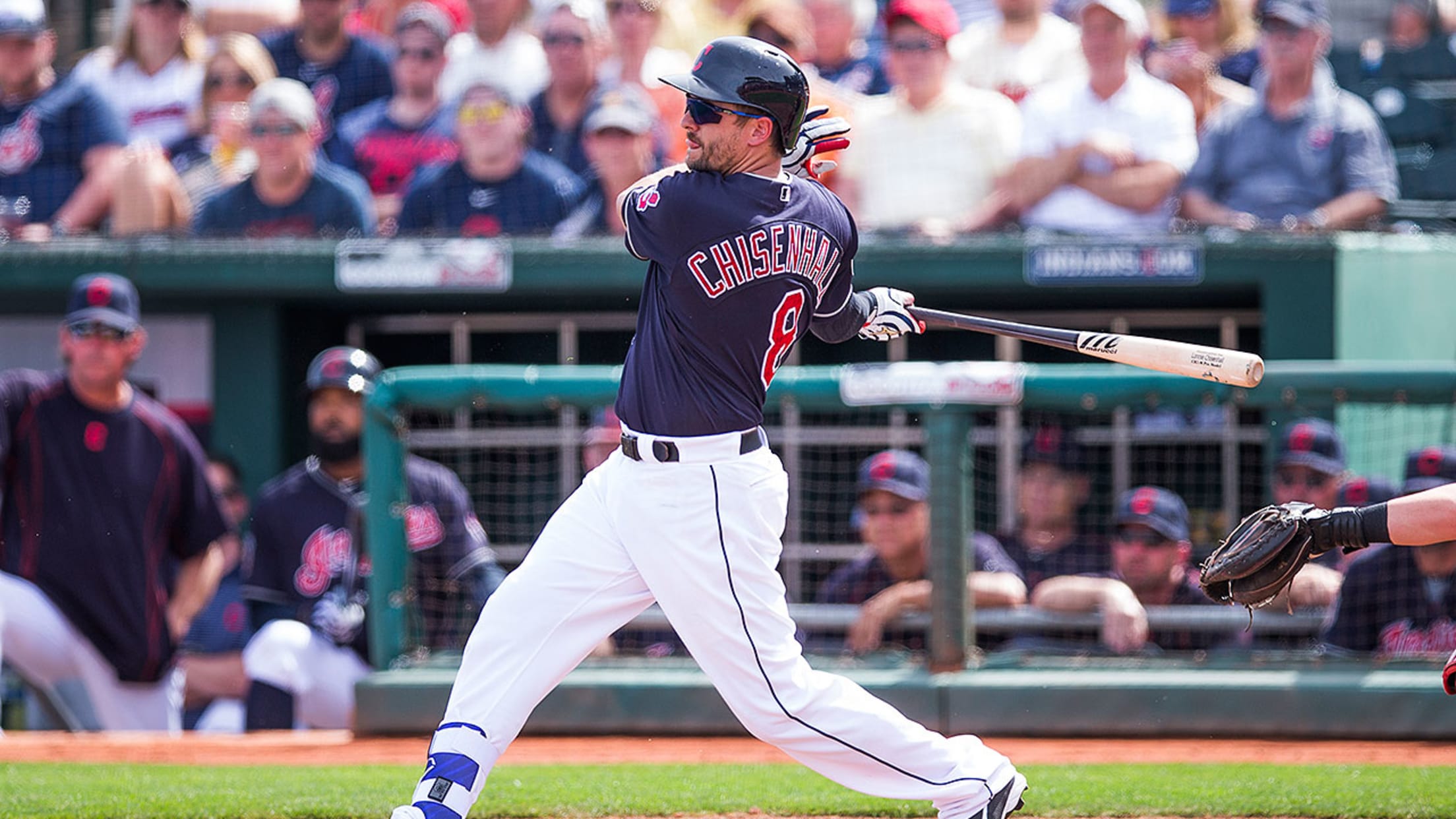 Lonnie Chisenhall went 2-for-26 in Cactus League play this year. (Getty)
CLEVELAND -- The Indians know that Lonnie Chisenhall feels healthy right now, but the team wants the right fielder to also feel comfortable before coming off the disabled list.Chisenhall, who continued a Minor League rehab assignment with Double-A Akron on Saturday, struggled at the plate during Spring Training while fighting
CLEVELAND -- The Indians know that Lonnie Chisenhall feels healthy right now, but the team wants the right fielder to also feel comfortable before coming off the disabled list.
Chisenhall, who continued a Minor League rehab assignment with Double-A Akron on Saturday, struggled at the plate during Spring Training while fighting through left wrist and right forearm issues. Since resuming playing in Minor League games, the outfielder has seen his offensive woes persist.
The Indians are hoping to see better results prior to activating Chisenhall from the 15-day DL.
"We've actually talked to him about that a little bit," Indians manager Terry Francona said on Saturday. "He thinks he's pretty close to being ready, and I kind of told him that before he went out [for his latest rehab game], that, 'I'm not trying to be harsh or critical, but when you come back, you're taking somebody's job, and you need to be ready.'"
Last year, Chisenhall hit .246 with a .667 OPS in 106 games overall for the Indians, but he posted a .288 average and .756 OPS in his final 54 games. That late surge coincided with his move from third base to right field for the Tribe. Chisenhall went 2-for-26 in Cactus League play this spring and was 1-for-12 between rehab stops with Triple-A Columbus and Double-A Akron entering Saturday.
"It seemed like he was kind of fighting uphill a little bit this spring," Francona said. "The hope is that he can use these at-bats to get ready, so when he does join us, he's able to do what he can do and help us win."
Worth noting
• Right-hander Tommy Hunter (on the 15-day disabled list while coming back from offseason core-muscle surgery) had one strikeout and one hit allowed in a one-inning Minor League rehab appearance for Triple-A Columbus on Friday. Hunter has worked three rehab outings and is making progress in his bid to join the Tribe's bullpen in the near future.
"The velocity is good," Francona said. "The more he pitches, the better he's going to command and things like that. I think he'll come quick. It'll probably be some [of] when he feels he's ready and when the guys that are watching him feel he's ready, and then we'll certainly add him."
• Since allowing two runs in his debut out of the bullpen this season, righty Trevor Bauer has spun five scoreless innings with six strikeouts and one walk. In his latest effort, Bauer logged two scoreless innings in Friday's 6-5 loss to the Mets.
"We've tried to get him in," Francona said. "We want to get him comfortable because I think he can be a huge weapon for us. And I think he's starting to understand that, too, which I think will kind of perk him up some. He can be a really valuable weapon down there."
• Indians left fielder Michael Brantley (15-day DL) continued his comeback from right shoulder surgery with another Minor League rehab game with Double-A Akron on Saturday. Cleveland will likely have more info on the next steps for Brantley and Chisenhall on Sunday morning.