J.D., on Tigers: 'This is the team that raised me'
Red Sox slugger returns 'home' for first time since his last game as a Tiger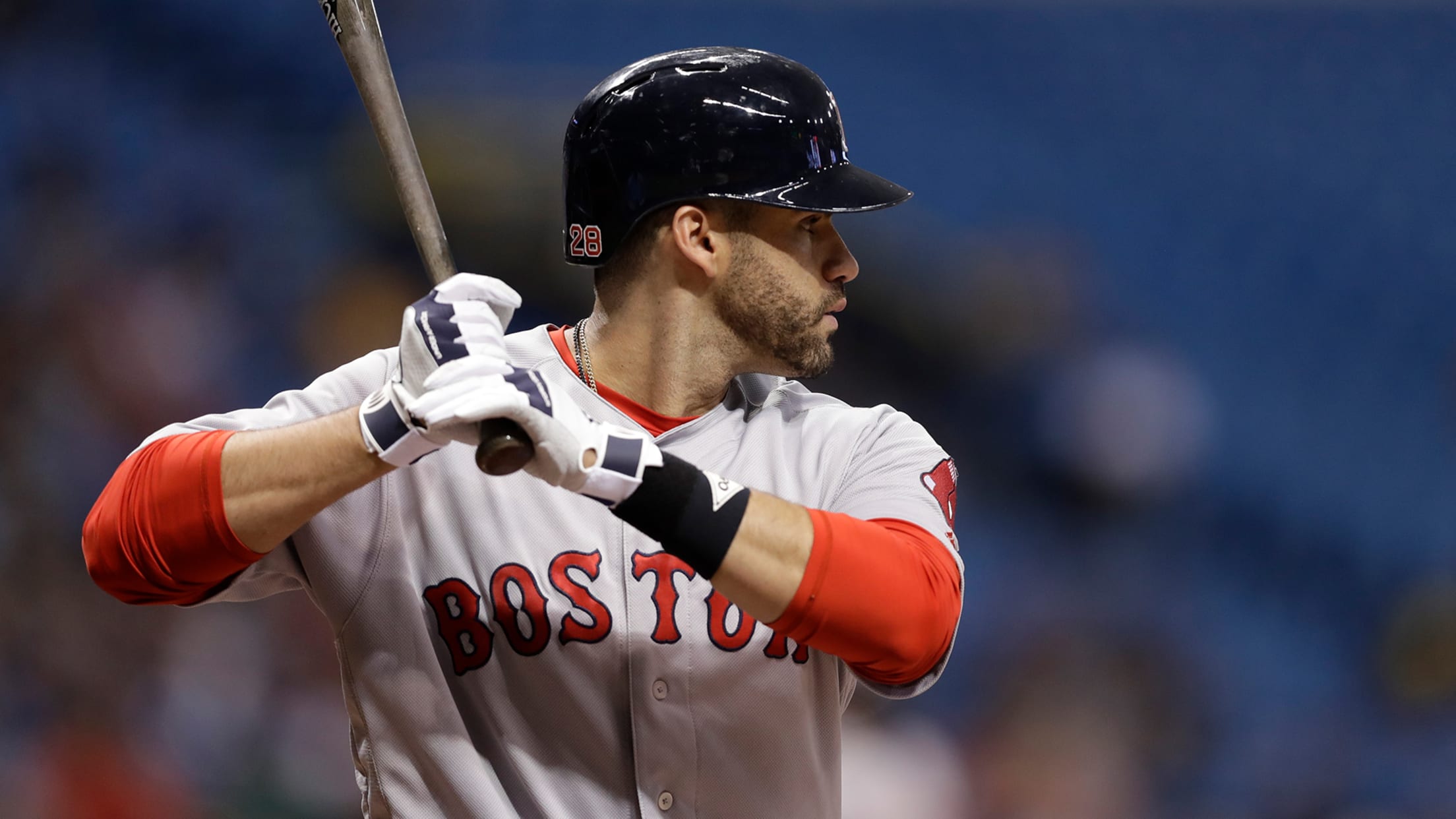 DETROIT -- The tunnel from the players' lot at Comerica Park leads players and officials underneath Witherell Street and spills them out in front of the clubhouses. Turn left from there to go to the Tigers' clubhouse, right for the visitors.It's a simple choice, but an awkward change for many
DETROIT -- The tunnel from the players' lot at Comerica Park leads players and officials underneath Witherell Street and spills them out in front of the clubhouses. Turn left from there to go to the Tigers' clubhouse, right for the visitors.
It's a simple choice, but an awkward change for many former Tigers when they return to Detroit for the first time. Friday was J.D. Martinez's turn, a year and four days after his last game here. The extra time and another team change, having signed with the Red Sox as a free agent earlier this year, didn't make it easier for him.
"It's home for me," Martinez said Friday afternoon. "This is my home club. This is the team that raised me."
The Tigers weren't Martinez's first big league team. He played 252 games over three seasons with the Astros before Houston released him in Spring Training of 2014. He had ties to the Tigers through childhood friend Alex Avila and coach Dave Clark, but also admitted a big reason he signed a Minor League deal with Detroit that spring was because the Tigers were willing to offer him an opt-out clause if he wasn't in the big leagues by a certain date.
"A lot of teams didn't want to do it," Martinez said. "Detroit wanted to do it, and that was it. The last thing I wanted to do was get buried in Triple-A behind prospects. I wanted to be able to kind of control my own future, which was one of the main reasons I chose Detroit."
The rest is history. With a revamped swing, Martinez went from castoff to All-Star in Detroit, posting a .912 OPS in his first Tigers season in 2014, then hitting 38 homers with 102 RBIs in '15. He batted .300 with a .912 OPS during his four-year Detroit tenure, falling one homer shy of the century mark. He became a fan favorite in the process, a symbol of a city with a comeback story of its own.
His Tigers tenure has been history for a year now, having been traded to Arizona in July 2017 for three prospects in a deal that began the rebuilding process to break up Detroit's superstar-laden roster. Martinez likely would've been traded regardless of team direction with free agency looming and the Tigers struggling, but once he left, the youth movement was clear.
"It was inevitable," Martinez said. "I think everybody knew it. It wasn't just me. You can only be good like that for so long."
He still keeps in touch with a few players, such as Jose Cabrera and Jose Iglesias, but admittedly doesn't know many players on the rebuilding team. If anything, he saw more former Tigers teammates earlier this week at the All-Star Game. That group included current Astros pitcher Justin Verlander, whose trade helped Houston win a long-awaited World Series title last October.
"I was talking about it actually with Verlander, when we were at the All-Star Game," Martinez said. "It's just one of those things where [we said], 'Dude, I don't know how we didn't win [in Detroit]."
Martinez's lone postseason experience in Detroit was in 2014, when they were swept out of the American League Division Series by the Orioles. That doesn't diminish how Martinez looks back on his Tigers tenure.
"This is always home for me," he said. "That's the way I look at it. This is where I grew up. This is my home club almost. It just reminds me of all the growing pains I went through."