Putz, son make most of Hall Classic experience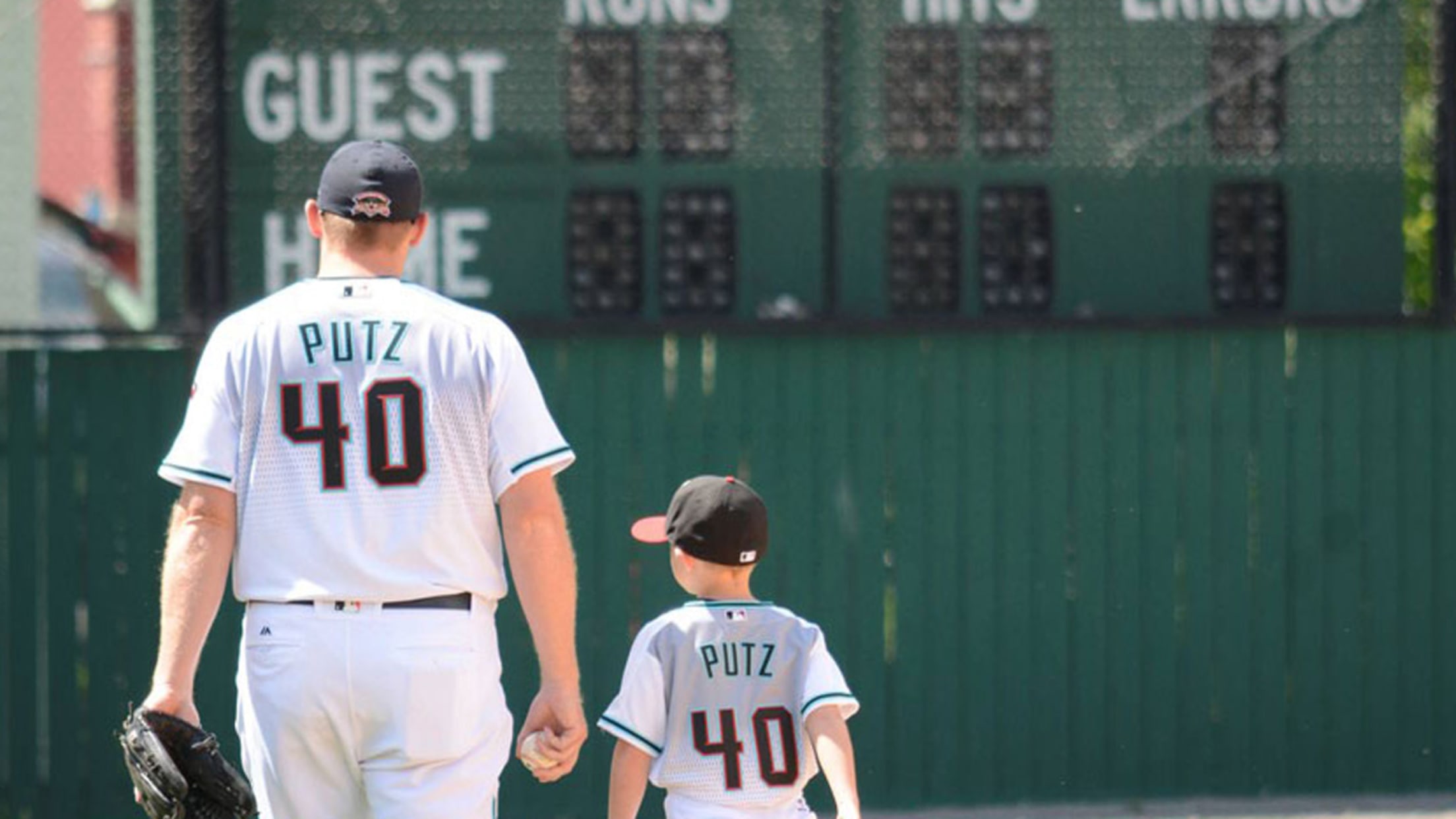 J.J. Putz: "Having my little guy with me to share in all this and experience all this, has been something." (Milo Stewart Jr./National Baseball Hall of Fame)
COOPERSTOWN, N.Y. -- J.J. Putz, who was accompanied by his 7-year-old son, Ethan, to Saturday's Hall of Fame Classic at Doubleday Field, said the two had the time of their lives."It's been a blast, man," said the former D-backs closer, who last pitched for Arizona in 2014 and is now
COOPERSTOWN, N.Y. -- J.J. Putz, who was accompanied by his 7-year-old son, Ethan, to Saturday's Hall of Fame Classic at Doubleday Field, said the two had the time of their lives.
"It's been a blast, man," said the former D-backs closer, who last pitched for Arizona in 2014 and is now a special assistant to club president Derrick Hall.
Putz, who decided to retire because of a series of injuries, relieved for the Wizards during the second inning of their 5-4 loss to the Knucksies.
Putz faced four hitters, allowing a lead-off Michael Barrett single before retiring the rest of the side in order. He struck out Terrence Long swinging with one of his trademark splitters.
Melvin Mora, whose 13-year career ended with 42 games for the D-backs in 2011, was named the Bob Feller Player of the Game. He hit a pair of two-run homers for the Knucksies, tying the score in the sixth inning three batters before Jerry Hairston Jr. homered to win the game.
Putz was thrilled to be back on the mound, back in the heat of competition during a day in which temperatures reached the upper 80s.
"I had a great time," Putz said. "To play with these guys has been awesome. Being around these guys, having my little guy with me to share in all this and experience all this, has been something. It's been incredible. Playing catch with him on Doubleday Field was something I never expected. It's been rich."
But it wasn't the only part of this Memorial Day weekend experience here for the players and families who took part in the game. Putz said the big takeaway will be touring the National Baseball Hall of Fame and Museum, which everyone was able to do on Friday night.
"I think one my best memories will be Ethan in the Hall of Fame and seeing the Babe Ruth stuff," Putz said. "He loves Babe Ruth."
Putz, now 39, pitched 12 years in the big leagues, his last four with the D-backs. He saved 72 games for Arizona between 2011 and '12 -- 45 in '11, when the D-backs most recently went to the postseason, losing the National League Division Series in five games to the Brewers.