Run on this catcher at your own risk
J.T. Realmuto has begun his yearly dominance of the catcher pop time leaderboards. Always one of the fastest arms in the league behind the plate, Realmuto is showcasing that elite tool for his new team. In the past week alone, the Phillies backstop has recorded four of MLB's five fastest
J.T. Realmuto has begun his yearly dominance of the catcher pop time leaderboards.
Always one of the fastest arms in the league behind the plate, Realmuto is showcasing that elite tool for his new team. In the past week alone, the Phillies backstop has recorded four of MLB's five fastest caught stealings at second base this season.
Realmuto caught runners with pop times of 1.77 seconds (Charlie Blackmon), 1.81 seconds (David Dahl), 1.83 seconds (Juan Lagares) and 1.84 seconds (Raimel Tapia).
"Pop time" on steal attempts is pretty straightforward -- it's the time it takes from the pitch hitting the catcher's mitt to the moment his throw gets to the fielder at the base. League average pop time to second base is 2.01 seconds.
The difference between Realmuto's pop times and an average catcher's is night and day. He's leading the Majors in average pop time in the early goings of 2019 by a wide margin. He led the Majors in 2018. He's never been outside the Top 3 of catchers in the five seasons of Statcast tracking.
Realmuto's avg. pop time to 2B by season
2015: 1.92 seconds (T-3rd in MLB)
2016: 1.91 seconds (T-2nd in MLB)
2017: 1.90 seconds (2nd in MLB)
2018: 1.90 seconds (1st in MLB)
2019: 1.85 seconds (1st in MLB)
MLB avg. pop time to 2B: 2.01 seconds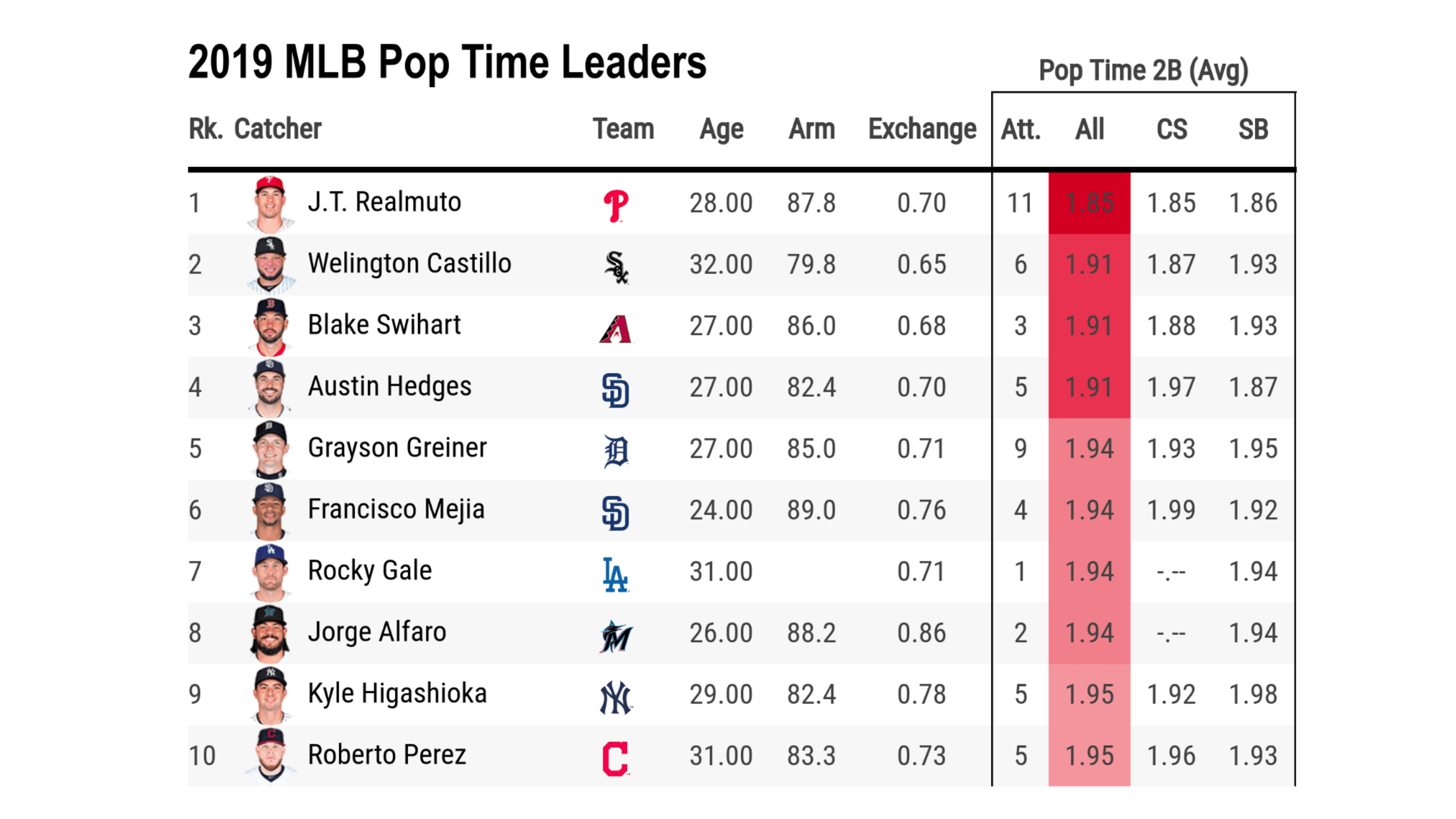 Individually, Realmuto's 1.77-second pop time to catch Blackmon last Friday is the fastest in baseball this season. The 1.81 time to catch Dahl on Thursday ranks second. The 1.83 to catch Lagares on Monday at Citi Field is tied for third-fastest with one by the Cubs' Willson Conteras on Opening Day. And the 1.84 to catch Tapia, in the same game Realmuto nabbed Dahl, rounds out the Top 5.
Let's break down each caught stealing -- starting with the fastest.
1.77 seconds -- CS of Blackmon, April 19
A pop time in the 1.7 range is beyond fast. It's no wonder that this was the fastest caught stealing of the year so far. In fact, it's one of the Top 5 caught stealings by pop time since Statcast started tracking in 2015 -- tied for third-fastest with one by the catcher he was traded for, Jorge Alfaro. Realmuto is the only catcher with multiple entries on the leaderboard.
Fastest pop times on CS at 2B, since 2015
1) Alfredo Gonzalez (CWS): 1.73 seconds -- 6/3/18
2) J.T. Realmuto (MIA): 1.76 seconds -- 5/23/18
3-T) J.T. Realmuto (PHI): 1.77 seconds -- 4/22/19
3-T) Jorge Alfaro (PHI): 1.77 seconds -- 6/30/18
5-T) Manny Pina (MIL): 1.78 seconds -- 5/1/18
5-T) Martin Maldonado (MIL): 1.78 seconds -- 4/14/16
5-T) Christian Bethancourt (ATL): 1.78 seconds -- 6/6/15
Realmuto's throw to catch Blackmon also clocked in at 87.2 mph. That's basically right in line with his average "max-effort" arm strength for the 2018 season, 87.8 mph -- which ranked second among all catchers, behind only Alfaro's 90.8 mph. Putting up stellar pop times is two-fold: you need to get rid of the ball quickly and have a strong arm. Realmuto checks both boxes and then some.
1.81 seconds -- CS of Dahl, April 18
1.84 seconds -- CS of Tapia, April 18
We'll group these two together, since they happened in the same game, with Realmuto catching a pair of Rockies speedsters.
Realmuto's 1.81-second pop time to catch Dahl in the first inning came with an 86.1 mph arm strength. The throw was just in time to get Dahl, who reached a top sprint speed of 28.9 ft/sec on the attempt -- nearly two full feet per second above the 27 ft/sec MLB average sprint speed -- but got nothing but an out call to show for it. This throw held the mark as 2019's fastest caught stealing at second base for all of a day, until Realmuto outdid it with the 1.77-second time.
After catching Dahl, Realmuto caught Tapia with an 84.4 mph throw that got to second base almost as fast as his previous effort. Tapia's baserunning metrics were near-identical to Dahl's -- he reached a 28.8 ft/sec sprint speed to Dahl's 28.9, and had a 21.5-foot secondary lead to Dahl's 21.6 feet. And the result was the same.
1.83 seconds -- CS of Lagares, April 22
When the Phillies traveled from Colorado to Citi Field, Realmuto broke out another excellent throw to catch Lagares in the eighth inning of Monday's series opener. The standout number here was Realmuto's arm strength: 88.4 mph, his strongest throw of the season so far -- and his strongest throw on any caught stealing since Statcast started tracking.