Anderson 'darn near knuckle-scraping'
Seattle sidearmer invited to camp after winning 60-foot, 6-inch Club Award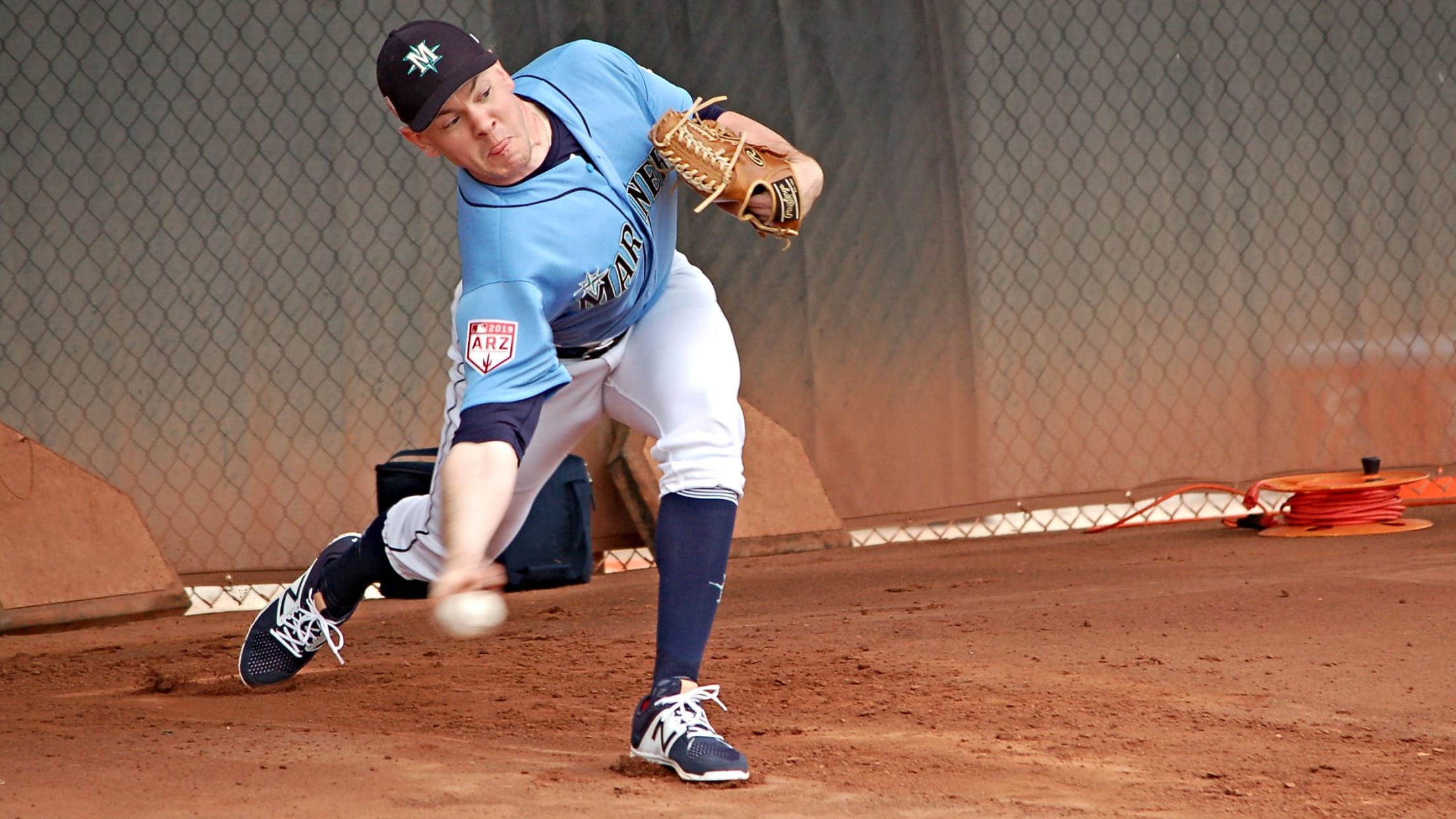 PEORIA, Ariz. -- Leaning back with his chair up against the wall in the furthest corner of the Mariners clubhouse, the area reserved for non-roster invitees and Minor Leaguers fighting to make a name for themselves, Jack Anderson has had a unique view of life this spring. Then again, Anderson
PEORIA, Ariz. -- Leaning back with his chair up against the wall in the furthest corner of the Mariners clubhouse, the area reserved for non-roster invitees and Minor Leaguers fighting to make a name for themselves, Jack Anderson has had a unique view of life this spring.
Then again, Anderson is used to coming at things from a different angle.
Remember side-arming reliever Steve Cishek? Anderson pitches like Cishek, only lower. Like, nearly underhanded.
"Darn near knuckle-scraping," Anderson acknowledges with a grin. "It's a little different, for sure."
So is Anderson's presence in camp, given that he's never pitched above Class A Advanced Modesto, where he posted a 2.68 ERA with two saves in 44 appearances last year. But Anderson earned the Mariners' 60-foot, 6-inch Club Award last year, which rewards the winner of a competition among all Minor League pitchers in the organization who best controls the zone in critical counts.
The prize for winning that competition is an invitation to the Mariners' Major League camp, so Anderson is soaking things in -- and he pitched the ninth inning while allowing one run in Tuesday's 4-4 tie against the Rangers.
"It's amazing, just an incredible opportunity and I'm super blessed to be here," said Anderson, a 23rd-round Draft pick out of Penn State in 2016. "It's overwhelming at times, but that's all part of it."
Anderson, 25, said he began throwing at about a three-quarter arm slot as a kid growing up in Illinois, and gradually kept lowering the angle.
"I think it's the reason I have a job, to be honest," he said. "It's absolutely a different look out of the 'pen. I think it's tough on righties. That's the big idea behind it. It works for me, and I'll just keep rolling with it."
Manager Scott Servais said he used to hate facing side-arm relievers as a right-handed hitter during his playing days and noted that Anderson is called "The Creature" in camp because of his unique delivery.
"He's an interesting guy," Servais said. "There are times I have heard during the course of the season he will scrape his knuckles on the ground. It's that low. He's still got work to do. He's obviously in this camp because he won the 60-foot, 6-inch contest of controlling the zone, throwing strikes. He needs to work on his slider, more consistency with that, but he has an unbelievable ground-ball rate. That ball is always sinking. Now he's got to continue to master his craft and see where it takes him."
Anderson said he's not sure what would happen if he tried throwing over the top anymore. When he throws to first base or plays catch at more than about 120 feet, he goes back to his three-quarters slot.
There aren't many pitchers in the Majors who throw like Anderson, but he's met some kindred spirits, including Cishek, who Anderson talked with during his first spring with the Mariners in 2017 when he was in his first Minor League camp.
"He throws a little different than me," Anderson said. "But anybody in that funky realm, we all have a little bond together. The Mariners have a handful of guys, we've been picking up a couple guys in every Draft with a little different arm slot. You've got to be able to do something different to give yourself an advantage."