deGrom's bid for perfect inning thwarted by Trout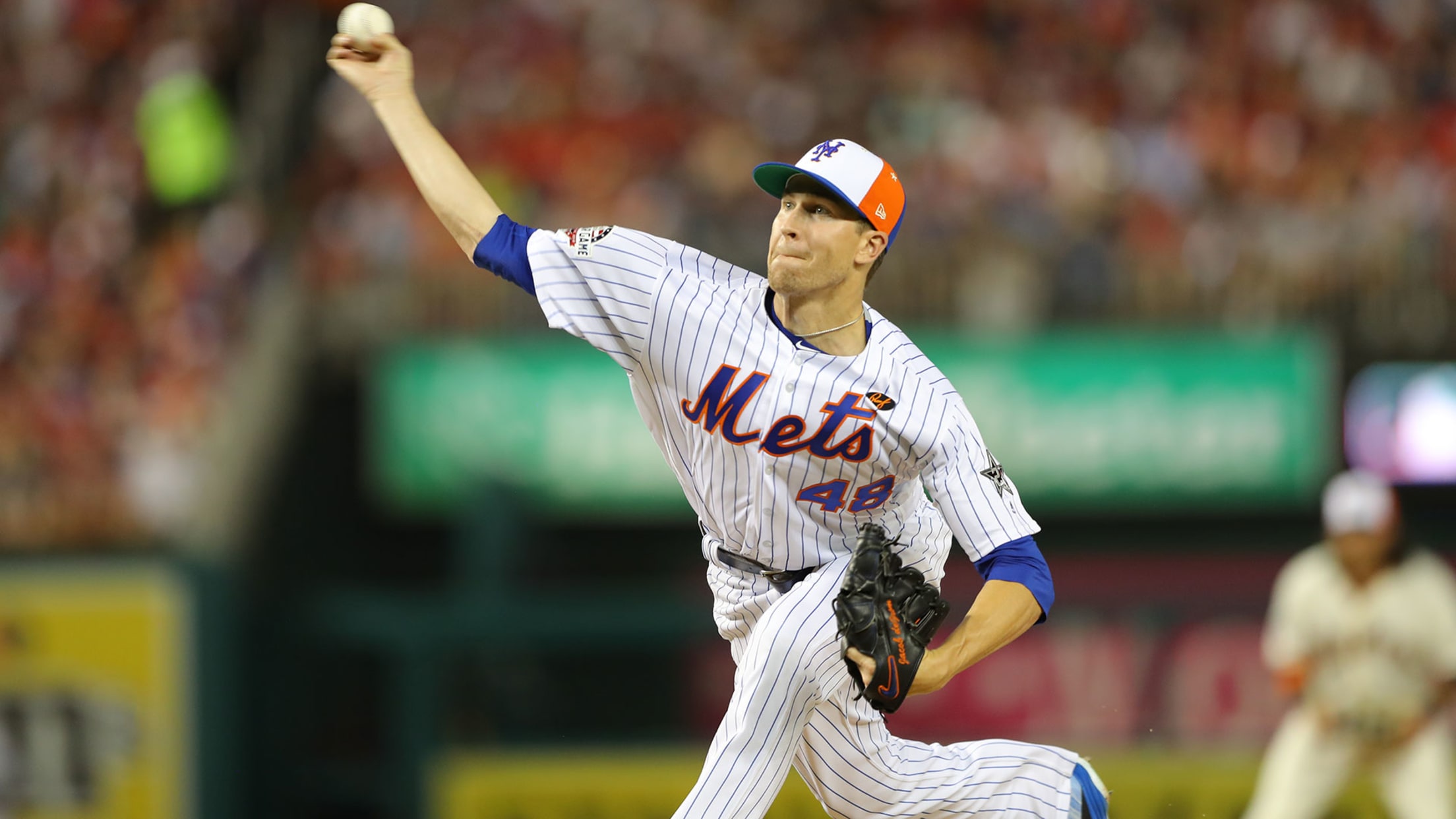 WASHINGTON -- Jacob deGrom was one strike away from collecting the second perfect inning of his All-Star career. Unfortunately, he needed to get that strike against Michael Trout.The two-time American League MVP took the Mets ace deep in the top of the third inning of Tuesday night's All-Star Game presented
WASHINGTON -- Jacob deGrom was one strike away from collecting the second perfect inning of his All-Star career. Unfortunately, he needed to get that strike against Michael Trout.
The two-time American League MVP took the Mets ace deep in the top of the third inning of Tuesday night's All-Star Game presented by Mastercard, though it turned out to be the only blemish on deGrom's outing.
deGrom took over for starter Max Scherzer with the National League trailing, 1-0. Facing the top of the AL's lineup, deGrom got Mookie Betts to fly out to center fielder Bryce Harper, then Jose Altuve hit a harmless popup to third baseman Nolan Arenado.
Then came deGrom's biggest test: Trout, considered by most to be the game's best player.
"That's what it's about," deGrom said. "Going out there and playing against the best."
deGrom got ahead of Trout, 1-2, but the Angels star drove a 92 mph sinker to left-center field, depositing it into the AL bullpen to give his team a 2-0 lead.
"Yeah, he hits the low ball well, though," deGrom said of his pitch selection. "Two strikes, probably should've gone fastball up; but he got me."
Asked what the best approach is when facing Trout, deGrom said, "Not like that, apparently. I'll have to come up with a different gameplan when I face him next time."
deGrom gathered himself on the mound and struck out Red Sox designated hitter J.D. Martinez to end his inning of work. He was charged with one run on one hit, striking out one.
"I was fortunate to pitch in my first one in '15, and then I was able to throw in this one," deGrom said. "It's a lot of fun to go in there and compete."
The first time deGrom made an All-Star team, he put on a pitching clinic during his one inning of work in the National League's 6-3 loss to the American League in 2015. The right-hander struck out all three batters he faced in the sixth inning at Great American Ball Park, throwing only 10 pitches -- nine of them for strikes.
A few hours before he would follow starter Scherzer in Tuesday night's game, deGrom didn't anticipate a repeat performance this time around.
"That's going to be tough," deGrom said. "That's a good lineup over there."
NL manager Dave Roberts indicated that deGrom -- who leads the NL with a 1.68 ERA, and is second in the league with 149 strikeouts and a 0.973 WHIP -- likely would have been his choice to start the game had the event not been taking place at Scherzer's home ballpark in Washington, a decision with which deGrom agreed.
"It's definitely an honor," deGrom said. "When they announced that Max would start, I thought that was the right thing to do. This is his ballpark and I think he deserves to pitch here."
deGrom was a 27-year-old second-year player when he made his first All-Star team, and while the experience was certainly exciting, the three-day stay in Cincinnati didn't come without some anxiety.
"I was so young," deGrom said. "I did a lot of running around last time and was in a constant panic that I was missing something or was supposed to be somewhere. This one, I knew what I needed to do and was able to enjoy the time with my family."
This year's All-Star Week brought a new challenge for deGrom, who spent the majority of Monday's media availability talking about his future with the Mets. Earlier in the day, his agent released a statement saying that deGrom's first choice is to sign an extension with the Mets, but if the club wasn't interested in doing so, it should trade him.
deGrom knew it was coming, as he and agent Brodie Van Wagenen had plotted out the right time to let their feelings be known.
"I figured there would be a lot of questions about trade stuff, so that was our way of getting ahead of it," deGrom said. "I think we expressed that we enjoyed it here and we'd like to stay. It's up to the Mets. I've really enjoyed my time here and enjoyed winning here; I'd like to get back to that."
Mark Feinsand, an executive reporter, originally joined MLB.com as a reporter in 2001.