deGrom on bereavement/medical emergency list
Pitcher returns home to Florida due to complications regarding newborn son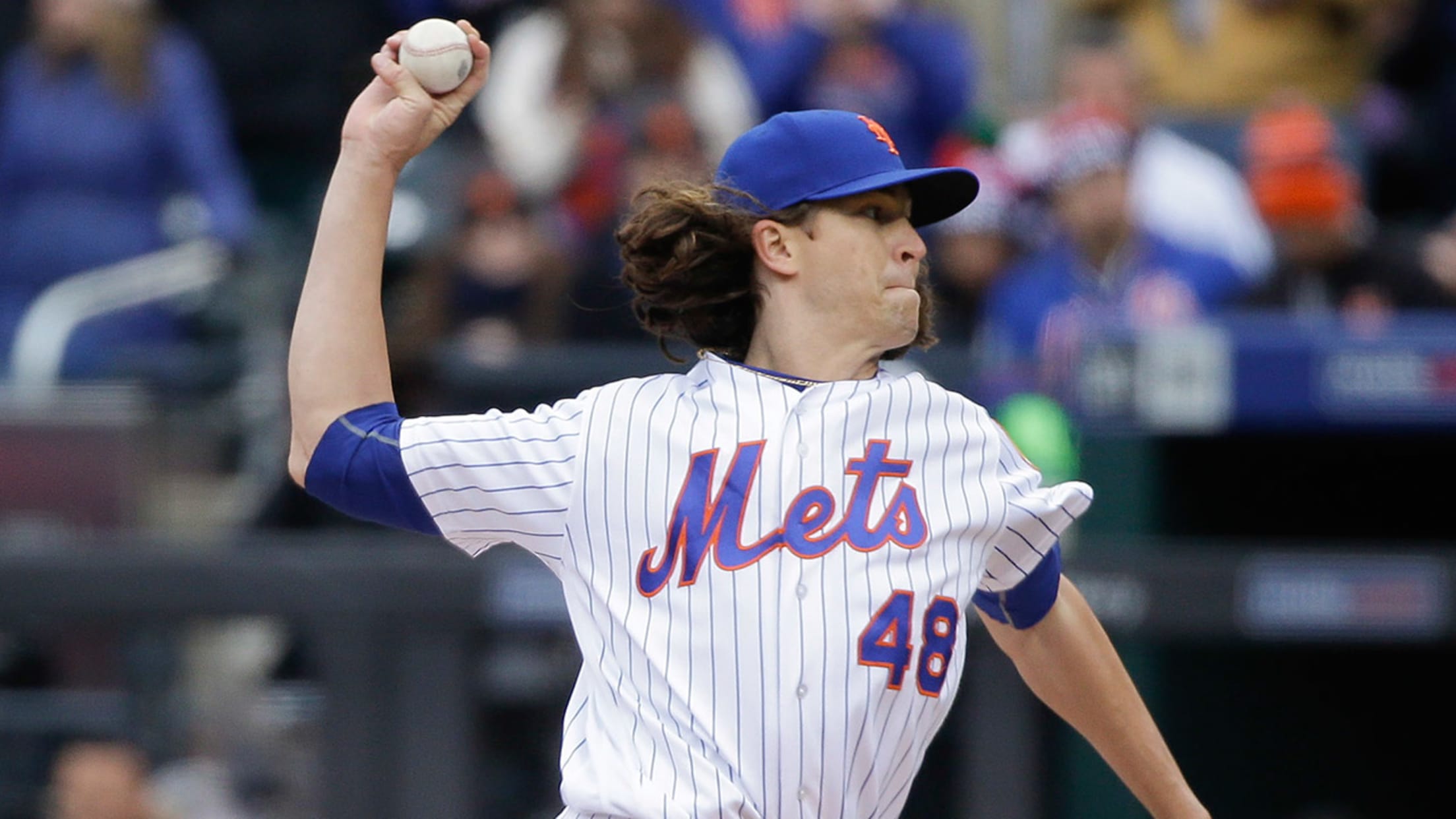 Jacob deGrom will not make his next start Tuesday while tending to his family. (AP)
CLEVELAND -- The Mets placed pitcher Jacob deGrom on Major League Baseball's bereavement/medical emergency list Saturday due to complications regarding his newborn baby. DeGrom is currently in his hometown of DeLand, Fla., with his wife, Stacey, and son Jaxon."It's a real-life situation," Mets manager Terry Collins said. "Certainly we take
CLEVELAND -- The Mets placed pitcher Jacob deGrom on Major League Baseball's bereavement/medical emergency list Saturday due to complications regarding his newborn baby. DeGrom is currently in his hometown of DeLand, Fla., with his wife, Stacey, and son Jaxon.
"It's a real-life situation," Mets manager Terry Collins said. "Certainly we take the game of baseball very seriously, but this changes a lot of things. [deGrom is] such a good guy. Stacey, she's outstanding. You just sit here the last few days -- and those guys in there can all tell you, they do the best to stay in touch with him. We're all praying and pulling for him. Unfortunately, it's part of life, and we've got to take care of business."
Collins said he has spoken to deGrom every day since Jaxon's birth on Monday evening, but the manager declined to discuss the nature or gravity of the baby's medical issue.
DeGrom, who has not pitched since April 8 due to a right lat strain, will not make his next start Tuesday in Philadelphia. Right-hander Logan Verrett will pitch in his place. The Mets have recalled infielder Eric Campbell from Triple-A Las Vegas to replace deGrom, who can remain inactive for 3-7 days.
There had initially been some thought that deGrom might go on the disabled list to give his sore lat muscle more time to heal. But knowing a bereavement stint was looming, deGrom did not test his arm to the fullest extent during a bullpen session Friday at Port St. Lucie, Fla., about a two-hour drive from his home. DeGrom plans to return to Port St. Lucie on Sunday for a more intensive 40-pitch bullpen session "and go from there," according to Collins.
"He's where you would expect him to be," Collins said. "He's not sleeping much. We are certainly rooting for him and Stacey and the baby to hang in there."
Anthony DiComo is a reporter for MLB.com.